Boulder Pass Dove Mountain by Miramonte Homes
Boulder Pass Dove Mountain Is Located Adjacent To The Golf Club At Dove Mountain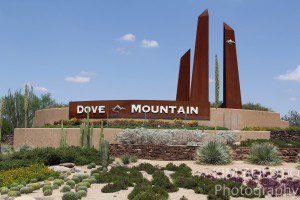 Boulder Pass Dove Mountain is a new development near the Golf Club at Dove Mountain. This new Dove Mountain subdivision is a joint venture between True Life Communities of San Ramon California and Miramonte Homes of Tucson AZ.
This new development will offer 88 lots in a gated community next to the Golf Club at Dove Mountain. Formerly the Ritz-Carlton Golf Club.
Boulder Pass Dove Mountain will have six floor plans to choose from. Each floor plan is designed to blend with the desert landscape and provide stunning views of the Tortolita Mountains.
See Homes For Sale In Boulder Pass In Dove Mountain
Dove Mountain, in Marana AZ, is fast becoming a resort destination with the Ritz Carlton Resort is the crown jewel. Boulder Pass at Dove Mountain will be just a short drive from the Ritz Carlton and all the amenities is has to offer.
Boulder Pass Dove Mountain Community
Lots are situated to offer views of the Dove Mountain golf course, Tortolita Mountains and Tucson Mountains to the west.
The Dove Mountain area offers many lifestyle choices and activities. Hiking, biking, golf, and just plain relaxing are at the top of most people's lists. The Gallery Golf Club is just minutes away and the Gallery Health Club provides a fitness center, swimming, and access to personal trainers.
Boulder Pass Dove Mountain Floor Plans
Floor plans at Boulder Pass Dove Mountain will range is size from 2,170 square feet to over 3,100 square feet. Prices start in the mid $400,000's and go to over $600,000 in the largest home. Each of the six-floor plans will have 3 exterior elevations to create a distinctive home for every homeowner.
The six-floor plans offer at the Boulder Pass Dove Mountain – CLICK on the image for details – include:
8 Things To Know BEFORE You Enter The New Home Builders Model Homes and Sales Office
It is important for you to understand
You have the right to be represented by a Realtor when buying a new construction home.
BUT your Realtor

MUST

be with you on your

FIRST

visit to the new home builder's sales office and register you!
You will not pay more to have a Realtor represent you when buying a new construction home in Tucson, AZ.
If you don't have a Realtor with you on your first visit – KNOW THIS
The sales agent at the builder's sales office works for the builder,

NOT YOU!

They will ask you to "register" when you come in – or shortly after.
If you register, you are

GIVING UP YOUR RIGHT

to be represented by a Realtor at that builder's site in the future.
Chances are the builder's sales agent

WILL NOT

disclose this to you!
If you register at the builder's site, you are on your own to work through the builder's contract and all purchase decisions. Yes, the builder's sales agent will work with you through the paperwork. They will answer your questions.

BUT

with who in mind? You or the builder they work for?
Conclusion
Thank you for visiting www.premiertucsonhomes.com! It's one of the top real estate websites in Tucson. Our clients say that, not us.
Our website provides information on communities and neighborhoods in the greater Tucson area. Want more? Give us a call – 520-940-4541. We are ready to answer your questions and help you get the information you are looking for.
We are a top Realtor team in Tucson, AZ. Read our client testimonials. Give us a call. We look forward to making your home buying or selling a home an enjoyable experience for YOU!
If you are considering new construction, Boulder Pass may be just what you are looking for. We are constantly meeting with the new home builders to stay abreast of all new home communities in Tucson. We would be pleased to discuss your home buying interests and the many Tucson AZ lifestyle choices available to you.
If you are interested in receiving email updates on homes coming on the market that meet your specific criteria or general interests, we can help.
Sign UP to receive daily HOME TRACKER UPDATES – OR – Our Monthly NEWSLETTER – OR – Tucson Real Estate INFORMATION. And get regular updates on the Real Estate Market and events in Tucson, AZ.
Boulder Pass Dove Mountain
was last modified:
June 12th, 2017
by
Questions about the Tucson Real Estate Market or Tucson Homes for Sale?
Call Us – 520 940 4541 OR complete the – CONTACT FORM – and we will get right back to you!
Boulder Pass Dove Mountain
was last modified:
June 12th, 2017
by
Boulder Pass Dove Mountain
was last modified:
June 12th, 2017
by