Cafe Poca Cosa For Fine Mexican Food In Tucson AZ
For Great Mexican Food With Exceptional Flavors Is Found At Cafe Poca Cosa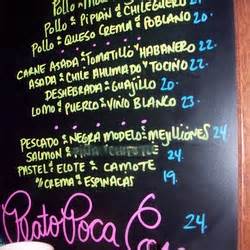 Cafe Poca Cosa doesn't "look" Mexican. In fact it doesn't even come close to most peoples expectations of Tucson
restaurants
.
Upon entering, you will be surprised by upscale and sophisticated setting. And even more fascinating is the food. A small list of choices build on central Mexico flavors and the fresh ingredients.
Fresh ingredients mean the menu is constantly changing. Sometimes twice a day.
Cafe Poca Cosa Tucson dispels the idea that Mexican food in the southwest means tacos and burritos. Cafe Poco Coso is neither Mexican home cooking or Fast food.
The food and presentation reflects the style of the great restaurants in Mexico City. Cafe Poca Cosa presents unique and delicious food that hold its own anywhere in the world.
The menu is written on blackboards that are brought to each table when you are seated. The wait staff describes each menu item. Answers to questions on ingredients and preparation are quickly answered.
Each dish brings a fantastic blending of flavors not normally found in traditional Mexican food. The staff are top also notch, attentive to your needs and pleasant.
Two tips for dining at Cafe Poca Cosa. First, while the bar is inviting and great for drinks, food isn't served at the bar.
Second, make reservations. Cafe Poca Cosa is packed most evenings and especially on weekend nights.
The restaurant on Pennington St. in downtown Tucson. It can be found under the parking garage. Good news, parking is very convenient. It is not a big restaurant, which means service will be prompt, but not rushed, as turnover is important to the operation.
Directions to
Cafe Poca Cosa Tucson AZ
110 E. Pennington St.
Tucson AZ  MAP
520-622-6400
Visit their website for more information
Considering a move to Tucson Or perhaps just thinking about a future winter retreat. We can help!
Sign UP to receive daily HOME TRACKER UPDATES – OR – Our Monthly NEWSLETTER – OR – Tucson Real Estate INFORMATION. And get regular updates on the Real Estate Market and events in Tucson, AZ.
Cafe Poca Cosa
was last modified:
September 30th, 2016
by
Questions about the Tucson Real Estate Market or Tucson Homes for Sale?
Call Us – 520 940 4541 OR complete the – CONTACT FORM – and we will get right back to you!
Cafe Poca Cosa
was last modified:
September 30th, 2016
by
Cafe Poca Cosa
was last modified:
September 30th, 2016
by