El Corral Restaurant In The Catalina Foothills
El Corral Has Served Tucson Residents and Visitors For Over 75 Years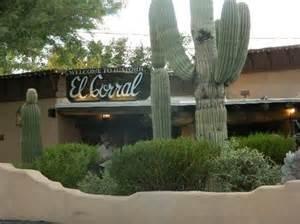 The El Corral has been serving Tucson residents since 1926. That is a long time for any restaurant to stay in business and should encourage you to go there. El Corral is located just east of Campbell Avenue on River Road.
History
El Corral is most likely the first restaurant in this Catalina Foothills area. The El Corral restaurant has been located at the same location since it opened some 75+ years ago. OK, renovations and modifications have been made over the years.
The original name for El Corral was the El Corral Cafe. Around 1946, the name was changed to the El Corral Night Club into the 1960's. In the early 1970's the restaurant was purchased by the Agro Land and Cattle Company and the name shortened to "El Corral".
The restaurant has continued to serve Tucson residents and visitor ever since. El Corral celebrated its 75th year in business in 2014.
Good Food
Needless to say, beef is what's for dinner at the El Corral. Steaks and the the house specialty prime rib are the main stay of the menu. For those not into the beef, chicken, fish and salads are available.
There are also some real interesting side dishes. For instance the Tamale Pie which has been made in house since 1975.
Old West History Theme

The entrance feels as if you are about to enter a old stage coach house. Once inside, you are treated to a host of western memorabilia that includes clothes worn by Tom Mix. Tom Mix was a silent film star between 1909 and 1935. Mix was in over 290 films during that period. In 1940 Tom Mix was killed in an automobile accident on Hwy 79 between Oracle Road and Florence AZ. There is memorial on the west side of Hwy 79 marking the location.
Location And Map

El Corral Restaurant – MAP
2201 E. River Rd.
Tucson, AZ 85718
520.299.6092
Website
Hours: Monday – Friday 5:00pm to 10:00pm
Saturday 4:30pm to 10:00pm
Sunday 4:30pm to 10:00pm
Conclusion
If you are in the mood for a hearty steak, prime rib or filet, El Corral should be at the top of your list. If you are considering moving to Tucson AZ for a job, place to retire or a winter retreat, we can help!
Sign UP to receive daily HOME TRACKER UPDATES – OR – Our Monthly NEWSLETTER – OR – Tucson Real Estate INFORMATION. And get regular updates on the Real Estate Market and events in Tucson, AZ.
El Corral Tucson AZ
was last modified:
June 19th, 2015
by
Questions about the Tucson Real Estate Market or Tucson Homes for Sale?
Call Us – 520 940 4541 OR complete the – CONTACT FORM – and we will get right back to you!
El Corral Tucson AZ
was last modified:
June 19th, 2015
by
El Corral Tucson AZ
was last modified:
June 19th, 2015
by