Noble Hops Is A Unique Tucson Restaurant
Craft Beers And Great Food Make Noble Hops A Winner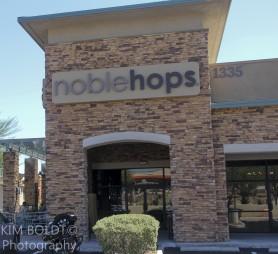 Noble Hops
is definitely Tucson's original restaurant serving a variety of high end craft beer and food. Noble Hops menu is constantly changing with new craft beers and fine fare.
Noble Hops is locally owned and operated by Aric and Josh Mussman. These native Tucson brothers combined their love of hand-crafted food and beer into the Noble Hops restaurant in Oro Valley AZ.
The name Noble Hops was coined to reflect the key ingredient in outstanding craft beers. Hops are the heart and soul of beer. The name Noble Hops is a gesture to an ancient group of respected European hops that are historically low in bitterness and high in aroma.
Noble Hops offers a seasonal menu of high-quality, delectable food. The menu consists of daily specials, soups and salads, small plates, burgers and hearty entrees. Oh, and homemade desserts to die for.
An excellent selection of over 150 beers from around the world is available. At least 28 are on tap on any day. Noble Hops also features kegs of house wine, bottles of fine wine, and of course a full bar.
The patio seating area provides stunning views of Pusch Ridge and the Catalina Mountains. This spacious patio is over 700 sq ft and is comfy year-around with misters, a huge gas fire pit and built-in heaters.
A centerpiece of Noble Hops is the distinctive 30-foot-long indoor/outdoor bar. Should the clouds bring a little rain these is also indoor seating at the bar and cozy lounge. A dining room just off the entrance is available for additional indoor dining or private parties.
A large chalkboard wall is regularly changed with daily food and craft beer specials.
Craft beer, excellent fare, terrific service and spectacular views. Noble Hops is the perfect spot for lunch or dinner.
Happy hour runs from 2 to 6 PM. There is also a reverse happy hour that runs from 10 PM to closing Sunday thru Thursday.
Noble Hop is located in Oro Valley AZ on the SE Corner of Lambert Lane & La Cañada
1335 W. Lambert Lane
Oro Valley, AZ 85737
520-797-HOPS (4677) MAP
Hours of operation –
Sun – Thu: 11 A.M. – 11 P.M.
Fri & Sat: 11 A.M. – Close
Happy Hour 2 P.M. – 6 P.M.
Reverse Happy Hour Sun – Thu: 10 P.M. – Close
Visit their website for more information.
Moving to the Tucson AZ area or considering a future home in Southern Arizona? We can help.
Sign UP to receive daily HOME TRACKER UPDATES – OR – Our Monthly NEWSLETTER – OR – Tucson Real Estate INFORMATION. And get regular updates on the Real Estate Market and events in Tucson, AZ.
Noble Hops
was last modified:
August 25th, 2015
by
Questions about the Tucson Real Estate Market or Tucson Homes for Sale?
Call Us – 520 940 4541 OR complete the – CONTACT FORM – and we will get right back to you!
Noble Hops
was last modified:
August 25th, 2015
by
Noble Hops
was last modified:
August 25th, 2015
by