See ALL Tucson Condo Homes Priced From $200,000 to $400,000
See Tucson Condo Homes  For Sale With Descriptions, Pictures And Maps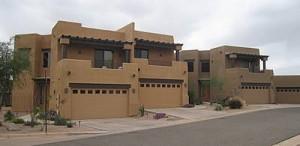 Review Tucson Condo Homes  for Sale – $200,000 to $400,000
Tucson Condo Homes abound in Tucson. Tucson Condo Homes come in many styles and architecture.  Tucson Condos & Townhomes can be found in the heart of the City of Tucson. They are also located in many of Tucson's suburban areas. Golf course communities, gated subdivisions, retirement communities and Luxury Communities will have condo homes.
A condominium, or condo, is the form of housing tenure. In most cases a piece of real estate (usually of an apartment house) is individually owned.  While use of and access to common facilities are owned by an "owners association".
Therefore there are two owner so the facility.  The individual owner of the physical condo.  Share facilities, elevators, and external area are owned jointly through the home owners association.
Colloquially, the term is often used to refer to the unit itself.  In many other countries the word "apartment" could be used.  A Tucson condo home may be simply defined as an "apartment" that the resident owns as opposed to rents.
The architecture for Tucson Condo Homes will vary greatly depending on when they were built. Older homes will be Santa Fe style or Adobe brick. Newer will be contemporary in style. Most properties will have community pools and clubhouse facilities.
Both single story and multi story properties are available in Tucson and the surrounding communities.
For the history buffs, here are some interesting facts from Tucson's History.
Considering buying a home, condo or townhouse in Tucson AZ? As top Tucson Realtors, we can help!
Sign UP to receive daily HOME TRACKER UPDATES – OR – Our Monthly NEWSLETTER – OR – Tucson Real Estate INFORMATION. And get regular updates on the Real Estate Market and events in Tucson, AZ.
Tucson Condo Homes – $200,000 to $400,000
was last modified:
August 6th, 2015
by
Questions about the Tucson Real Estate Market, Tucson Condo Homes or Tucson Townhomes for Sale? Call Us 866 316 5575 OR complete the CONTACT FORM and we will get right back to you!
Tucson Condo Homes – $200,000 to $400,000
was last modified:
August 6th, 2015
by