Easy MLS Search For Tucson Neighborhood Homes In Southwest Tucson
See Southwest Tucson Neighborhood Homes For Sale And Descriptions, Pictures And Maps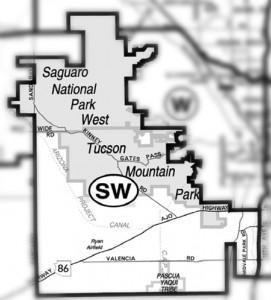 Southwest Tucson neighborhoods are newer. Southwest Tucson neighborhoods offer affordable housing. Access to major employers and Davis-Monthan Air Force Base is convenient.
Much of the Southwest Tucson area is rural. Southwest Tucson neighborhoods offer both newer and older homes.  Shopping and activities will normally require driving.
Lennar and DR Horton have developed Starr Valley. Builders created Southwest Tucson neighborhoods with prices in the mid $100,000's. Other Tucson neighborhoods in the Southwest will have homes starting under $100,000.
Families in Southwest Tucson neighborhoods are served by the Tucson Unified School District.
Homes in "UN-Subdivided" areas are also available.  Homes on UN-subdivided land will have large lots. Horses are usually the norm. Many of these homes will have water wells and LP gas.
Review Tucson Neighborhoods in the Southwest Tucson Area OR Go to Tucson Neighborhoods List OR Tucson Neighborhoods by MLS Area
Southwest Tucson has the Casino del Sol casino. The casinos offers entertainment and relational facilities.
Southwest Tucson families have many attractions nearby. The Saguaro National Park West, International Wildlife Museum and Old Tucson are always fun.
Saguaro National Park West is home of North America's giant Saguaro cacti. This impressive cacti is a symbol of the American Southwest. Saguaro National Park actually has two districts – East and West.
While the West District is smaller, the Saguaro's and desert vegetation are just as impressive as the East District.
The International Wildlife Museum is just that – International. Visitors will see over 400 species of mammals, birds and insects from around the world. Established in 1988, the Wildlife Museum is dedicated to expanding the knowledge of the wild life of the world.
Exhibits present the wildlife in their natural habitat. Interactive exhibits are used to explain animal habits. A visit to the museum is a great opportunity to better understand animals of the world. The exhibits show the adaptive nature of the animals and habitats.
Questions about the Tucson Real Estate Market or Tucson Homes or Tucson Neighborhoods in Southwest Tucson? Give us a call 866 316 5575 OR submit our CONTACT FORM and we will get right back to you!
Southwest Tucson Neighborhood Homes For Sale
was last modified:
July 28th, 2015
by