The 4th Avenue Street Fair Is An Affordable Tucson Attraction
A Twice A Year Tucson Event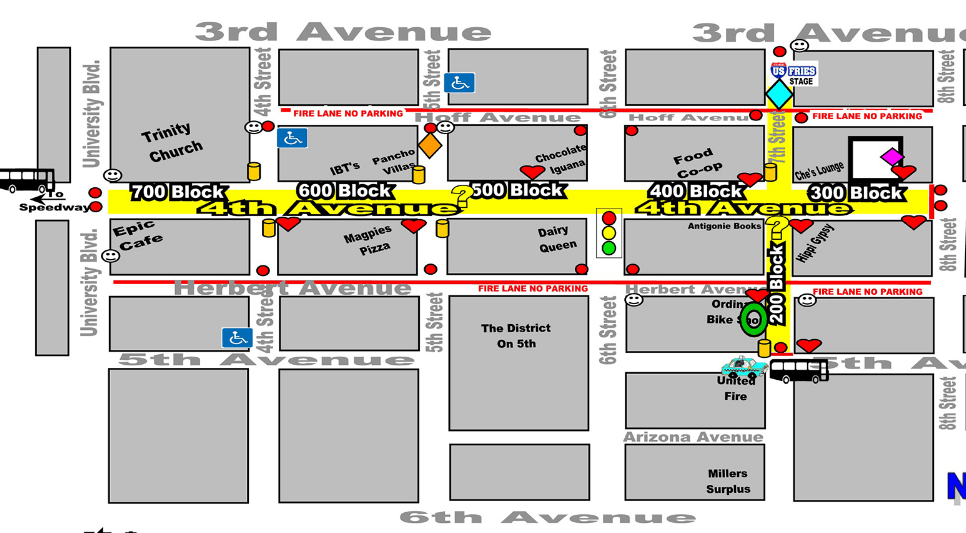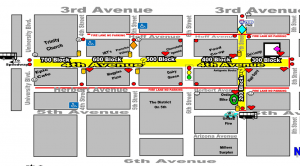 The 4th Avenue Street Fair has been a happening event in Tucson, AZ since 1970. The Fourth Avenue Street Fair is the BIGGEST community celebration in the Southwest.
This Tucson event is held twice each year in the heart of Tucson, AZ. On 4th Avenue between 9th Street and University Boulevard. In March/April and December.
The Fourth Avenue Street Fair is the place to find artistic products and services. It attracts high quality handmade art and fine crafts by artists from around the world.
The artists' work is the focal point of the festival, but the range of food available is awesome!
Fair proceeds support the Historic Fourth Avenue Business District. It is one of the United States National Register of Historic Places.
Let's set the record straight right from the start. The 4th Avenue Street Fair isn't for everyone. But from the size of the crowds, you wouldn't know it.
Over 300,000 people show up at this biannual Tucson street fair. Yes, that is 300,000 people at each event. 600,000 visitors a year.
So if you are someone looking for a secluded and quiet place to spend the day, this Tucson street fair isn't it.
There are two 4th Avenue Street Fairs each year. One in March/April and December. Each 4th Ave. Street Fair has 400+ vendors. Arts, crafts, food and drink, musicians and other attractions.
Future Dates
| | SPRING | WINTER |
| --- | --- | --- |
| 2020 | Cancelled due to Covid-19 | December 11, 12, & 13 |
| 2021 | March 19, 20 & 21 | December 10, 11 & 12 |
| 2022 | April 1, 2, & 3 | December 9, 10, & 11 |
| 2023 | March 24, 25, & 26 | December 8, 9, & 10 |
| 2024 | March 22, 23 & 24 | December 13, 14 & 15 |
Is this five-star dining. Are you kidding?
This is a Tucson Street Fair. Food choices range from Sonoran Hot Dogs to pizza. Chinese, Greek, American Food. Roasted corn on the cob. Everything smells great.
And it is a people watchers paradise.
The local 4th Avenue merchants and restaurants are also open and ready to serve you. And if you have been out in the sun for a while, heading for one of the eateries is a great place. Get out of the sun, have a beverage of choice and something to eat.
Considering A Home In Tucson, AZ?
Are you thinking of buying a home in the greater Tucson area? Finding the right home can be a challenging process. But we can make the process much less stressful for you.
We have been Tucson Realtors since 2002. We know Tucson and the Tucson Real Estate market. As a top Realtor duo, we invest the time to understand your home buying interests and desires.
At our first meeting, we will review the current real estate market with you. Show you the market data and then walk you through the Arizona home buying process.
Why? We want you to know what to expect. And what to plan for.
Interested in new construction? We'll brief you on buying a new construction home. And what's unique about the process.
For us, you are not another real estate transaction. You are a client and, future friend. We strive to create a relationship that continues long after you move into your home. Review our profiles. Check out our backgrounds, education, and certifications.
We are here to help you "know what you need to know" to buy a home in Tucson, AZ. We provide you information on Tucson events, places to shop and restaurants. Our resources include contractors, electricians, and home services. Our professional service backgrounds mean we put you first!
Conclusion
The 4th Avenue Street Fair is a twice a year event that everyone should try. Maybe you will just go once, maybe twice or twice every year. It is one of Tucson's many attractions.
If you like to wander around and see a diverse group of people have fun, it is for you. Oh, have a beverage of choice and just enjoy the street music and some of the best Tucson Street Fair food you will find.
Thank you for visiting www.premiertucsonhomes.com! It's one of the top real estate websites in Tucson. Our clients say that, not us.
Our website provides information on communities and neighborhoods in the greater Tucson area. Want more? Give us a call – 520-940-4541. We are ready to answer your questions and help you get the information you are looking for.
We are a top Realtor duo in Tucson, AZ since 2002. Read our client testimonials. Give us a call. We look forward to making your home buying or selling a home an enjoyable experience for YOU!
And if you are considering a move to Tucson, AZ keep us in mind. We can help you find your "perfect" home in Tucson or a surrounding community.
Sign UP to receive daily HOME TRACKER UPDATES - OR - Our Monthly NEWSLETTER. And get regular updates on the Real Estate Market and events in Tucson, AZ.
Questions about the Tucson Real Estate Market or Tucson Homes for Sale? Call Us - 520 940 4541 OR complete the - CONTACT FORM - and we will get right back to you!