Visiting Arizona Wineries Is A Great Tucson Day Trip
Over 12 Wineries Within 60 Miles Of Tucson AZ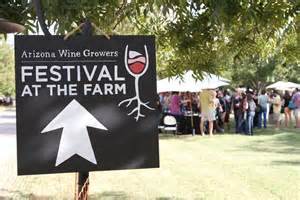 Arizona wineries have been expanding throughout the State since the late 1970's. Grapes are supplied to the wineries from three regions in Arizona.
The largest is in Southeast Arizona. The area of Sonoita in Santa Cruz County near Patagonia and Willcox in Cochise County is the largest.
To the northeast near Prescott Arizona, is the Verde Valley in Yavapai County.
Brief History Of Arizona Wineries
Yes, wineries seem out of place in Arizona. But vineyards were actually planted in Arizona as early as the 17th Century.
During that period, Franciscan missionary monks grew grapes to make sacramental wine. None of those early Arizona vineyards exist today.
Arizona wineries were born out of the work of Dr. Gordon Dutt.
Dr. Dutt is the father of wine making in Arizona. Dr. Dutt was a professor of hydrology at the University of Arizona.
He recognized the soil in Sonoita was similiar to the wine producing area in Burgundy, France.
The ah ha moment came in the mid 1970's. Dutt won a federal grant to stimulate the economies of Arizona, New Mexico, Utah and Colorado.
That project expanded his knowledge of wine growing.
Shortly after completing the project, Dutt planted and grew his first crop of wine making grapes.
With that success Dutt founded a vineyard in 1979. The Sonoita Vineyards. It was the first of over a dozen vineyards in the Sonoita/Elgen area of southeastern Arizona.
Arizona Wines
The area around Sonoita/Elgen has elevations between 3,800 to 6,000 feet. The hot days and cool nights create perfect growing conditions.
Today, Arizona wineries offer a wide range of unique wines.
Let's not kid ourselves, Arizona wines are not yet established on the national scene. A few vintages have found their way to recognized restaurants. But few.
From Dr. Dutt's small Sonoita Vineyard started in 1979, an industry was born. Over 40 wineries now call Arizona their home.
Arizona's wineries create distinctive whites, reds, and blush wines. The flavor of Arizona wine is complex and difficult to define.
But white blends are most notable. The whites and a few Syrah and Rhone-style blends are making their way into some markets.
Directions To Southeast Arizona Wineries
Southern Arizona Wineries are located about 55 miles from Tucson in Sonoita and Elgin Arizona. Take I – 10 East from Tucson to Highway 83 just southeast of Vail AZ. Go south to Highway 82.
You are now on the west side of the Arizona wineries region. Highways 83 and 82 along with the Upper Elgin Road create a loop around the Arizona wineries area. MAP
Wines Unique To Arizona

While it is unlikely one will find a classic Merlot or Cabernet Savignon, the southern Arizona wineries are a great day trip from Tucson. Take a some time to stop at these Arizona vineyards and sample the wine.
The style of these Arizona wineries varies from simple to more elaborate structures. Talk with the wine makers and learn about their approach to the Arizona wines they serve. If you like the sample, take a some home for a remembrance of your Tucson day trip.
Depending on the time of year you visit the southern Arizona wineries, you may need a sweater or jacket to protect you from the winds of the open plains.
There aren't many places to stop for food so a picnic lunch is a good addition to your gear. Bring water to stay hydrated and a cooler for any wine purchases is a good idea in warm weather.
Conclusion
Thank you for visiting www.premiertucsonhomes.com! It's one of the top real estate websites in Tucson. Our clients say that, not us.
Our website provides information on communities and neighborhoods in the greater Tucson area. Want more? Give us a call – 520-940-4541. We are ready to answer your questions and help you get the information you are looking for.
We are a top Realtor duo in Tucson, AZ since 2002. Read our client testimonials. Give us a call. We look forward to making your home buying or selling a home an enjoyable experience for YOU!
Considering a move to Tucson Arizona OR searching for that perfect place to retire? We can help.
Sign UP to receive daily HOME TRACKER UPDATES - OR - Our Monthly NEWSLETTER. And get regular updates on the Real Estate Market and events in Tucson, AZ.
Questions about the Tucson Real Estate Market or Tucson Homes for Sale? Call Us - 520 940 4541 OR complete the - CONTACT FORM - and we will get right back to you!