10 of the Best Motorcycle Rides in Arizona
The mountains in northern Arizona create are many winding roads along with beautiful scenery. For the motorcycle enthusiasts it offers some of the best motorcycle rides in Arizona.
Here are the most beautiful trails and best motorcycle rides in Arizona you can find.
From red-tinted slot canyons to rolling hills dense with pine trees, Arizona offers one of the most diverse natural landscapes in America. 300-plus days of sunshine and miles of winding asphalt roads make Arizona a haven for motorcyclists.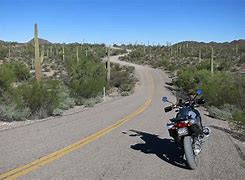 Coronado Trail
One of the most diverse scenic routes, the Coronado Trail is Arizona's "long and winding road". On the map, look for the towns of Eager and Clifton along the border of Arizona and New Mexico. Arizona road 191 connects these towns.
You will begin near Clifton in a desert landscape, and enjoy gorgeous forests, tranquil meadows, rust-tinted mountains and dramatic views.
Along the way is an abundance of wildlife and a stunning view of the world's largest open-pit copper mines.
Cascabel Road to Redington
This picturesque drive begins in Benson on North Pomerene Road, which leads onto North Cascabel Road. You'll pass through lush mountainous scenery, stunning waterfalls and striking rock formations.
Before the junction on San Pedro River Rd, ride through an impressive forest of soya cacti. When you reach the oasis-like Tuscan Valley, you will see ranches, rolling creeks and stunning wildlife such as fallow deer.
Sunset Point
See dense forests, majestic mountains and an extraordinary extinct volcano. On HWY 89 in Flagstaff, head west on Loop Road.
In another four miles you will reach the park gate. View stunning red rock scenery and roll along roads dappled with hardened molten rock. There are a few twists and turns, but the surface quality makes for an easy ride.
Beware that because it's a National Park there are no gas stations, so be sure to fill up before entering.
Cottonwood Canyon Run
Starting just north of Wickenburg, the ride begins in a desert setting and climbs the side of a mountain to verdant pine forests. This remarkably beautiful route showcases some of the best views Arizona has to offer.
Gorgeous red rock formations and vibrant greenery will reward you during your trip through this ancient canyon born from glacier and stream erosion.
You'll pass through the historic copper mining town Jerome which hosts spectacular views, so be sure to bring a camera.
Fountain Hills, Bartlett Lake
This 145-mile stretch boasts an eclectic mix of natural beauty, Western culture and picturesque suburbs. As you begin the climb to Fountain Hills, enjoy spectacular aerial views of the East Valley.
The location is proudly home to one of the world's tallest fountains. As you ascend the road from the marina, take a right to visit several beaches. These golden shores will offer panoramic views of the lake.
Bagdad to Iron Springs
The route from Bagdad to Iron Springs should be on any scenic rock lover's list. The canyon offers a copper mining area sprawling with metamorphic and igneous rock formations.
This tranquil ride boasts acres of untouched desert and varied vegetation.
As you travel up the stream toward Iron Springs, you will find beautiful broadleaf trees such as cottonwood. Here you will also find a café, garage and a small museum.
Wickenburg Road
Those who want to pack the best scenery Wickenburg Road has to offer in a short space of time should look no further.
The 40-mile-long trip through desert settings is teeming with gorgeous greenery such as creosote and acacia. Cacti, gullies and low hills dominate the later half of the road before a gentle shift into suburbia.
It's worth stopping in the historic town of Wickenburg itself where you will find a large western museum.
Payson, Mogollon Rim
This 256-mile loop takes you through rich forest roads for the first 43 miles. Dense greenery gives way to breathtaking views from the brim of the Colorado Plateau.
The Mogollon Rum drops up to 2000 feet in some areas, and offers some of the most extensive views of Arizona.
You'll see acres of tall pines which are part of the largest ponderosa pine forest in the state. To avoid riding in snow, plan your trip between May and early October.
The Motorcycle Safety Lawyers add that if you have to ride in harsh conditions, make sure to "Slow it down, wear appropriate clothing and a helmet, and plan your route carefully."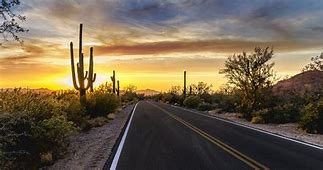 Tortilla Flat, Apache Trail
This curvy trail is home to the stunning Fish Creek Canyon. Those brave enough to drive on the hanging roads alongside the canyon will be rewarded with stunning views of deep blue lakes, twisted mountains and rich forests of saguaro.
At the foot of the Superstition Mountain, it's worth visiting the Goldfield Mining Town, an abandoned settlement that has since been recreated for tourists. A visit to Tortilla Flat itself will feel like a step back in time.
Here you'll find a saloon, a restaurant, and a country store known for its prickly pear gelato.
Lake Pleasant, Castle Hot Springs
You'll need a little perseverance with this route, but it's worth it. As soon as you turn off the Interstate at exit 103, you'll be greeted by a gently winding road. From here, you can enjoy some of the most beautiful rural scenery Arizona has to offer.
As the curves tighten, the road will gradually climb on the Vulture Mountains and ascend to the Vulture Mine ghost town. Rub your hand against the ore in the mine and you may find your palm is glowing gold.
The Above Guest Post by Emila Smith <emilasmith817@gmail.com>
But Wait! We have 3 more.
Southern Arizona also great motorcycle ride. Just not as many. If you live in the greater Tucson area, check these "roadies" out!
We already showed you our favorite rides in the northern part of our state, and honestly, the next three rides give them a run for their money!
Here are the best motorcycle rides in Arizona leaving from Tucson.
Tucson to Tombstone, Bisbee, Coronado National Monument
Alright, this isn't a day trip. Plan an over night in Bisbee or find a camp ground and pop your tent. Bisbee has adequate hotel space and the Copper Queen Hotel has the reputation as haunted. Might meet a long ago relative?
The Gym Club Suites is also a good option.
Lets Get Started with our first best motorcycle rides in Arizona……Southern AZ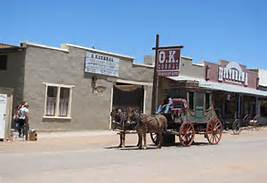 From Tucson head to Tombstone for your first stop. Its a touristy place, but fun to see where Wyatt Earp became famious.
Tombstone is a good place to grab lunch. There are 8 to 10 places to eat.
After Tombstone, head to Bisbee. the scenery on the route is good.
Bisbee was once the State Capital of Arizona. In the early 1900's its population was over 20,000 and the largest city between St. Louis and San Francicso.
Have dinner in one of Bisbee's good restaurants and tuck in for the night.
In the morning head west on 92 towards Palominas. Look for signs for Coronado National Monument.
Follow those and the road turns to dirt. The Mexican border is near by.
Alon the way you will climb a steep to the top of a bluff . Its a good place to take a break.
Park in the overlook parking lot and you can see deep into Mexico. You will see the border wall snaking through the desert.
Montezuma Canyon Road ranks among the best dirt roads in Southern Arizona. Enjoy it.
Tucson to Mt. Lemmon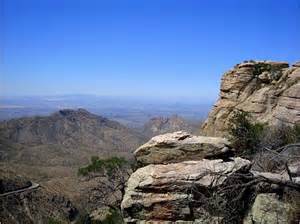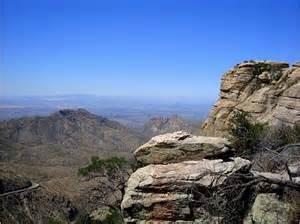 The trip is a mere 30 miles from the start of the Catalina Highway to the top of Mt. Lemmon. On the way you will encounter huge, sweeping curves and breathtaking scenic vistas.
You will go climb from Tucson at 2400 ft. to over 9000 ft at the summit. Temperatures will drop about 25 to 30 degrees along the way. So layers are a good thing to plan for.
The views stunning, but keep your eyes on the road as you took in the expanding valley below you. There are turn offs along the way to take in the view across the San Pedro River Valley to the east is awesome.
As you neared the top, the quaint little mountain town of Summerhaven greets you. The town has is a restaurant, and a ski slope and lift. A new boutique hotel offers individual cabins. It is in demand the year around, so make a reservation if you plan a stay over.
On the way down don't forget to let you brakes cool. The ride may be even more thrilling on your decent back to Tucson.
Tucson to The White Mountains
The White Mountains along the Arizona – New Mexico border are the second highest range in the state. Travel time from Tuson is about 4 hours and offers riders smooth turns and forest lined roads. This trip is a definite over-nighter.
The range has mountain lakes and streams. Camping and fishing is plentiful in this high mountain area.
Several stocked lakes are available for fishing. And snowmobiling, cross-country skiing and downhill skiing at Sunrise Ski Area.
The towns of Pinetop-Lakeside and Springerville-Eagar provide the most popular access points. They have plenty of hotels and restaurants.
Take Hwy 89 north to Oracle Junction. From Oracle Junction take Hwy 77 north to Globe. From Globe take Hwy 60 through Salt River Canyon into Show Low. Turn right onto Hwy 260 / White Mountain Blvd. for about 15 miles.
Considering A Home In Tucson, AZ?
Are you thinking of buying a home in the greater Tucson area? Finding the right home can be a challenging process. But we can make the process much less stressful for you.
We have been Tucson Realtors since 2002. We know Tucson and the Tucson Real Estate market. As a top Realtor duo, we invest the time to understand your home buying interests and desires.
At our first meeting, we will review the current real estate market with you. Show you the market data and then walk you through the Arizona home buying process.
Why? We want you to know what to expect. And what to plan for.
Interested in new construction? We'll brief you on buying a new construction home. And what's unique about the process.
For us, you are not another real estate transaction. You are a client and, future friend. We strive to create a relationship that continues long after you move into your home. Review our profiles. Check out our backgrounds, education, and certifications.
We are here to help you "know what you need to know" to buy a home in Tucson, AZ. We provide you information on Tucson events, places to shop and restaurants. Our resources include contractors, electricians, and home services.
But most important, our professional service backgrounds mean we put you first!
Conclusion
That's it for our selection of the best motorcycle rides in Arizona.
Thank you for visiting www.premiertucsonhomes.com! It's one of the top real estate websites in Tucson. Our clients tell us that.
Our website provides information on communities and neighborhoods in the greater Tucson area. Want more? Give us a call – 520-940-4541. We are ready to answer your questions and help you get the information you are looking for.
We are a top Realtor duo in Tucson, AZ since 2002. Read our client testimonials. Give us a call. We look forward to making your home buying or selling experience enjoyable YOU!
Sign UP to receive daily HOME TRACKER UPDATES - OR - Our Monthly NEWSLETTER. And get regular updates on the Real Estate Market and events in Tucson, AZ.
Questions about the Tucson Real Estate Market or Tucson Homes for Sale? Call Us - 520 940 4541 OR complete the - CONTACT FORM - and we will get right back to you!