Dankworth Pond For Tucson Fishing
Dankworth Pond – Description, Pictures, Map & Suggestions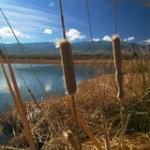 Dankworth Pond
was once the site of a fish hatchery that raised catfish.  A few got away and now the lake is full of them.  Dankworth Pond is a only about 15 acres and located about 10 miles south of Stafford.
The weather in the Safford area is mild and makes Dankworth Pond a fishing destination all year around.  If catfish are on your mind, this is the place to satisfy your hunger.
While it is true that when people think of places to fish neither Arizona or Tucson come to mind.  However, amid this desert terrain one can find best fishing locations in Tucson and the surrounding areas.
Dankworth Pond State Park, which is a part of the Arizona State Park system, was built around a riparian area at the base of the Pinaleno Mountains in eastern Arizona. The park's main attraction is Dankworth Pond, which is fed by water from an artesian hot spring.
There is a 2 mile loop trail that winds through the park, known as the Dos Arroyos Trail. Along its course are Dankworth Pond and a small, recently constructed village of prehistoric Native American dwellings. These dwellings are typical of Safford area sites, and showcase both Apache and Mogollon construction styles.
From the entrance to Dankworth Park, a path wanders past picnic tables toward Dankworth Pond.
Cottonwood trees and a thick ring of cattails almost disguise Dankworth Pond's artificial origin.   During the winter the pond is stocked with catfish, bass, bluegill, red-ear sunfish and crappie. It seems to be popular with birds and local fishermen alike.
Thinking of moving to Tucson Arizona? We can help!
Sign UP to receive daily HOME TRACKER UPDATES – OR – Our Monthly NEWSLETTER – OR – Tucson Real Estate INFORMATION. And get regular updates on the Real Estate Market and events in Tucson, AZ.
Questions about the Tucson Real Estate Market or Tucson Homes for Sale? Call Us 866 316 5575 OR complete the CONTACT FORM and we will get right back to you!