Investing In Real Estate
Is It A Good Investment …….. For You?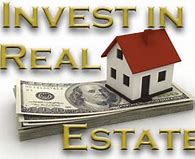 For many people investing in real estate means buying a home. But there are other options to consider depending on ones objectives.
Residential real estate includes single-family homes, condominiums, apartments, townhouses, duplexes, and so on. Residential rental is different than commercial properties.
Tenants of commercial properties tend to be corporate entities or businesses. Not individuals who live in the property.
Residential rental property can be an attractive investment. Most people have firsthand experience with the rental market as tenants.
This familiarity makes residential rental properties less intimidating than other investments. A residential rental property can provide monthly cash flow. Cash flow and long term appreciation is why people invest in real estate.
The following guest article presents insights to owning rental properties.
"Benefits Of Investing In Real Estate"
Investing in real estate can be a highly profitable business.
If you are aiming for long-term prosperity and passive income, this is the gig of your dreams. You obviously need initial capital to be a part of this industry, but the money you spend now will propagate substantially (sooner than you think if you play your cards right).
Becoming a landlord is the shortcut to becoming rich fast and conserving the wealth for generations. Once you realize the financial prospects of this venture, you won't hesitate to turn it into a full time career.
Real estate attorneys vouch for the returns of investing in this industry by elaborating the immediate benefits:
You get to be your own Boss
If you are fed up of your regular 9 to 5 and the pay is equally disappointing, real estate management might be your calling.
You do not need a particular kind of education to get in this business, and learning the basics does not require ample grey matter. You might have to take some well-calculated risks in the beginning, but being your own boss will compensate for minor setbacks.
Once you have acquired property and found a bunch of good tenants, income generates on its own. You will free up plentiful time in your schedule to pursue dreams and activities that matter to you.
You won't be answerable to anyone and gain the privilege to work on your own terms.
Financial Stability and Security
The best thing about being a property owner is that you never go broke.
Yes, the overall value of your real estate may fluctuate marginally over time, but a piece of land is never useless. Real estate purchased by you translates to tangible assets, which can be cashed anytime.
The continuous revenue you collect from tenants pays off your mortgages and loans; it also helps you build equity fast and stay out of debt.
Renting out multiple properties can generate enough income to contribute to savings; you can retire early and enjoy the rest of your life.
Landlords have the privilege of welcoming inflation with open arms. The growing cost of living means that housing charges will go up too. The pressure of elevated expenses will transfer to your tenants, allowing you to maintain a comfortable lifestyle.
Old Investments are Gold
Bear in mind that when you invest in real estate, you are in for the long haul. If you are looking for a temporary commitment, this business might not be a good fit.
The price of real estate increases as the locality develops and populates. Acres of empty land you acquire for cheap this year may be worth a fortune a decade or two later.
It is always smart to invest in property that has potential to be converted into residential or commercial area. Apart from reaping huge profits in the future, you will be doing a favor to the community.
Tax Incentives
Real estate owners who lend property qualify for various tax exemptions, such as not having to pay self-employment tax on rental income.
The government also offers tax breaks for insurance, maintenance, repairs, and depreciation of property.
In addition, all money spent on traveling and legal expenses associated with real estate is deductible. Long-term investments allow for lower property taxes, thereby reducing overheads with time.
Author Bio
John Adams is a paralegal who writes about widespread legal and social issues. He helps readers overcome challenges and solve many personal problems the smart way, rather than the hard way. He aims to reach out to individuals who are unaware of their legal rights, and make the world a better place.
Other Thoughts
A BIG consideration when investing in real estate is the investment is NOT liquid! Should the local real estate market tank and you need to sell, you may not be able to get your investment back. At least not all of it. You need to think "long term" as an individual investing in rental properties.
For those that already have rental properties in the investment portfolio and want of invest in stronger markets, consider a 1031 exchange. If you don't have 1031 properties, you can set one up.
There are additional tax considerations when investing in real estate. As a passive investor the IRS has limitations on any losses you can deduct from other income you might have. Also, if your rental properties are out of the state you live in, you will have additional state income taxes in addition to property taxes. Be sure to discuss any potential investment in real estate with your tax advisor.
Last, have a local real estate attorney involved in your transaction. They know the market and the governing law.
Considering A Home In Tucson, AZ?
Are you thinking of buying a home in the greater Tucson area? Finding the right home can be a challenging process. But we can make the process much less stressful for you.
We have been Tucson Realtors since 2002. We know Tucson and the Tucson Real Estate market. As a top Realtor duo, we invest the time to understand your home buying interests and desires.
At our first meeting, we will review the current real estate market with you. Show you the market data and then walk you through the Arizona home buying process.
Why? We want you to know what to expect. And what to plan for.
Interested in new construction? We'll brief you on buying a new construction home. And what's unique about the process.
For us, you are not another real estate transaction. You are a client and, future friend. We strive to create a relationship that continues long after you move into your home. Review our profiles. Check out our backgrounds, education, and certifications.
We are here to help you "know what you need to know" to buy a home in Tucson, AZ. We provide you information on Tucson events, places to shop and restaurants. Our resources include contractors, electricians, and home services. Our professional service backgrounds mean we put you first!
Thinking About Selling Your Home In The Greater Tucson Area?
Selling a home requires more than listing it in the Tucson MLS system. It's about marketing. Marketing through multiple online channels.
To no one's surprise, 80% of home buyers start their search on the internet. Homes must be visible on multiple internet channels. The more visible a home is, the faster it will sell.
And the photos on the mls make a difference. You can spend lots of money on home staging, but if the photos aren't great it doesn't matter. Staging and stunning photos make it all come together.
We use multiple online marketing channels to showcase your home. We will build a stand-alone website built to show your home. Our marketing program targets key cities in the U. S. based on the season.
For luxury listings, our drone service provides video of your home and neighborhood. This video along with professional photos helps the online buyer see and feel your home. Their "new" home.
To learn more about how we can help you sell your Tucson home, call us – 520-940-4541 – to arrange a meeting. We will visit your home and prepare a comparative market analysis.
Then we will meet with you to review our analysis. We will go over our Comparative Market Analysis for your home in detail. And the review our marketing program to "get your home sold!"
Conclusion
Thank you for visiting www.premiertucsonhomes.com! It's one of the top real estate websites in Tucson. Our clients say that, not us.
Our website provides information on communities and neighborhoods in the greater Tucson area. Want more? Give us a call – 520-940-4541. We are ready to answer your questions and help you get the information you are looking for.
We are a top Realtor duo in Tucson, AZ since 2002. Read our client testimonials. Give us a call. We look forward to making your home buying or selling a home an enjoyable experience for YOU!
Sign UP to receive daily HOME TRACKER UPDATES - OR - Our Monthly NEWSLETTER. And get regular updates on the Real Estate Market and events in Tucson, AZ.
Questions about the Tucson Real Estate Market or Tucson Homes for Sale? Call Us - 520 940 4541 OR complete the - CONTACT FORM - and we will get right back to you!