Kartchner Caverns Call 520-586-2283
A Tucson Must See Attraction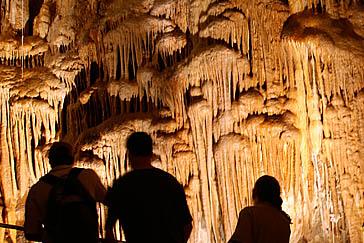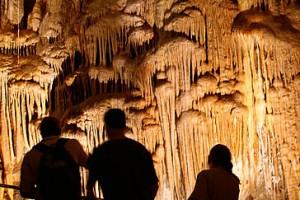 Kartchner Caverns is among the more interesting Tucson day trips you could take. The "Caverns" are in the Kartchner Caverns State Park about an hour southeast of Tucson near Benson, AZ.
It is a downright must day trip for close friends and family visitors. Be sure to schedule a reservation! It is an very popular place!
If you expect to take photos, forget it. Leave your personal things in the car. It is just you and the clothes you are wearing.
To protect the caves, cameras, back packs, purses, food or drink are allowed in the cave. It eliminates the opportunity to have something dropped or left in the caves accidentally.
Be Prepared
The cave is cool and moist at 68 degrees and 98 % humidity year round. A very lightweight jacket or garment is all you will need.
Wheelchairs are permitted in the caves. However strollers, walkers, crutches or motorized scooters are not allowed.
The Kartchner Caves is a top notch operation. There is an eye catching interpretive centre full of cave displays and information. This is also where you will check in for the tour.
It is better to be a little early. This will give you time to fully explore the center and all the displays there. When your tour is called, head outdoors and get on the tram. The tram will take you up the hill to the caves. All Kartchner Caverns Tours are led and narrated.
The tour can last between 1 1 / 2 to 2 hours. The entrance to the caves is through a couple of airlocks. These are living caves. The operators are impassioned about safeguarding the integrity of the cave. They manage the atmospherics and do every thing they can to avoid damage to the caves.
After the tour stop back at the gift shop to pick up a gift or memento. Do this after the tour because you will not be allowed to carry your purchases on the tour.
Other Things To See Around Tucson
Tucson has a number of other "must" places to see. Kitt Peak about 50 miles Southwest of Tucson. Old Tucson Studios West of Tucson. The Pima Air & Space Museum on the South Side of Tucson.
Conclusion
The Kartchner Caverns State Park is near Benson and about an hour Southeast of Tucson. Go East on I-10. Get off the freeway at exit 320 and go south on Highway 90. Follow the signs.
MAP to Kartchner Caverns State Park.
Thank you for visiting www.premiertucsonhomes.com! It's one of the top real estate websites in Tucson. Our clients tell us that.
Our website provides information on communities and neighborhoods in the greater Tucson area. Want more? Give us a call – 520-940-4541. We are ready to answer your questions and help you get the information you are looking for.
We are a top Realtor team in Tucson, AZ since 2002. Take a minutes to read our profiles and client testimonials. Maybe we are the Tucson Realtors you have been looking for.
We look forward to making your home buying or selling experience enjoyable YOU!
OH, Buy the way…..
Another great place to spend a day is the Desert Museum Tucson. Here you will be able to see the wildlife of the Sonoran Desert in their natural habatit.
Looking at homes for sale in Tucson Arizona for a place to retire Or a winter retreat? We can help!
Sign UP to receive daily HOME TRACKER UPDATES - OR - Our Monthly NEWSLETTER. And get regular updates on the Real Estate Market and events in Tucson, AZ.
Questions about the Tucson Real Estate Market or Tucson Homes for Sale? Call Us - 520 940 4541 OR complete the - CONTACT FORM - and we will get right back to you!