Fishing In Arizona At Lake Arivaca
Lake Arivaca For Fishing With Description, Pictures, Map & Suggestions
[quickshare]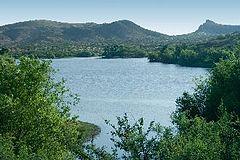 Fishing In Arizona – Lake Arivaca for Tucson Fishing – is located about 50 miles South of Tucson off I-19.  Exit 48, the Amado exit is where you want to get off.  Follow the signs to the for about 25 miles west to the town of Arivaca.  The lake is located about 5 miles south of Arivaca.
Lake Arivaca is within the Coronado National Forest. It is relatively small covering approximately 90 acres.

Arivaca Lake is located in an area of rolling grasslands set against a backdrop of rocky bluffs and distant mountains. This area is home to a number of cattle ranches, and much of the land in the vicinity of the lake is private property. Take that into consideration if you go strolling across the landscape.
Leave the gas boat motors home, only electric motors are allowed and keep the lake a quiet place to fish and relax.  They make a pleasant way to explore the narrow inlets that branch off the main body of water.  You will find Catfish and Large-mouth Bass are the likely catch.
As you pass through Arivaca be careful not to blink or you may miss the entire town.  A good place to stop is the General Store for some snacks and gas for the return trip to Tucson. 
Oh, and keep your eyes on the birds.  Many species of birds are seen in this area – some rare – some well done.
Questions about the Tucson Real Estate Market or Tucson Homes for Sale? Call Us 866 316 5575 OR complete the CONTACT FORM and we will get right back to you!