Parker Canyon Lake Has Great Tucson Fishing
Tips On Parker Canyon Lake With Directions And Map
[quickshare]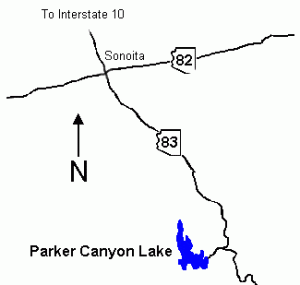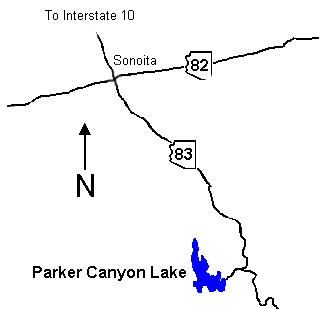 Parker Canyon Lake is located about 30 miles Southwest of Sierra Vista.  Parker Canyon Lake is about 130 acres which makes it the largest lake in the Coronado National Forest.  The area also provides over 50 campsites.
The lake elevation is over 5000 feet, so chilly mornings and evenings should be planned. Sunfish, Catfish, Rainbows and Norther Pike make this lake a desirable spot.  While  gas powered motors are allowed, they must be no more than 8 horsepower.
Parker Canyon Lake has both cold and warm water fish.  There is a fishing pier and a paved boat ramp and a path along much of the shoreline. A concessionaire operated store just in case you need something.  You can also buy a fishing license or rent a boat at the store.
Parker Canyon Lake is located in southeastern Arizona, 28 miles (45 km) southwest of Sierra Vista around the Huachuca Mountains and about 5 miles (8.0 km) north of the border with Mexico. The lake is a reservoir formed by a dam in Parker Canyon in the south end of the Canelo Hills in southwestern Cochise County. Parker Canyon is a tributary to the Santa Cruz River in the San Rafael Valley. The facilities are maintained by Coronado National Forest division of the USDA Forest Service.
Three Arizona fishing records came from Parker Canyon Lake –
Catfish – Channel At 32 lb – 4oz/38.75 inches
Catfish – Bullhead, Black At 2 lb – 6.1 oz/16.5 inches
Sunfish – Green At 1 lb – 9 oz/11.0 inches
Thinking of Arizona as a place to retire OR looking for houses for sale in Tucson AZ? We can help!
Sign UP to receive daily HOME TRACKER UPDATES - OR - Our Monthly NEWSLETTER. And get regular updates on the Real Estate Market and events in Tucson, AZ.
Questions about the Tucson Real Estate Market or Tucson Homes for Sale? Call Us - 520 940 4541 OR complete the - CONTACT FORM - and we will get right back to you!
Questions about the Tucson Real Estate Market or Homes for Sale in Tucson? Call Us 866 316 5575 OR complete the CONTACT FORM and we will get right back to you!