The Pima County Fair Is A Big Tucson Attraction
Tips For A Great Experience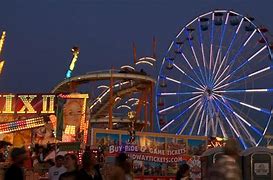 The Pima County Fair is held in August every year. It is Tucson's biggest annual event! Visitors can enjoy live Pima County Fair concerts, food, exhibits, attractions, automobile shows, animals and much more!
The Pima County Fair grounds includes four halls, 2 stages, horse arenas, a cantina, and a stock barn.
Even Though a fair is generally predictable with rides, carnival games and cotton candy, the Pima County Fair is unique, in the fact that it offers some kind of special thing going on every day. Whether it is a concert, demolition derby or animal exhibit.
Each day at the Pima County Fair is different.
For those not interested in rides don't stay away. Try to win a teddy bear or visit one of the exhibit halls.
Don't forget there is always the food……..and beverages.
Other Annual Events
The Southwestern International Raceway (SIR) and Tucson Raceway Park (TRP). These racetracks offer endless weekend events for the entire family. There are rofessional motor races at TRP and NHRA at SIR.
SIR will also offers weekly high school drags for the younger visitors in a secure and controlled setting. TRP hosts spectator events for any race car. Visit TucsonSpeedway.com for their schedule of events..
However, there is far more to the Pima County Fair grounds than just racetracks and an annual fair. It is also a year round hosts to large outside live shows and festivals that attract all ages and draw large crowds.
These events will appeal to every member of your family. Animal shows, equipment sales and rallies are a few of their other activities. While the fairgrounds may seem to have a clear-cut function, it is actually far more than it seem to be.
Facilities are available to rent for weddings and Quincenearas. A Quincenearas is a popular Latin American event celebrating a girl's fifteenth birthday
Southwest Fair Commission
The annual Pima County Fair is under the jurisdiction of the Southwestern Fair Commission, Inc. This is a non-profit, private corporation, established by Pima County in 1975. The "commission" operates the fairgrounds and the Pima County Fair.
Profits earned from operations are put back into the facilities.
The Pima County Fair complex is situated in a desert landscape with mesquite, cacti and grass. The facility was created for diverse and multiple use to include outdoor performance and stage areas, three exhibit buildings, horse facilities, and livestock arenas.
There are 15-acres of asphalt that can be used for outdoor display and exhibit spaces. There is ample picnic areas, RV facilities and areas for out-door camping.
The Southwestern Fair Commission, Inc. oversee improvements to the facilities at the Pima County Fairgrounds. They cooperate with other for profit and non-profit organizations to produce more events to serve our community.
Conclusion
Thank you for visiting www.premiertucsonhomes.com! It's one of the top real estate websites in Tucson. Our clients tell us that.
Our website provides information on communities and neighborhoods in the greater Tucson area. Want more? Give us a call – 520-940-4541. We are ready to answer your questions and help you get the information you are looking for.
We are a top Realtor duo in Tucson, AZ since 2002. Read our client testimonials.
The Tucson area has many things to offer both residents and visitors. If you are considering a move to Tucson Arizona, we can help!
Give us a call. We look forward to making your home buying or selling experience enjoyable YOU!
Sign UP to receive daily HOME TRACKER UPDATES - OR - Our Monthly NEWSLETTER. And get regular updates on the Real Estate Market and events in Tucson, AZ.
Questions about the Tucson Real Estate Market or Tucson Homes for Sale? Call Us - 520 940 4541 OR complete the - CONTACT FORM - and we will get right back to you!