A Premier 55+ Community in Arizona
The Ultimate Guide to Retirement in SaddleBrooke AZ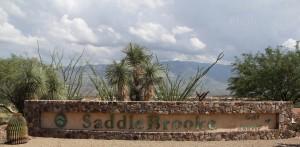 SaddleBrooke is a Robson 55+ community located 20 miles north of Tucson, Arizona and 10 miles north of Oro Valley AZ. Development started in 1986 and completed in 2021.
The SaddleBrooke community of 6,000 homes sits in a valley at the northern base of the Santa Catalina Mountains. At an elevation of about 3,500 ft, SaddleBrooke experiences cooler summer temperatures. These cooler temps also mean an occasional dusting of snow during the winter months.
Residents enjoy stunning Santa Catalina Mountain views and an endless list of activities to enjoy. From community events and classes, to the shopping and restaurants in and around the area.
SaddleBrooke AZ is one of three Robson Resort Communities in the greater Tucson area. It is one of the top 100 Best Master Planned Communities in the country for active adult living.
The community offers an range of interest groups and activities. If an active lifestyle is your "cup of tea", then SaddleBrooke AZ may be for you. SaddleBrooke is the ideal Arizona Retirement Community to live in.
The residents in SaddleBrooke AZ welcome each new arrival. You will immediately find lots of things to do. Grab you clubs and head to one of the 3 Championship Golf Courses with clubhouses and Pro Shops.
Spend an evening at dinner at one of the six restaurants in the community. Go to a Performing Arts Theater event or join a hobby group at the Creative Arts Center.
If you feel active adult communities are your "cup of tea", then the SaddleBrooke community is a perfect place to call home.
Preserve At SaddleBrooke
The Preserve at SaddleBrooke is a luxury home 55+ community within SaddleBrooke AZ. The Preserve offers secluded living, luxury homes and stunning views or the Santa Catalina Mountains.. Homes sit on large lots and offer a wide range of architectural styles.
The Preserve offers active adult luxury homes ranging from 2,700 to 3,500 sf on larger lots. Amenities include a championship golf course, tennis and pickleball courts, swimming and fitness center.
The Preserve club house has a Patio lounge area, bar and restaurant with stunning views of the mountains.
Homes are still being built in the Preserve at SaddleBrooke and there are resale homes available as well.
Find A Home For Sale In The Preserve At SaddleBrooke AZ
Two HOA's In SaddleBrooke AZ
SaddleBrooke is a unique community in that it has two Homeowner Associations – HOA One and HOA Two. Both HOAs provide governance and maintenance of community facilities in SaddleBrooke AZ.
HOA One began in 1988. Within HOA One there are 2,060 homes and community amenities. A clubhouse with three restaurants and 27-hole golf course are central to HOA One. Each restaurant has an outside patio to lounge around while meeting friends and have a meal or beverage of choice.
These amenities are complimented by tennis courts and swimming pool complex. The facilities accommodate the activities of over 100 groups and clubs.
SaddleBrooke HOA One utilizes its own Board of Directors.
HOA Two transitioned to resident ownership in 2014.
Governance is by a 7 member Board of Directors. A General Manager is responsible to the BOD and oversees all operations. Individual department heads report to the General Manager.
There are two club houses, two golf courses and 3 restaurants and grill in HOA Two. Three swimming pools, two fitness centers and tennis and pickleball courts also available.
SaddleBrooke HOA Two includes residents of SaddleBrooke and The Preserve at SaddleBrooke. Combined there are roughly 3,900 homes in HOA Two.
Clubhouse Facilities

SaddleBrooke AZ is well-equipped with amenities, activities, and social events for its residents. There are seven restaurants, 3 golf courses, 4 fitness centers and other recreational activities to enjoy.
Clubhouses – There are three clubhouses within SaddleBrooke AZ. The SaddleBrooke Clubhouse, Mountain View Clubhouse and the Preserve Clubhouse.
Each of these SaddleBrooke facilities is available to residents of SaddleBrooke AZ. Within each SaddleBrooke clubhouse are restaurants, bars, meeting rooms and fitness facilities.
Restaurants
Dining out is popular in SaddleBrooke and there are lots of options to choose from. Whether you are alone, with a small group or a larger gathering there is a restaurant for you.
SaddleBrooke One Clubhouse
>>> Vistas and Agave Lounge – Is perfect for a beverage, to a light meal or special occasion. The meals will impress and so will the panoramic view of the Santa Catalina Mountains.
The menu changes and weekly specials create an opportunity to expand your pallet. Meals range from unique to down home favorites.
Several times each month the best entertainment in Tucson performs in this venue.
>>> RoadRunner Grill – Provides residents an extensive menu. Dishes include soups, salads, specialty sandwiches and All-American classics.
It's a popular place to relax after a round of golf or time in the pool. Service is available inside or on the outdoor patio.
>>> Brooke One Pizza Kitchen – It the place to go for a great pie. It presents a broad range of fresh made pizzas. OH, and beverages of choice.
Patrons have a choice of regular, wheat or gluten-free crust. And yes, you can eat it there or take it home.
Mountain View Clubhouse
>>> MountainView Bar & Grill is a melting pot for the community. A place where friends and family gather and share.
It's the perfect spot to meet up with old friends, get together with family, or catch up with the neighbors.
The MVBG menu presents seasonal dishes and frequent chef specials. Great food complemented by your favorite beverage or a signature MVBG cocktail.
Along with the meal, you can also enjoy the stunning views of Santa Catalina Mountains. At no extra charge by the way.
The view might also include a glimpse of a herd of mule deer grazing on the nearby greens.
Don't forget Happy Hour from 3 to 6 PM
>>> The Brooke is sure to become a go to place in the Mountain View Clubhouse.
Guests will enjoy lively atmosphere and varied menu full of delectable flavors. Great service and an inviting atmosphere at this new restaurant will bring you back for more.
The Brooke will be the perfect place to relax, unwind, and enjoy a delicious meal unlike any other!
>>> The Links is a grab-and-go snack shop located next to the Mountain View Golf Course. Golfers find the brats and dogs perfect at the turn or after the round. The cold beer don't hurt either.
The Links is the perfect place to stop for a delicious meal or snack even if you are not golfing.
The Preserve Clubhouses
>>> The Preserve restaurant is a premier fine-dining experience in the Preserve Clubhouse. Well known for its modern American cuisine, inviting atmosphere, and its convenient location.
Dining at The Preserve gives you choices. Eat in the cozy lounge, spacious covered patio, or main dining area. If you choose the patio or main dining area you get views of the Santa Catalina Mountains.
Updates to the Preserve At SaddleBrooke menu creates an exceptional dining experience. It is an ideal spot to host a special event or indulge in a tasty meal with friends and family.
Golf
There are three golf courses in SaddleBrooke. The SaddleBrooke Country Club, Mountain View Golf Course and the Preserve Golf Course.
>>> SaddleBrooke Country Club – Owned and operated by SaddleBrooke HOA 1. It is a private members only golf club.
The 27-hole facility includes three 9-hole courses — SaddleBrooke, Tucson, and Catalina.
Each course is unique, but all 3 nines have the Catalina mountains as a backdrop.
The 3 nine hole course layouts rotate daily. This ensures players experience a different 18 hole course each time they play.
The driving range and practice facilities provide ample opportunity for practice. Lessons provide by Certified PGA professionals.
>>> Mountain View Golf Club an 18-hole golf course that plays 6,700 yards from the tips.
Its name says it all! Magnificent views of the surrounding Catalina mountains are stunning. The mountains also provide great sight lines for golfers.
The course weaves through hilly natural desert landscape that creates a unique layout. Although windy conditions prevail, the fairway landing areas are generous.
Annual passes are available and provide unlimited play.
>>> Preserve Golf Club's 18-hole Course promises a thrilling and rewarding experience. Understand, this is a strong golf course.
Narrow rolling fairways challenge you off the tee on most holes. Green complexes demand precision approach shots and putting talent.
But the Catalina Mountain views are stunning even after a bad shot or missed putt.
Annual passes are available for unlimited play.
Pools – Fitness – Other Stuff
Ok, the best thing to say on this topic is – SaddleBrooke AZ has them all.
Each clubhouse has a pool, fitness center, meeting rooms and stuff to do. If you can't find it, you are not trying.
There is also the Desert View Performance Center and Fitness – Wellness Center. This is a stand-alone facility at the south end of the SaddleBrooke AZ community.
Considering A Home In SaddleBrooke AZ?
Are you thinking of buying a home in SaddleBrooke AZ or one of the other Robson Resort Communities in Tucson? Finding the right home can be a challenging process. But we can make the process much less stressful for you.
We have been Tucson Realtors since 2002. We know Tucson and the Tucson Real Estate market. As a top Realtor duo, we invest the time to understand your home buying interests and desires. At our first meeting, we will review the current real estate market with you. Show you the market data and then walk you through the Arizona home buying process.
Why? We want you to know what to expect. And what to plan for.
Interested in new construction? We'll brief you on buying a new construction home. And what's unique about the process.
For us, you are not another real estate transaction. You are a client and, future friend. We strive to create a relationship that continues long after you move into your home. Review our profiles. Check out our backgrounds, education, and certifications.
We are here to help you "know what you need to know" to buy a home in Tucson, AZ. We provide you information on Tucson events, places to shop and restaurants. Our resources include contractors, electricians, and home services. Our professional service backgrounds mean we put you first!
Conclusion
SaddleBrooke AZ is the first on three active adult communities built by Robson Development in the greater Tucson Arizona area. The other two Robson Resort Communities are SaddleBrooke Ranch and Quail Creek. New construction homes and resale homes are available in these two 55+ adult communities.
SaddleBrooke Ranch is 4 miles north of Saddlebrooke AZ on Highway 77. Quail Creek is 20 miles south of Tucson on highway 19.
Thank you for visiting www.premiertucsonhomes.com! It's one of the top real estate websites in Tucson. Our clients say that, not us.
Our website provides information on communities and neighborhoods in the greater Tucson area. Want more? Give us a call – 520-940-4541. We are ready to answer your questions and help you get the information you are looking for.
We are a top Realtor duo in Tucson, AZ since 2002. Read our client testimonials. Give us a call. We look forward to making your home buying or selling a home an enjoyable experience for YOU!
Find other communities offering Tucson New Construction homes – Here.
Looking for places to retire in Arizona OR buying Real Estate In Tucson AZ? We can help!
Sign UP to receive daily HOME TRACKER UPDATES - OR - Our Monthly NEWSLETTER. And get regular updates on the Real Estate Market and events in Tucson, AZ.
Questions about the Tucson Real Estate Market or Tucson Homes for Sale? Call Us - 520 940 4541 OR complete the - CONTACT FORM - and we will get right back to you!