A Tucson Septic Inspection Is Required 
What Home Buyers Need To Know About A Tucson Septic Inspection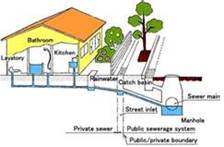 Tucson Septic Inspections
are required when buying a Tucson Home that has a Septic System.  Tucson Homes with Septic System need to be inspected to ensure it is in good working order.
Tucson Septic Inspections may be completed during the home inspection period. However, the Seller is responsible for scheduling the inspection.  The seller will them provide the report to you, the Buyer.
Tucson Septic Inspections are so important that a specific Addendum will need to be included with a Purchase Contract.
The addendum sets forth the requirement for Tucson Septic Inspections, repair of any issues and transfer from the Seller to the Buyer.  Tucson Septic Inspections and repairs are paid for by the Seller.
Should the Tucson Home you will be purchasing have a septic system or alternative system, we will inform you.  We will have you sign and incorporate the addendum into the Purchase Contract. A Tucson septic inspection will be required.
Other Inspections To Consider
Tucson Termite Inspection and Tucson Roof Inspection also provide valuable information to the Buyer's purchase decision.  Some Buyers want to have Tucson Radon Inspection or Tucson Mold Inspection.
If suggested by the Tucson Home Inspection, a Tucson Structural Inspection or Tucson Pool Inspection may be required.
Is Tucson In Your Future?
Looking for a home in Tucson Az Or considering Tucson as a place to retire in the future? We can help!
Sign UP to receive daily HOME TRACKER UPDATES - OR - Our Monthly NEWSLETTER. And get regular updates on the Real Estate Market and events in Tucson, AZ.
Questions about the Tucson Real Estate Market or Tucson Homes for Sale? Call Us - 520 940 4541 OR complete the - CONTACT FORM - and we will get right back to you!
Questions about the Tucson Real Estate Market or Tucson Homes for Sale? Call Us 866 316 5575 OR complete the CONTACT FORM and we will get right back to you!
For more information on Tucson Septic Inspections the check the Water at Pima County DEQ website.  Pima County septic inspectors follow a standard checklist compiled from the Arizona Administrative Code, Title 18.
This site shows how a Tucson Septic System should be installed and work.  Clicking on the pictures below will open a slide presentation detailing the inspection process.  It is also important to know that an alternative system requires engineering considerations beyond a conventional system.  These considerations are to address limiting site conditions (high water table, impervious soil, rock layer, etc.) and/or proper effluent treatment.