What Makes A Smashburger So Good – A Tucson Restaurants Review
3 Locations in Tucson AZ – Find One Near You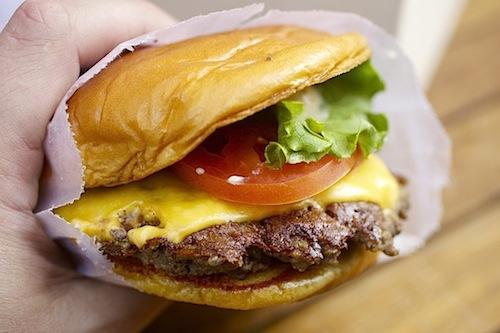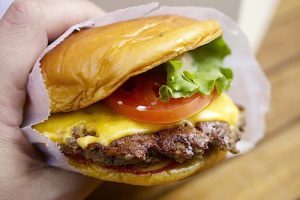 What the heck is a smashburger?
The name smashburger actually refers to the cooking technique used in making a hamburger. As with many "new and improved" things, the technique is not new.
The "smashing" technique dates back to the White Castle burger restaurants of the 1920s. White Castle abandoned the smashing method in favor of using frozen beef for its burgers. Clearly, smashing a frozen beef patty can be difficult, if not impossible.
The name Smashburger comes from the process of cooking the burger. A 100 percent fresh angus beef ball is literally smashed immediately after it is put on the hot griddle. A unique smashing tool – patent pending – does the job.
The smashing process creates the sear that seals the juices in the meat. Keeping the juices in makes the burger taste better.
The Maillard Reaction – The TMI Part
The smashing process causes the Maillard Reaction. Also known as the browning reaction. It is actually is a chemical reaction that take place when protein-rich foods get heated. Large proteins break down into smaller compounds that react and recombine into new configurations.
This cycle of breaking down and recombining goes on and on. It is a cascade of chemical reactions that creates hundreds of brand new compounds. A deep brown crust is created before the interior of the beef patty overcooks. Firm on the outside, juicy on the inside.
The Result
The resulting crust on the patty does two things. First, it keeps the juices in. Second, it adds a crunch taste to each bite. But, the process also means a "medium rare to rare" burger is almost impossible to achieve.
The Smashburger menu has a variety of burger choices. For those not into beef, there are Smashchicken sandwiches and fresh salads offerings.
For those wanting to try smashing at home, be advised, there is one place the smashing technique doesn't work well. On your outdoor grill! Unless you have a side griddle cooking top.
Smashburger Tucson, AZ
The first Smashburger opened in Tucson in November 2012. Today there are four locations.
3837 E Broadway Blvd.
Tucson, AZ
4821 E Grant Rd.
Tucson AZ
Oracle Crossings Shopping Center
7625 N. Oracle Road #145
Oro Valley, AZ
Smashburger is seeing rapid growth across the United States. It combines a modern fast casual dining experience with cooking techniques from a by gone era.
While not yet as big as Five Guys Burger and Fries, it appears to be offering a unique formula for great burgers and gaining popularity.
If you are living in Tucson, AZ or just visiting, give Smashburger a try.
Conclusion
Thank you for visiting www.premiertucsonhomes.com! It's one of the top real estate websites in Tucson. Our clients tell us that.
Our website provides information on communities and neighborhoods in the greater Tucson area. Want more? Give us a call – 520-940-4541. We are ready to answer your questions and help you get the information you are looking for.
We are a top Realtor duo in Tucson, AZ since 2002. Read our client testimonials. Give us a call. We look forward to making your home buying or selling experience enjoyable YOU!
Sign UP to receive daily HOME TRACKER UPDATES - OR - Our Monthly NEWSLETTER. And get regular updates on the Real Estate Market and events in Tucson, AZ.
Questions about the Tucson Real Estate Market or Tucson Homes for Sale? Call Us - 520 940 4541 OR complete the - CONTACT FORM - and we will get right back to you!