Home Swimming Pool Ideas
Ideas And Tips That Add Value To A Home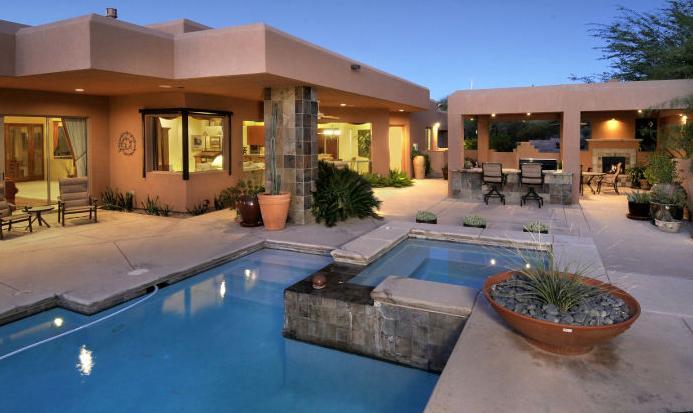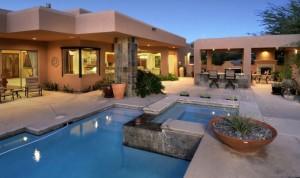 Will a pool add value to a home? Well, Yes and No. But here are some great swimming pool ideas to make the answer a YES!
In general, putting in a swimming pool is simply not the very best way to add value to one's home. You're far better off doing upgrades to a kitchen or bathrooms.
Nevertheless, if you are about to pull the trigger and add a pool consider these swimming pool tips.
First, a swimming pool may add value to your home in some situations.
Here are some tips and pool ideas to consider:
1 – Do you live in subdivision or community where most homes have swimming pools? Then putting in a swimming pool will likely help in selling your home. When the majority of your neighbors have pools, not having a pool may actually make a home more difficult to sell.
2 – If you live in a warm climate state – ARIZONA – the weather is perfect for that backyard swimming pool. Of course, your lot needs to be big enough to accommodate a pool and still have some room left over for pool landscaping and play areas.
Still, that is no guarantee you'll get the best return on the expenditure. Especially if you are adding a luxury pool. At most, the home's value may increase 7% when all factors are right when it comes time to sell.
Some more swimming pool tips and pool ideas are:
3 – The pool shape and size of the pool fits the neighborhood. A $100,000 swimming pool in a neighborhood of $300,000 homes isn't going to add value. It may help you sell the home.
4 – The condition of the pool is important. Most home buyers aren't looking for a swimming pool project. If the pool is very old, one of the pool ideas on your list should be to have it resurfaced. This is one of the lower cost pool ideas to attract buyers looking for homes with pools.
When the rubber meets the road, a pool is really a personal amenity or lifestyle choice. Only the homeowner can determine the true return on investment. A pool can add value to your quality of life and enhance the enjoyment of your home. You can't put a price tag on that.
Still interested in that backyard pond? Here are some more tips and swimming pool ideas to consider.
Swimming Pool Ideas – The Cost to Build a Pool
The average cost in the U.S. to install, equip, and fill a 600-sq.-ft. concrete pool starts at $30,000. Add in things such as safety fences (most states require them under a pool barrier law), waterfalls, lighting, landscaping, and perhaps a spa, and you're easily approaching $60,000+.
The cost will also depend on the type of pool you choose.
Gunite is the most popular material for in-ground pools. Gunite is a mixture of cement and sand. The beauty is that it can be used for virtually any shape. In most areas Gunite has replaced concrete pools as the standard.
Using fiberglass shells with vinyl liners will lower the cost of the pool significantly. However, liners typically need replacing every 10 or so years. Switching the liner requires draining the pool and replacing the surround. So over time, costs will add up. Some home buyers may request that you replace a vinyl liner, even if it's just a few years old.
Swimming Pool Ideas – Filtration and Heating
The filtration pump is the biggest energy hog in a pool system. Get the most efficient pump possible. The good news here is that new, variable-speed pumps use up to 80% less energy than old single-speed pumps. That will cut down the operating expenses significantly.
New variable-speed pumps can cost quite a bit more, but some local utilities may offer rebates through participating pool dealers. So, do some homework and check out the options. You can further reduce energy costs by setting the pump to run at non-peak hours when rates for electricity tend to be lower.
If you're planning to heat your pool, gas heaters are the least expensive to purchase and install. However, they typically have the highest operating and upkeep costs. An option to consider is an electric heat pump.
A heat pump extracts heat from the surrounding air and transfers it to the water. Heat pumps will take longer to warm the pool, but they're more energy-efficient. A heat pump could save $200 to $400 less to operate per swimming season.
Whatever of heating system, protecting the pool with a solar blanket to hold heat and reduce evaporation will further lower operating expenses.
Swimming Pool Ideas – Maintenance Expenses
All swimming pools need the water be balanced for proper pH, alkalinity, and calcium levels. They always need sanitizing to manage bacteria and germs. That is where chlorine enters the picture. Chlorine is still the standard, but there are options.
These days you have a range of options, including systems that use bromine, salt, ozone, ionizers, or other chemical compounds that can be less irritating to the skin. Chlorine remains the more popular simply because the upfront costs are reasonable, and you don't have to be as rigid about monitoring the levels on a set routine.
But as far as your budget is concerned, these all even out in the end.
In a seasonal swimming climate, budget about $600 annually for maintenance if you do the work. In a year-round swimming pool, climate maintenance will run $15 to $25 per week.
To save yourself the task of once-a-week vacuum cleaning, you can buy a robotic cleaning system for between $500 and $800 to do the job for you. In places where the swimming pool must be opened and closed for the season, add another $500 each time for a pro to handle this task.
Swimming Pool Ideas – Insurance and Taxes
A basic homeowners insurance policy typically covers a pool structure without requiring a special rider. However, increasing your liability coverage from the standard amount is a good idea.
Depending on the state you live in, your premium is likely to be $30 a year more to bump coverage from $100,000 to $500,000.
Be advised, some insurance underwriters require you to fence in the pool so children can't wander in unsupervised.
In a few places, adding a pool might increase your annual property taxes, but not necessarily add to your home's selling price. For that reason, try to keep your total building cost between 10% and 15% of what you paid for your house. You won't get it all back but enjoy the summers.
Conclusion
Thank you for visiting www.premiertucsonhomes.com! It's one of the top real estate websites in Tucson. Our clients tell us that.
Our website provides information on communities and neighborhoods in the greater Tucson area. Want more? Give us a call – 520-940-4541. We are ready to answer your questions and help you get the information you are looking for.
We are a top Realtor duo in Tucson, AZ since 2002. Read our client testimonials. Give us a call. We look forward to making your home buying or selling experience enjoyable YOU!
Considering a move to Tucson Arizona or maybe planning for a future retirement at an active adult community? We can help.
Sign UP to receive daily HOME TRACKER UPDATES - OR - Our Monthly NEWSLETTER. And get regular updates on the Real Estate Market and events in Tucson, AZ.
Questions about the Tucson Real Estate Market or Tucson Homes for Sale? Call Us - 520 940 4541 OR complete the - CONTACT FORM - and we will get right back to you!