Tips For Keeping Stucco Exteriors Looking Good
Stucco Lasts Longer With Proper Maintenance
Most southern Arizona residents are accustom to seeing homes with a stucco exterior. In fact, almost all homes in southern Arizona have stucco exteriors.
The reason for a stucco exterior is simple. It does a great job of protecting the home in the Arizona climate. Stucco is a strong coating that will stand the test of time and the Arizona sun.
Stucco is and has been the traditional southwest home exterior for decades. It is durable, but needs regular maintenance and painting.
When properly maintained, stucco is an incredibly long-lasting finish for the outside of your home. Because there are no gaps in stucco finishes, your home may be better insulated and protected against water damage
However, if you are not properly taking care of your stucco home, you won't get to reap these benefits. Painting stucco is a great way to refresh your home's exterior and improve curb appeal. However, improper painting may flake or peel, ruining your hard work. 
Once you get the exterior of your house in order, don't forget the backyard! Painting your pool further improves your home's market value and is an important part of your exterior renovation.
We've listed three tips for some stucco paint tips to refresh your home's exterior and add value to your property.
Tip 1: Consider UV Rays
Arizona gets a lot of sunshine. This is great for enjoying outdoor activities, but not so great for the longevity of exterior paints. Just like UV rays damage our skin, your home's exterior paint is damaged by the bright sun over time.
When selecting paint for your stucco home, select paints that have UV protection to prevent fading and other damage from bright sunlight
Tip 2: Evaluate Flexibility
In June, July, and August, Tucson averages a high of 101. Home exteriors get the brunt of the heat, so you need paint that can withstand higher temperatures. 
Most materials, stucco included, expand when heated, so you need flexible paint if you want your stucco exterior to last. Stucco doesn't expand as much as other materials, but it is also generally exposed to more heat. Acrylic latex paint is a great choice to avoid cracking and improve longevity.
Tip 3: Take Your Time
Painting your stucco home's exterior is not a small job, so make sure that you budget enough time to do it right. 
Every exterior paint job needs to begin with a deep cleaning of your home's exterior. For stucco, this means cleaning the exterior with a stiff-bristled broom or using a power washer.
Next, you will need to repair any cracks in your home's stucco. If you don't do these repairs before painting, your home will be more susceptible to water damage and your paint will be more likely to crack. 
Keep in mind that stucco caulking needs at least 7 days to cure before you can paint over it.
Now that you're ready to paint, be sure to properly prime your stucco. Skipping any of these important steps ultimately means wasted time and money, so plan ahead so you aren't rushing and skip steps to finish the project.
Painting Tips for Pools With Fading Or Stains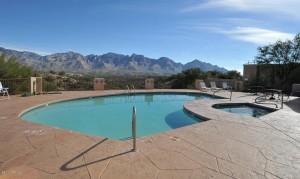 For many homeowners in Tucson, their patio and pool is like their second home. But over time most pool surfaces become faded or stained. Most likely in plaster or concrete pools. That means maintenance.

Here are some pool painting tips to make sure you get the job done right.
The safest choice for painting your pool is using waterborne paint. Waterborne paint is designed for painting over damp surfaces and it dries much quicker than traditional paint.
Make sure that you do some research on your pool before starting any projects. To successfully repaint your pool, it's very important to know, what type of material your pool is made of and what type of paint was previously used.
If your pool is made of plaster or concrete, you should acid etch it with a muriatic acid solution before painting. While you can acid etch your pool yourself, it requires proper PPE and safety precautions. If there is any step in painting a pool where you should consider hiring a professional, this is it.
Enjoy Your Curb Appeal
Once you've properly invested your time into painting your stucco home and pool, you get to enjoy the best part of it all — having a beautiful home in the best small city in the continental United States. 
The Above Guest Article by Chi Whitley – siegemedia.com
Considering A Home In Tucson, AZ?
Are you thinking of buying a home in the greater Tucson area? Finding the right home can be a challenging process. But we can make the process much less stressful for you.
We have been Tucson Realtors since 2002. We know Tucson and the Tucson Real Estate market. As a top Realtor duo, we invest the time to understand your home buying interests and desires.
At our first meeting, we will review the current real estate market with you. Show you the market data and then walk you through the Arizona home buying process.
Why? We want you to know what to expect. And what to plan for.
Interested in new construction? We'll brief you on buying a new construction home. And what's unique about the process.
For us, you are not another real estate transaction. You are a client and, future friend. We strive to create a relationship that continues long after you move into your home. Review our profiles. Check out our backgrounds, education, and certifications.
We are here to help you "know what you need to know" to buy a home in Tucson, AZ. We provide you information on Tucson events, places to shop and restaurants. Our resources include contractors, electricians, and home services.
But most important, our professional service backgrounds mean we put you first!
Thinking About Selling Your Home In The Greater Tucson Area?
Selling a home requires more than listing it in the Tucson MLS system. It's about marketing. Marketing through multiple online channels.
To no one's surprise, 80% of home buyers start their search on the internet. Homes must be visible on multiple internet channels. The more visible a home is, the faster it will sell.
And the photos on the mls make a difference. You can spend lots of money on home staging, but if the photos aren't great it doesn't matter. Staging and stunning photos make it all come together.
We use multiple online marketing channels to showcase your home. We will build a stand-alone website built to show your home. Our marketing program targets key cities in the U. S. based on the season.
For luxury listings, our drone service provides video of your home and neighborhood. This video along with professional photos helps the online buyer see and feel your home. Their "new" home.
To learn more about how we can help you sell your Tucson home, call us – 520-940-4541 – to arrange a meeting. We will visit your home and prepare a comparative market analysis.
Then we will meet with you to review our analysis. We will go over our Comparative Market Analysis for your home in detail. And the review our marketing program to "get your home sold!"
Conclusion
Thank you for visiting www.premiertucsonhomes.com! It's one of the top real estate websites in Tucson. Our clients tell us that.
Our website provides information on communities and neighborhoods in the greater Tucson area. Want more? Give us a call – 520-940-4541. We are ready to answer your questions and help you get the information you are looking for.
We are a top Realtor duo in Tucson, AZ since 2002. Read our client testimonials. Give us a call. We look forward to making your home buying or selling experience enjoyable YOU!
Sign UP to receive daily HOME TRACKER UPDATES - OR - Our Monthly NEWSLETTER. And get regular updates on the Real Estate Market and events in Tucson, AZ.
Questions about the Tucson Real Estate Market or Tucson Homes for Sale? Call Us - 520 940 4541 OR complete the - CONTACT FORM - and we will get right back to you!