Toll Brothers At Los Saguaros Site Plan – Phase 1 & Phase 2
Find A Home For Sale In This Northwest Tucson Subdivision

Home Sites For Toll Brothers At Los Saguaros
Toll Brothers at Los Saguaros site plan is destined to be one of the noted luxury gated communities in Dove Mountain. This new community offers homes with majestic views of mountains, city lights, and green fairways. The Gallery Golf Clubs South course boarders the Toll Brothers home sites to the east.
Located in the heart of the Dove Mountain master plan area the Toll Brothers at Los Saguaros site plan blends into the beauty of the Sonoran Desert.
Search For Homes In Los Saguaros
Toll Brothers At Los Saguaros Site Plan – Phase 1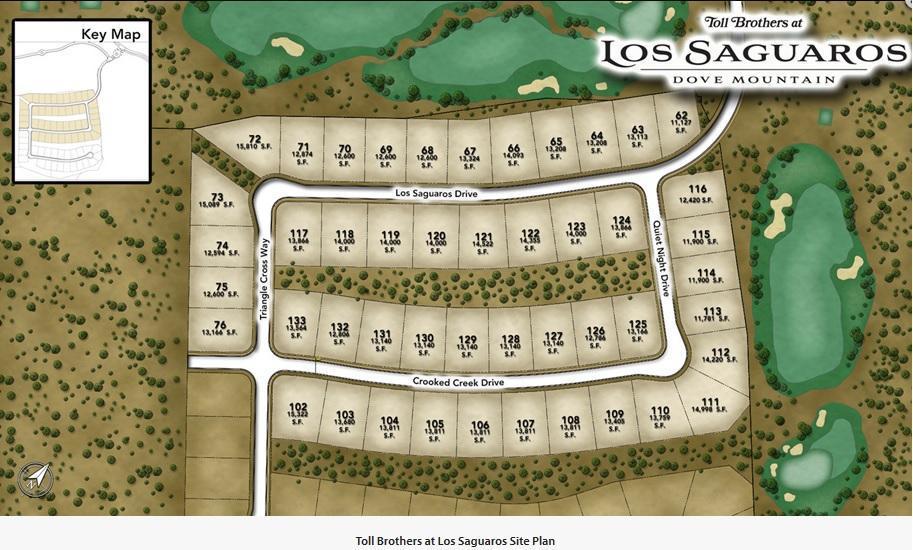 Toll Brothers at Los Saguaros site plan identifies the first 47 lots on which Toll Brothers is building 6 home floor plans that range from 2,700 to over 3,800 square feet. These luxury home sites are just over ¼ acres.
Homes by Toll Brothers at Los Saguaros will provide a blend of architecture focused on attributes from Spanish, Southwest Sonoran Desert and modern design.
Toll Brothers At Los Saguaros Site Plan – Phase II
The second phase of the Toll Brothers development will have 25 homes. When completed the Toll Brothers at Los Saguaros Site plan will have a total of 72 homes.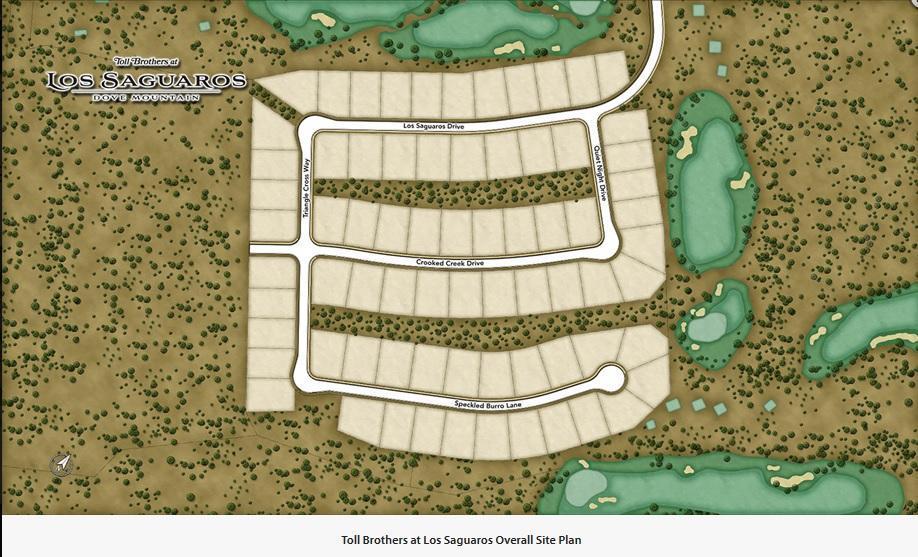 8 Things To Know BEFORE You Enter A New Home Builders Model Homes and Sales Office
It is important for you to understand
You have the right to be represented by a Realtor when buying a new construction home.
BUT your Realtor

MUST

be with you on your

FIRST

visit to the new home builder's sales office and register you!
You will

NOT PAY MORE

to have a Realtor represent you when buying a new construction home in Tucson, AZ.
If you don't have a Realtor with you on your first visit – KNOW THIS
The sales agent at the builder's sales office works for the builder,

NOT YOU!

They will ask you to "register" when you come in – or shortly after.
If you register, you are

GIVING UP YOUR RIGHT

to be represented by a Realtor at that builder's site in the future.
Chances are the builder's sales agent

WILL NOT

disclose this to you!
If you register at the builder's site, you are on your own to work through the builder's contract and all purchase decisions. Yes, the builder's sales agent will work with you through the paperwork. They will answer your questions.

BUT

with who in mind? You or the builder they work for? Will they tell you there are homes for sale with the floor plan you want that may be less than it will cost you to build it?
Dove Mountain
Dove Mountain is a Master Planned Community in the Tortolita Mountains. It is less than 30 minutes north of Tucson. Map
Development started in 1996. Today there are now over 3,000 homes and 25 neighborhoods and still growing. Most residential areas provide low density communities. Large amounts of open natural land between homes are the norm.
Also, much of the area is bordered by state trust and natural preserve land. Dove Mountain, Arizona residents have a wide array of recreational choices. Hiking trails, parks, golf courses and desert wildlife make this a great place!
Conclusion
Thank you for visiting www.premiertucsonhomes.com! It's one of the top real estate websites in Tucson. Our clients say that, not us.
Our website provides information on communities and neighborhoods in the greater Tucson area. Want more? Give us a call – 520-940-4541. We are ready to answer your questions and help you get the information you are looking for.
We are a top Realtor team in Tucson, AZ. Read our client testimonials. Give us a call. We look forward to making your home buying or selling a home an enjoyable experience for YOU!
Dove Mountain Arizona homes are built in the rolling hills of the high Sonoran Desert. Dove Mountain covers 6200 acres and provides residents an active outdoors living experience the year round. Communities in Dove Mountain include first time home buyers to the luxury subdivisions of The Gallery and Canyon Pass. There is something for every one in Dove Mountain Arizona.
Considering a new construction home in Dove Mountain or other area of Tucson? Here are some things you should know before signing the contract with any new home builder.
If you are moving to Southern Arizona for a new job, warm weather or perhaps just planning for the future place to retire, we can help!
Sign UP to receive daily HOME TRACKER UPDATES - OR - Our Monthly NEWSLETTER. And get regular updates on the Real Estate Market and events in Tucson, AZ.
Questions about the Tucson Real Estate Market or Tucson Homes for Sale? Call Us - 520 940 4541 OR complete the - CONTACT FORM - and we will get right back to you!