The Termite Inspection Is A MUST in Arizona

Mortgage Lenders May Require It!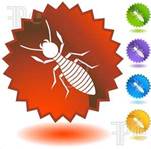 A Termite Inspection is an important step in the Tucson Home Buying process.But first a bit of background.

There are four types of termites in Arizona?
Like bees, termites are social insects. Each termite in the colony has different functions.
Ok, this is TMI, but may be interesting to some readers.
Workers are responsible for feeding and maintaining the colony. Soldiers defend it.
You find swarmers in the reproductive caste, and that includes the queen. Their job is expanding the colony as well as creating new colonies.
As expected the queen's job is to produce eggs, ensuring the colony's population continues.
Types Of Termites
Desert subterranean termites
This specie thrives in extreme dry heat. So it's no surprise they're found in Arizona, particularly the southern parts of the state.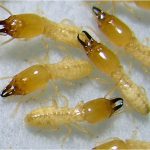 You may find them living in desert plants. For example a cactus. But they're also attracted to the soft, porous rings in timber.
When they eat, the damage left behind resembles honeycombs.
Desert subterranean termites don't need dampness as most other termite species need. They love dry wood.
Finding drop tubes from ceiling rafters, sheet-rock, or plasterboard show an infestation.
Arid subterranean termites
They are the most common in Arizona and thrive in many environments.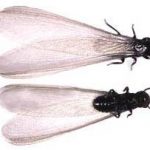 You find them in deserts but also in canyons, rivers, sand dunes, and high altitudes (above 4,000 feet).
Swarming season varies according the altitude but occurs sometime between May and October.
Coloring ranges from dark brown to black, and wings are practically translucent except for the veins.
Western drywood termites
As their name would imply, they love dry wood. But they are thrive in coastal areas.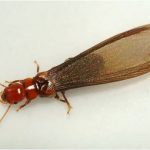 They cause incredible damage. This occurs because they form many colonies in a single structure.
Each colony housing around 2,000 termites.
Termites create chambers by eating across the wood grain, with tunnels connecting them. Walls within the galleries and tunnels are smooth and free of soil.
You may also see "blisters" on the wood surface. These are from enlarged galleries close to the surface.
Desert dampwood termite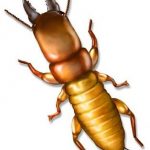 This specie is not common in Arizona. No surprise, it isn't very damp here and their diet relies on wood with a high moisture content.
But they are here. This subterranean species loves citrus groves. They also eat living trees and shrubs, infesting the wood from below ground.
This species takes its moisture from the sap of these living plants.
Infestation occurs at or below ground level. Untreated poles, fences, and posts that are in direct contact with the soil are a favorite home for them.
The Termite Inspection
A termite inspection is a requirement of most Mortgage lenders. Lending underwriters want to be sure there isn't any structural damage due to termites.
The Arizona Residential Resale Real Estate Purchase Contract provides the buyer an "inspection period". The "standard" Tucson Home Inspection period is 10 days. The termite inspection and all other inspections must be done within this period.
When the inspection is done, the Termite Inspector will prepare a Termite Inspection Report. It will usually be a 2 or 3 page report. The termite inspection report will identify any evidence of Termite activity.
As a buyer, recognize that Termites are inherent to the Arizona climate. Don't be alarmed should Termite activity be identified. In most circumstances, you should request the Seller have a Termite treatment done as part of the "Buyer Inspection Notice – Seller Response form.
Other Inspections To Consider
A Tucson Termite Inspection is usually done in conjunction with the Tucson Home Inspection. Should you desire to have a Tucson Roof Inspection, we will recommend a Roof Inspection Companies to consider.
As with the Tucson Home Inspection, the Termite Inspector with provide a written report for your review. Should the Structural Inspection identify any issues, we would include them in our repair request to the sellers.
Some Buyers want to have Tucson Pool Inspection and Tucson Mold Inspection since these inspections also provide valuable information in the final purchase decision.
Other inspections that might be recommended by the Tucson Home Inspector. These would include Tucson Roof Inspection or should the property have a septic system a Tucson Septic Inspection will be necessary. While a Tucson Radon Inspection is not common, as a Buyer of a Tucson Home, you are entitled to have one done should you choose.

Considering A Home In Tucson, AZ?
Are you thinking of buying a home in the greater Tucson area? Finding the right home can be a challenging process. But we can make the process much less stressful for you.
We have been Tucson Realtors since 2002. We know Tucson and the Tucson Real Estate market. As a top Realtor duo, we invest the time to understand your home buying interests and desires. At our first meeting, we will review the current real estate market with you. Show you the market data and then walk you through the Arizona home buying process.
Why? We want you to know what to expect. And what to plan for.
Interested in new construction? We'll brief you on buying a new construction home. And what's unique about the process.
For us, you are not another real estate transaction. You are a client and, future friend. We strive to create a relationship that continues long after you move into your home. Review our profiles. Check out our backgrounds, education, and certifications.
We are here to help you "know what you need to know" to buy a home in Tucson, AZ. We provide you information on Tucson events, places to shop and restaurants. Our resources include contractors, electricians, and home services. Our professional service backgrounds mean we put you first!
Conclusion
Thank you for visiting www.premiertucsonhomes.com! It's one of the top real estate websites in Tucson. Our clients say that, not us.
Our website provides information on communities and neighborhoods in the greater Tucson area. Want more? Give us a call – 520-940-4541. We are ready to answer your questions and help you get the information you are looking for.
We are a top Realtor duo in Tucson, AZ since 2002. Read our client testimonials. Give us a call. We look forward to making your home buying or selling a home an enjoyable experience for YOU!
Sign UP to receive daily HOME TRACKER UPDATES - OR - Our Monthly NEWSLETTER. And get regular updates on the Real Estate Market and events in Tucson, AZ.
Questions about the Tucson Real Estate Market or Tucson Homes for Sale? Call Us - 520 940 4541 OR complete the - CONTACT FORM - and we will get right back to you!