The Water Company Serving Tucson

Interesting Insights On Tucson's Water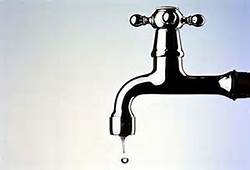 Tucson Water Company serves over 700,000 people. This includes the City of Tucson and greater Tucson Metro Area. The water supply actually comes from 200 groundwater wells found across the Tucson area.
Each well is an "entry points" to the Tucson Water Company system. Each well serves the neighborhood in which it is located. Excess water goes to reservoirs and dispursed in the system.
How Big Is It?
In the TMI category, the Tucson Water Company system has 37 services areas. There is 4,500 miles of pipes and 145 booster stations in the system.
The City of Tucson has annual rights to about 140,000 acre-feet of Colorado River water. Water comes from the river via the Central Arizona Project (CAP). CAP water is used to recharge the aquifer under Tucson. Tucson water is a mix of Colorado River and Tucson's existing below ground water supply.
The recharge process is done at the Clearwater Renewable Resource facility. The CRR facility located in Avra Valley. The Tucson Water Company supply is 37% ground water and 63% Colorado River water.
Tucson Water Company conducts thousands of tests of the water each year. Test results are published. The Annual Water Quality Report (also known as the Consumer Confidence Report or CCR) presents the results.
The EPA set the format for this report. Report guidelines are included in the Safe Drinking Water Act. The EPA requires all public water providers to provide this information to their customers. The report must present water quality data to the public in an clear manner.
Offices Location
The Tucson Water Company is located at
310 W. Alameda
Tucson, AZ 85701
520-791-3242
Use the City of Tucson map to find driving directions from your location.
Tucson is a great place to visit and a wonderful place to live. Considering Tucson Arizona for retirement or a winter get away? We can help! We are Top Tucson Realtors.
Conclusion
Thank you for visiting www.premiertucsonhomes.com! It's one of the top real estate websites in Tucson. Our clients tell us that.
Our website provides information on communities and neighborhoods in the greater Tucson area. Want more? Give us a call – 520-940-4541. We are ready to answer your questions and help you get the information you are looking for.
We are a top Realtor team in Tucson, AZ since 2002. Take a minutes to read our profiles and client testimonials. Maybe we are the Tucson Realtors you have been looking for.
We look forward to making your home buying or selling experience enjoyable YOU!
Sign UP to receive daily HOME TRACKER UPDATES - OR - Our Monthly NEWSLETTER. And get regular updates on the Real Estate Market and events in Tucson, AZ.
Questions about the Tucson Real Estate Market or Tucson Homes for Sale? Call Us - 520 940 4541 OR complete the - CONTACT FORM - and we will get right back to you!
Return to the Tucson Utilities Contacts page