Heat Pumps Are Part Of The Home Heating And Cooling System
It Uses Outside Air To Both Heat And Cool Your Home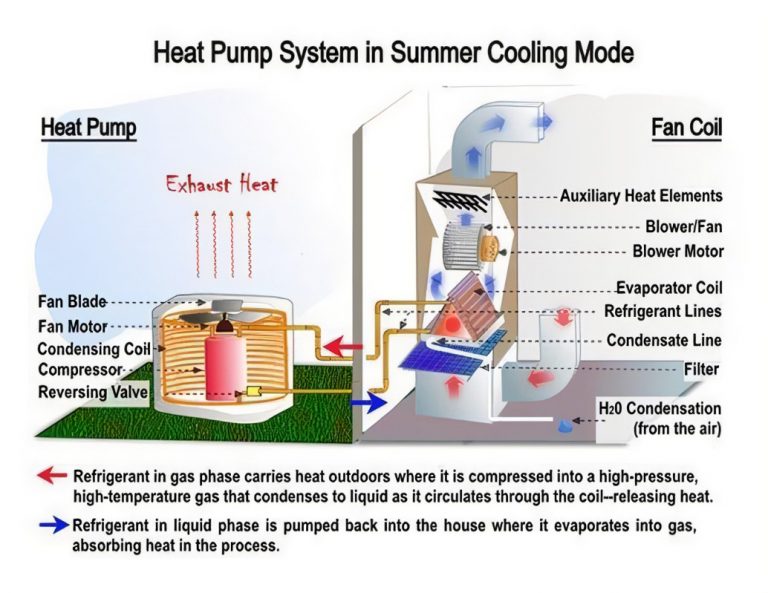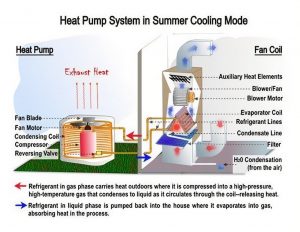 Looking for a home in southern Arizona? If you are, you need to understand a heat pump is often used for cooling and heating homes in the southwest.
Yes, many homes have traditional air conditioning and furnace heating. But heat pumps are also popular. Especially in subdivisions where natural gas is not, or was not, available when a home was built.
So, lets dive in and bring you up to speed on what to know about having a heat pump to cool and heat your home.
HOW DOES A HEAT PUMP WORK?
A heat pump is a mechanical-compression cycle refrigeration system. It can used to either heat or cool a controlled space. AKA your home.
Think of a heat pump as a heat transporter. It moves warm air from one place to another, to where it's needed or not needed, depending on the season.
It is interesting that even in air that seems too cold, heat energy is present.
That means a heat pump will extract heat from outside and transfers it inside. Even when it is cold outside.
When it's warm outside, it acts like an air conditioner, removing heat from your home.
Ok, a big question! How do it know?
Answer! The switch labeled "cool/heat" tells it what to do.
Heat pumps are best for moderate climates and work well in southern Arizona as a year-round solution for home comfort.
COMPONENTS OF A HEAT PUMP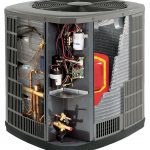 A heat pump consists of two main components. An indoor air handler and an outdoor the outdoor heat pump.
The outdoor unit looks the same as an air conditioning unit. It contains a compressor the same as an A/C unit.
The compressor circulates refrigerant between the indoor and outdoor units. The process absorbs and releases heat as it travels between the indoor and outdoor units.
AIR CONDITIONER VS HEAT PUMP – WHAT'S THE DIFFERENCE?
Heat pumps and air conditioners use the same technology to cool your home. They share the same energy-efficient features.
Minus a few small technical differences. Both heat pumps and air conditioners cool your home in the same way.
But a heat pump will also heat your home while an air conditioner can't. That is why homes with an A/C have a furnace. A/C to cool and the furnace to heat the home.
GAS FURNACE VS HEAT PUMP – WHAT'S THE DIFFERENCE?
The main difference between the two is how they create heat. A heat pump uses electricity to move heat from one place to another. A furnace burns fuel to create heat.
Because of this, a heat pump will be more energy efficient.
Another difference between heat pumps and furnaces is energy efficiency and environmental impact. Heat pumps run on electricity. They do not emit any harmful emissions that contribute to climate change.
Considering A Home In Tucson, AZ?
Are you thinking of buying a home in the greater Tucson area? Finding the right home can be a challenging process. But we can make the process much less stressful for you.
We have been Tucson Realtors since 2002. We know Tucson and the Tucson Real Estate market. As a top Realtor duo, we invest the time to understand your home buying interests and desires.
At our first meeting, we will review the current real estate market with you. Show you the market data and then walk you through the Arizona home buying process.
Why? We want you to know what to expect. And what to plan for.
Interested in new construction? We'll brief you on buying a new construction home. And what's unique about the process.
For us, you are not another real estate transaction. You are a client and, future friend. We strive to create a relationship that continues long after you move into your home. Review our profiles. Check out our backgrounds, education, and certifications.
We are here to help you "know what you need to know" to buy a home in Tucson, AZ. We provide you information on Tucson events, places to shop and restaurants. Our resources include contractors, electricians, and home services.
But most important, our professional service backgrounds mean we put you first!
Thinking About Selling Your Home In The Greater Tucson Area?
Selling a home requires more than listing it in the Tucson MLS system. It's about marketing. Marketing through multiple online channels.
To no one's surprise, 80% of home buyers start their search on the internet. Homes must be visible on multiple internet channels. The more visible a home is, the faster it will sell.
And the photos on the mls make a difference. You can spend lots of money on home staging, but if the photos aren't great it doesn't matter. Staging and stunning photos make it all come together.
We use multiple online marketing channels to showcase your home. We will build a stand-alone website built to show your home. Our marketing program targets key cities in the U. S. based on the season.
For luxury listings, our drone service provides video of your home and neighborhood. This video along with professional photos helps the online buyer see and feel your home. Their "new" home.
To learn more about how we can help you sell your Tucson home, call us – 520-940-4541 – to arrange a meeting. We will visit your home and prepare a comparative market analysis.
Then we will meet with you to review our analysis. We will go over our Comparative Market Analysis for your home in detail. And the review our marketing program to "get your home sold!"
Conclusion
Thank you for visiting www.premiertucsonhomes.com! It's one of the top real estate websites in Tucson. Our clients tell us that.
Our website provides information on communities and neighborhoods in the greater Tucson area. Want more? Give us a call – 520-940-4541. We are ready to answer your questions and help you get the information you are looking for.
We are a top Realtor duo in Tucson, AZ since 2002. Read our client testimonials. Give us a call. We look forward to making your home buying or selling experience enjoyable YOU!
Sign UP to receive daily HOME TRACKER UPDATES - OR - Our Monthly NEWSLETTER. And get regular updates on the Real Estate Market and events in Tucson, AZ.
Questions about the Tucson Real Estate Market or Tucson Homes for Sale? Call Us - 520 940 4541 OR complete the - CONTACT FORM - and we will get right back to you!