Canyon Del Oro High School In Oro Valley AZ
Bringing High Academics and Athletics Together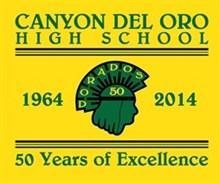 Canyon del Oro High School is one of 3 high schools in the Amphitheater School District. Its called CDO by most students and Oro Valley families.
The Canyon del Oro High School facilities are on West Calle Concordia Road just west of Oracle Road in the Town of Oro Valley AZ.
CDO was established in 1964 and has about 1,600 students attending grades 9 through 12. In addition to its highly ranked academic programs. Canyon del Oro High School has also produced a number of baseball players in the Major League.
It is ranked one of the top schools in Arizona in academics and sports.
Newsweek has ranked Canyon del Oro High School in the top 5% of U.S. Public Schools for 3 times since 2007. During the 10 year period from 2000 to 2010, CDO graduated 42National Merit Scholarship Semifinalists.
Named From Oro Valley History
While this may border on TMI (to much information) the school name Canyon del Oro comes for the Spanish language and means Canyon of Gold. During the mid 1800, gold had been discovered in the area now called Oro Valley.
Iron Door Mine Legend or Real
At the time, it was rumored that gold could be found in large quantities in and around the Santa Catalina Mountains. These rumors were further fueled by the legend of the lost Iron Door Gold Mine.
The history of the mine goes back to 1767 when the Jesuits were expelled and left behind their riches. Bars of gold were said to have been hidden behind an "iron door." Thus, the legend of Mine with the Iron Door was created.
Many prospectors of the 1880's hiked the Catalina Mountains and the area now know as the Canada del Oro Wash bed in pursuit of their fortunes.
Conclusion
Thank you for visiting www.premiertucsonhomes.com! It's one of the top real estate websites in Tucson. Our clients tell us that.
Our website provides information on communities and neighborhoods in the greater Tucson area. Want more? Give us a call – 520-940-4541. We are ready to answer your questions and help you get the information you are looking for.
We are a top Realtor team in Tucson, AZ since 2002. Take a minutes to read our profiles and client testimonials. Maybe we are the Tucson Realtors you have been looking for.
We look forward to making your home buying or selling experience enjoyable YOU!
Considering Oro Valley AZ as a place to live OR considering a future retirement place to call home? We can help!
Sign UP to receive daily HOME TRACKER UPDATES - OR - Our Monthly NEWSLETTER. And get regular updates on the Real Estate Market and events in Tucson, AZ.
Questions about the Tucson Real Estate Market or Tucson Homes for Sale? Call Us - 520 940 4541 OR complete the - CONTACT FORM - and we will get right back to you!