Driving Directions To Tierra Antigua Realty Offices
Find The Tierra Antigua Realty Offices In Tucson AZ – Call Us 520 940 4541

[quickshare]
Tierra Antigua Realty has three large offices in Tucson. We use them all. And we will meet you at an office convenient to YOU! We usually meet our "out of town" buyers at their hotel or other mutually convenient location.
And as you might expect, we meet sellers at their home to personally review their objectives and view their home.
A Tierra Antigua Realty Office Close To You
So here is how to find one our offices.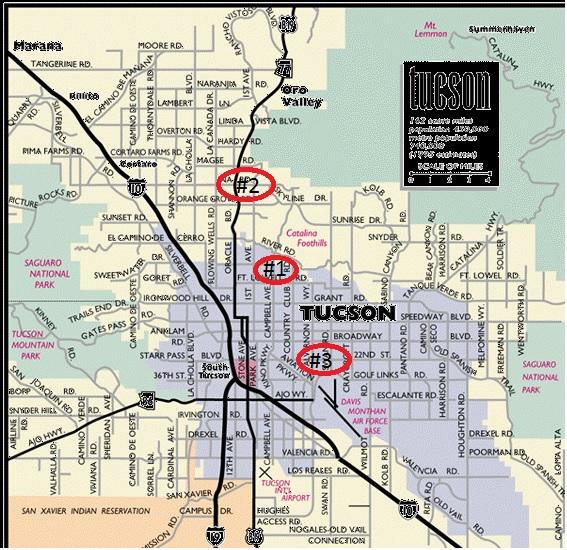 #1 – Tierra Antigua Realty Office – River Road1650 E River Rd. #202
Tucson AZ 85718
Call 520 940 4541
MAP

Driving Directions
From River Rd and Oracle Rd – East on River Road to 1650 E River Rd. #202Look for the Tierra Antigua Realty logo on the top of the building.

Office is on South Side of River Road just BEFORE the U. S. Post Office.

If you get to Campbell Avenue you have past the office.

#2 – Tierra Antigua Realty Oro Valley AZ Office on Oracle Road7330 N Oracle Rd. #280
Oro Valley AZ 85704
Call 520 940 4541
MAP

Driving Directions
From River Road and Oracle Road – North or Oracle Road past INA Road.Tierra Antigua Realty Offices are at 7330 N Oracle Road #280.The Tierra Antigua Realty office is on the East Side of Oracle Road

If you get to Magee Road you have gone to far!

#3 – Tierra Antigua Realty Tucson East Office On Broadway Blvd.5151 E Broadway Blvd
Tucson AZ 85711
Call 520 940 4541
MAP

Driving Directions
From I-10 and W. Congress – Exit freeway and proceed East on West Congress. West Congress turns into Broadway.Continue East and cross Swan Road. At Beverly Road make a left and go west on Broadway Blvd.

Office in on the North side of Broadway Blvd just before N. Rosemont Blvd.
If You Get Lost?
Give us a call – 520 – 940 – 4541 and we will bring you HOME in Tucson!
Conclusion
We are proud to be part of the Tierra Antigua Realty Family. The largest locally owned Real Estate Company in Tucson.
Tierra Antigua Realty was founded in September of 2001 by Matthew and Kimberly Clifton. Both had successful real estate careers in Tucson for a number of years. Matthew and Kimberly saw an opportunity to create a home for real estate agents.
They established a company that would be committed to putting client needs first and foremost. Based on that philosophy, Tierra Antigua Realty has become the largest, locally-owned real estate company in Southern Arizona with over 800 agents working together!
Tierra Antiguans have helped thousands of families and individuals realize their dreams of home ownership. Investing your real estate needs with Tierra Antigua Realty will provide you with exceptional service that will exceed your expectations.
Looking For A Tucson Realtor – Look No Futher
Review our profiles to see if we – Ben & Kim Boldt – have the experience and background to be YOUR Tucson Realtors.
Read what our clients say about us and our professional services.
Looking for Tucson Real Estate Listings and Homes for Sale in Tucson? We can help?
Sign UP to receive daily HOME TRACKER UPDATES - OR - Our Monthly NEWSLETTER. And get regular updates on the Real Estate Market and events in Tucson, AZ.
Questions about the Tucson Real Estate Market or Tucson Homes for Sale? Call Us - 520 940 4541 OR complete the - CONTACT FORM - and we will get right back to you!
Use our Tucson MLS Active Listings search to find your home in Tucson.
[sq_pop_shortcode popup_id="3872880″ appear_position="pop_top_right" appear_behavior="pop_timer" appear_behavior="pop_timer" background_color="pop_bg_transparent" display_area="pop_display_particular" background_cover="pop_cover_no" frequency="once" delay="4″ ]