Oro Valley AZ History And Community
Homes For Sale In Oro Valley – Descriptions, Pictures & Maps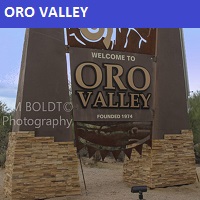 Oro Valley AZ was home to the Hohokam tribes over two thousand years ago. The Hohokam tribe lived in what is now Honeybee Village. Honeybee Village is in the Tortolita Mountains in northern area of Oro Valley AZ.
See All Homes For Sale In Oro Valley By Price
Find Homes For Sale By Oro Valley Subdivision And Price
Early History of Oro Valley
The Hohokam inhabited Honeybee Village for over 700 years. Their story comes from the artifacts found in the area.
Apache tribes arrived in the southern Arizona in the early 16th century. These tribes inhabited the region only a few decades.
The Spanish established forts in the area, including the Presidio at Tucson (1775).
Beginning in the 19th century, Americans settled in the Arizona Territory. After the Mexican-American War and the Gadsden Purchase settlements grew in the area.
The Late 1800's Still Remains
George Pusch, a German immigrant, settled Oro Valley AZ in 1874. He established a cattle ranch. This ranch was unique because it utilized a steam pump to provide water.
His ranch became known as the Steam Pump Ranch abuts the Cañada del Oro wash. The ranch sits to the west of Oracle Road and North of First Avenue in Oro Valley Az.
Gold miners came to southern Arizona and the Santa Catalina Mountains.
Fueled by the legend of the lost Iron Door Gold Mine many came to the area to seek their fortunes. Miners focused on the Oro Valley area and the Canada del Oro wash bed in their search for gold.
After World War II Oro Valley Began To Grow
After World War II, the Tucson area experienced dramatic population growth. This growth also included Oro Valley Az.
In the early 1950s Oro Valley Country Club opened at the base of Pusch Ridge. With it, the area's future as an affluent community was affirmed.
The community continued to grow. With the growth, residents wanted local control over their future.
In the late 1960s, incorporation became the focus in Oro Valley. A petition to incorporate began circulation in Oro Valley in 1968.
But the Pima County Board of Supervisors refused to allow Oro Valley to incorporate. That lead to litigation between Oro Valley AZ and Pima County.
Oro Valley Incorporated
The Arizona Supreme Court ruled in favor of incorporation. In 1974 the Town of Oro Valley Arizona incorporated. It was a mere 2.4 square miles.
The original town limits included the Linda Vista Citrus Tracts, Campo Bello Estates, Shadow Mountain Estates, and Oro Valley Country Club Estates.
Oro Valley families are served by the Amphitheater School District.
Town founders proceeded with incorporation efforts with the official name of Oro Valley. They felt the name would be popular to influential residents of Oro Valley Country Club. The Town began with a population of 1,200 citizens.
Through the 1980s and particularly in the 1990s Oro Valley experienced significant growth.
In 1990 the town had a population of 6,670, and by 2000 that figure had increased to 29,700 residents. Estimates for 2020 are around 50,000.
Developers worked with the towns govenment to establish several master-planned communities. La Reserve and Rancho Vistos were two notable ones.
Oro Valley was the fastest growing municipality in Arizona f or many years. And has received accolades as a "Best …." Place.
Today And Tomorrow
Oro Valley strives to balance population growth and environmental preservation. It has attracted country clubs, golf courses, and national brand resorts. It is an affluent community with one of the highest median household incomes in the region.
Oro Valley Arizona presently encompasses approximately 34 square miles (2005). Oro Valley provides an expanding public parks system, notable outdoor amenities and upscale retailing ventures. The Catalina State Park is located in Oro Valley and provides camping, hiking trails and horse trails.
Take A Quick Tour Through Oro Valley, AZ
Oro Valley Hospital, Schools And Shopping
The Oro Valley Hospital on Tangerine Rd services the residents of Oro Valley, SaddleBrooke and Northwest Tucson AZ
Oro Valley families are served by the Amphitheater School District which is one of the statistically highest performing public school systems in Arizona. Search for an Oro Valley Homes By School. One of the great new facilities in Oro Valley is the Aquatic Center.
Oro Valley Marketplace was completed in 2008 and brings additional shopping, dining and entertainment venues to Oro Valley AZ. And of course, the Oro Valley AZ weather is always outstanding.
Town of Oro Valley Arizona Website
Conclusion
Thank you for visiting www.premiertucsonhomes.com! It's one of the top real estate websites in Tucson. Our clients say that, not us.
Our website provides information on communities and neighborhoods in the greater Tucson area. Want more? Give us a call – 520-940-4541. We are ready to answer your questions and help you get the information you are looking for.
We are a top Realtor team in Tucson, AZ. Read our client testimonials. Give us a call. We look forward to making your home buying or selling a home an enjoyable experience for YOU!
Moving to Oro Valley OR another area of Tucson? We Can Help!
Sign UP to receive daily HOME TRACKER UPDATES - OR - Our Monthly NEWSLETTER. And get regular updates on the Real Estate Market and events in Tucson, AZ.
Questions about the Tucson Real Estate Market or Tucson Homes for Sale? Call Us - 520 940 4541 OR complete the - CONTACT FORM - and we will get right back to you!