Majestic Santa Rita Mountains Southeast Of Tucson
One Of The 5 Mountain Ranges In Tucson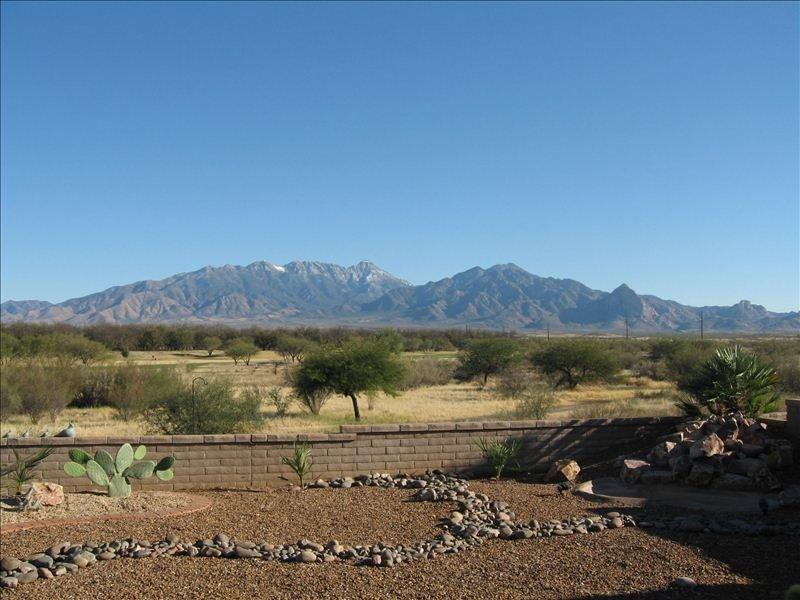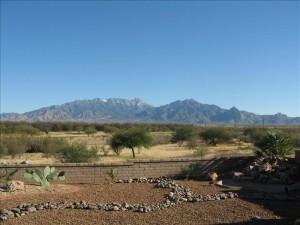 The Santa Rita Mountains are 40 miles southeast of Tucson. The Santa Rita Mountains are 26 miles long. The range runs from north to south/southeast. At their southern end they combine with the Patagonia Mountains.
On Tucson's far south side, the scenic Santa Rita Mountains are a biodiversity hotspot. They are an important habitat for many species of birds, reptiles, amphibians, and bees.
Madera Canyon is a world-famous spot for bird watching. But it is also provides hiking trails. In the lower canyon include paved, handicap-accessible trails and gentle walking paths.
In the upper canyon, trails are steep and rugged as they move to the top of 9,453-foot Mt. Wrightson. This peak is the highest point in the range and the highest point in the Tucson area.
It is higher than Mt. Lemmon by 300 feet.
The Fred Lawrence Whipple Observatory ( part of the Smithsonian Institution) can be found on nearby Mount Hopkins.
The Santa Rita Mountains are in the Coronado National Forest.
They were the primary component of Santa Rita National Forest. The Santa Rita National Forest became part of the Coronado National Forest 1908.
Rugged Terrain
This Wilderness area has rough hillsides, massive canyons, and lofty ridge lines. Peaks are surrounded on nearly all sides with dry hills and gradual grasslands. Ponderosa pine and Douglas-fir dominate the upper elevations.
The stream-fed canyons support an amazing amount of plant and wildlife. Mexican plants that grow nowhere else north of the border are in this area.
At the foot of Madera Canyon along the edge of the Wilderness is a recreation area. It serves as a popular gateway for backpackers.
Trails
Bog Springs Trail
A moderate, 5-mile (round trip) loop trail with bubbling springs, green grasses, and big trees. During the cooler months this trail is great for observing birds and other wildlife.
Old Baldy Trail
Ok, this bad boy trail is for experienced and well fit hikers. It is a challenging 10-mile trek (round trip). Hikers face a climb of 4,000 vertical feet, topping out on one of the most spectacular summits in the state.
Cave Creek – Gardner Canyon Loop
This is another strenuous, long (10-mile round) hike. The trail is on the eastern slopes of the Santa Rita Mountains. Some of the trails are remote and rarely used.
One More Thing – Permits
If you are new to hiking these trails you may want to get a map or hiking guide. Most hiking/camping storres with have them.
Another option is to contact local hiking groups. Summit Hut and Southern Arizona Hiking Club are good places to start.
Review Tucson Homes For Sale Near the Santa Rita Mountains
Conclusion
Thank you for visiting www.premiertucsonhomes.com! It's one of the top real estate websites in Tucson. Our clients tell us that.
Our website provides information on communities and neighborhoods in the greater Tucson area. Want more? Give us a call – 520-940-4541. We are ready to answer your questions and help you get the information you are looking for.
We are a top Realtor duo in Tucson, AZ since 2002. Read our client testimonials. Give us a call. We look forward to making your home buying or selling experience enjoyable YOU!
Love the mountains and looking for Houses for Sale Tucson OR looking at Tucson Arizona Real Estate? We can help!
By the way – the other mountain ranges surrounding the Tucson valley include the Santa Catalina Mountains, the Rincon Mountains, the Tucson Mountains, and the Tortolita Mountains.
Sign UP to receive daily HOME TRACKER UPDATES - OR - Our Monthly NEWSLETTER. And get regular updates on the Real Estate Market and events in Tucson, AZ.
Questions about the Tucson Real Estate Market or Tucson Homes for Sale? Call Us - 520 940 4541 OR complete the - CONTACT FORM - and we will get right back to you!