Are Zillow Zestimates Accurate?
Zillow Zestimate Data Isn't The Same As The Local Multiple Listing Service Data
[quickshare]
What To Know About A Zillow Zestimate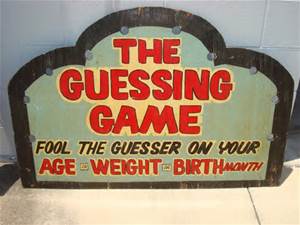 As Shakespeare may have said in today's Real Estate internet world; "To Zillow Zestimate Or Not To Zillow Zestimate, that is the question."
Zillow, the creator of the Zillow Zestimate, is a significant force in today's real estate market. A major internet provider of information on Tucson homes for sale as well as every market across the United States.
Does Zillow provide a lot of information to home buyers and sellers – Absolutely! Is the information useful? That depends on what you are looking for. Are the Zillow Zestimates of home values accurate? Not very often!
In fact, a homeowner in Illinois has filed suit Zillow, claiming the company's controversial Zestimate tool repeatedly undervalued her home. And that created a "tremendous roadblock" to its sale. The suit states Zestimates constitute "appraisals". Read more on this – HERE.
Many people believe that Zillow and Realtors are using the same information. That is NOT True my friends, not true. Zillow obtains information from public records data. That means the data used for Zillow Zestimates may be from a few weeks to many months old. This suggests that a Zestimate may not accurately reflect the current state of any local real estate market.
Zillow actually discloses this on their website on a page entitled Zestimates. The information on Zillow Zestimate accuracy is WAAAAY down at the bottom of the page. Zillow states "the Zestimate's accuracy depends on location and availability of data in an area."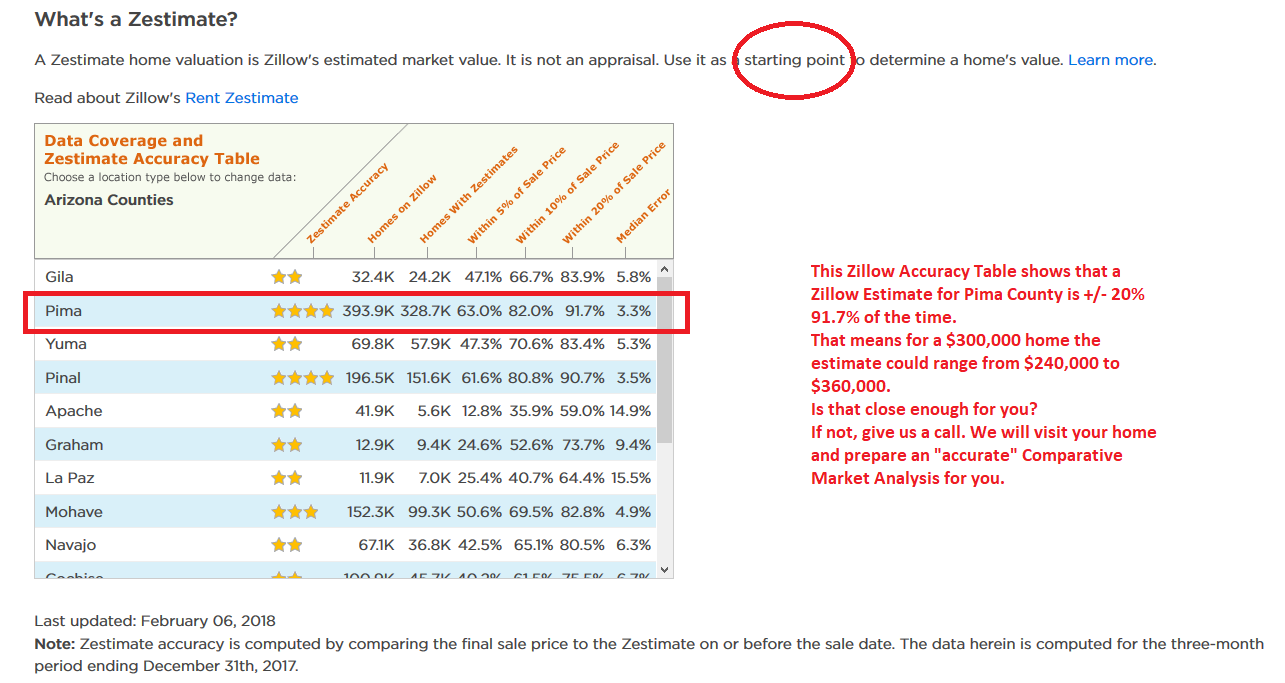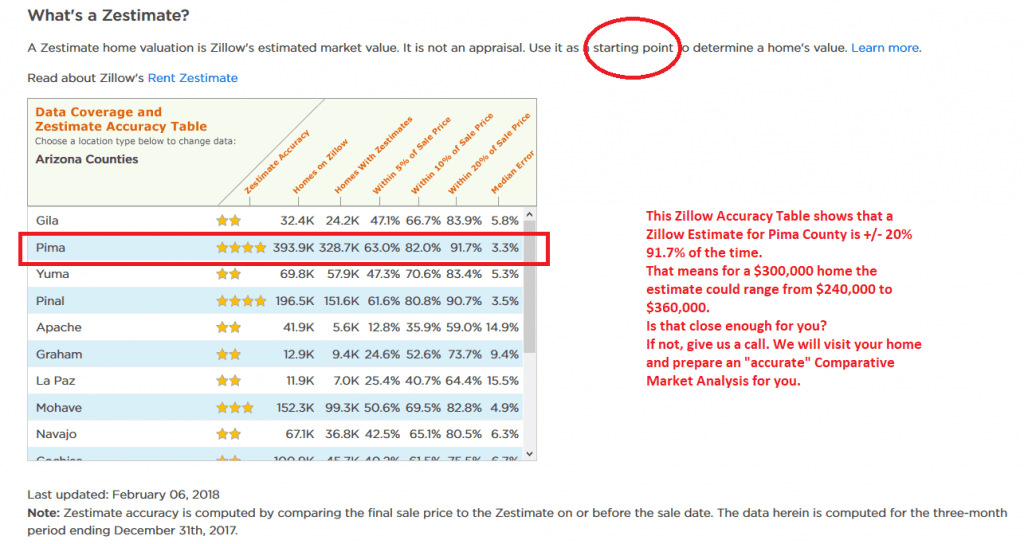 Check the latest Zillow indication for their overall accuracy.
For Pima County – where Tucson, AZ is located – the variancy in actual sales prices is,
The Zillow Zestimate is within 20% of Sale Price 91.1% of the time
This is the percentage of transactions in a location for which the Zestimate was within 20% of the transaction price.Nationally, Zestimates are currently within 20% of the final sale price 91.1% of the time.
The Zillow Zestimate is within 10% of Sale Price 82.0% of the time:
This is the percentage of transactions in a location for which the Zestimate was within 10% of the transaction price.In the U.S. as a whole, Zestimates are currently within 10% of the final sale price 82.0% of the time.
The Zillow Zestimate is within 5% of Sale Price 63.0% of the time:
This is the percentage of transactions in a location for which the Zestimate was within 5% of the transaction price. Nationwide, Zestimates are currently within 5% of the final sale price 63.0% of the time.
What Does That Mean To You?
Let's sell your home based on the Zillow Zestimate based on the highest level of accuracy – 91.1%.
As shown in the data above for a Zestimate is within 20% – YES 20% – of the final sales price only 91.1% of the time.
So what does that really mean? Simply, for a home worth $200,000, the Zillow Zestimate could be between $160.000 (20% below) to $240,000 (20% above) 83.1% of the time. That is a $40,000 range for low to high.
Unfortunately for users, the Zestimate isn't a range, it is a single value. So how do you know?
To illustrate, say you want to sell that home worth $200,000 (If you haven't talked with a local Realtor you won't know that) to the friend of your neighbor. If the Zillow Zestimate is $165,000. Would you sell it?
Would the friend of the neighbor pay $230,000, if that was the Zillow Zestimate?
Therein lies the problem with Zillow Zestimates. The data is very suspect. As a colleague once said, "without good data, you are just another person with an opinion!" People don't buy or sell homes on opinions.
They need or should want, reliable data from a reputable source – a Realtor in the local market.
To illustrate the accuracy of a Zillow Zestimate that is within 5% of the final sales price. Let's travel on an airline from Chicago to San Diego. When you take off from Chicago and head west you will have a 38% chance of landing at a location that is within 5% of the distance to San Diego.
For the 2000 mile trip that means within 100 miles of Lindberg Field on the San Diego bay. Habla español? Can you swim?
A coin toss is a correct 50% of the time. So, a Zillow Zestimate within 10% accuracy is slightly better that a coin toss at 63.6%. The coin toss wins almost always time against a Zillow Zestimate having a value within 5% of the final price.
Where To Get Accurate Data?
As Tucson Realtors we receive our information from the Tucson Multiple Listing Service or Tucson MLS. In Tucson AZ, that data comes from the Tucson Association of Realtors MLS or TARMLS for short.
The TARMLS is updated every 15 minutes. That makes all listing very current and accurate.
All of the home search information on our website comes directly from the TARMLS system and is updated twice a day.
What About The Agents Shown On Zillow?
Zillow generates revenue by selling ads to real estate agents. The agents who pay to advertise are highlighted next to every Zillow home listing. The highlighted agents shown are not necessarily the listing agent.
They may not even know anything about the neighborhood where the listing comes from. They are paying to get your lead information.
The director of communication for Zillow makes the statement on the Zillow website, "So while you can email questions to those agents, you're usually better off finding your own Real Estate Agent.
Direct questions and requests for showings to the local Realtor you have selected to work with you."
Conclusion
Zillow is here and isn't going to go away and neither are Zillow Zestimates. Zillow just purchased Trulia, another large real estate internet website, so their influence is going to increase even more. However, it isn't likely that Zillow Zestimate data is going to become any more accurate unless it comes directly from local MLS services. ON a timely schedule.
If you really want an accurate estimate of what your home is worth, or at what price you should submit a purchase offer, contact a Realtor in the area you live or want to live. If you are in Tucson, AZ call us. We are the professionals in Tucson Real Estate since 2002.
Thank you for visiting www.premiertucsonhomes.com! It's one of the top real estate websites in Tucson. Our clients say that, not us.
Our website provides information on communities and neighborhoods in the greater Tucson area. Want more? Give us a call – 520-940-4541. We are ready to answer your questions and help you get the information you are looking for.
We are a top Realtor duo in Tucson, AZ since 2002. Read our client testimonials. Give us a call. We look forward to making your home buying or selling a home an enjoyable experience for YOU!
Thinking of Tucson as a place to live OR to find a great winter retreat? We can help!
Sign UP to receive daily HOME TRACKER UPDATES - OR - Our Monthly NEWSLETTER. And get regular updates on the Real Estate Market and events in Tucson, AZ.
Questions about the Tucson Real Estate Market or Tucson Homes for Sale? Call Us - 520 940 4541 OR complete the - CONTACT FORM - and we will get right back to you!