203K Loan
What A 203k Loan Can Do For You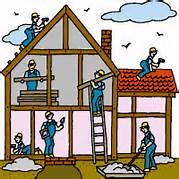 The
203K loan
or Rehab mortgage is an FHA loan. A 203k Loan is a cost-effective loan that allows a buyer to finance home repairs and improvements with only a 3.5% down payment.
Home buyers looking for a "fixer upper" should call their mortgage lender about this type of loan. A 203k loan creates just one mortgage that includes the home purchase and renovation. The 203k fha loan can also be used when refinancing an existing Tucson home.
Having just one mortgage transaction makes this loan attractive. It will save time and money since there is just one single set of closing costs, one loan approval and one closing.
Quick Overview Video


A 203k loan is ideal when the home being purchased requires some work. Especially when the buyer doesn't have the extra cash to cover the costs.
The 203K Rehab Loan comes in two types –  Standard and Streamline.
A Standard 203K Rehab Loan program can contain structural changes, additions, fencing and changes over $35K.
The Streamline 203k loan program is a bit more popular in the Arizona market.
Here are a few additional items to consider

Its an FHA mortgage for a primary residence only with a 30 year term.
A 203k loan will require a longer close of escrow. Usually between 45 and 60 days.
Remember to notate on the appropriate line of the Arizona Residential Purchase Contract: "Buyer obtaining a FHA 203K Rehab Loan; terms & conditions apply."
Conclusion
Rehab Loans are having a return in our marketplace! As the inventory of Tucson homes for sale has shrunk, buyers are considering the "fixer" in their Tucson home search. Home buyers should determine if they are 203k eligible at the beginning of their home buying process.
If you are looking for homes in Tucson Arizona OR considering Tucson Arizona as a place to retire to? We can help!
Sign UP to receive daily HOME TRACKER UPDATES – OR – Our Monthly NEWSLETTER – OR – Tucson Real Estate INFORMATION. And get regular updates on the Real Estate Market and events in Tucson, AZ.
203K Loan
was last modified:
October 7th, 2016
by
Questions about the Tucson Real Estate Market or Tucson Homes for Sale?
Call Us – 520 940 4541 OR complete the – CONTACT FORM – and we will get right back to you!
203K Loan
was last modified:
October 7th, 2016
by
For more information on the FHA 203k loan program, visit the HUD website.
203K Loan
was last modified:
October 7th, 2016
by