"A" Mountain Tucson Arizona
AKA – Sentinel Mountain – Here Is Its History and More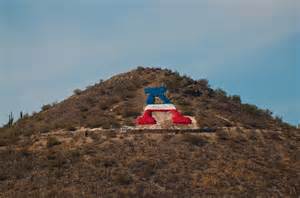 "A" Mountain Tucson sits just west of the I-10 Freeway near downtown Tucson. The former name of "A" Mountain Tucson was actually Sentinel Mountain.
Coming from its use as a look out point by the Spanish in the late 1700's. It is part of Tucson's history.
But that history was added to in 1915 when the U of A defeated Pomona College in football.
The idea came from Albert Condon, a football star for U of A. He had noticed Pomona College had a "P" on their hill side.
To celebrate the win over Pomona he came up with the idea of an "A" on Sentinal mountain. He convinced his civil engineering professor to make the monument a class project.
Two years later, the project was completed.
Mostly White, But…
Most of the time the 'A' stays white in respect to tradition and city requirements.
But there are times where the 'A' is a different color to represent things going on in the world or the community.
For example, every year for St. Patrick's day the 'A' on the mountain is green. A tradition that started in 1993.
When the war with Iraq started and many people disagreed with the war, the 'A' was black.
In April 2003, the 'A' got painted red, white, and blue to show support of our troops, but also to show patriotism.
And Then
In the 1950's "A" Mountain became a focal point for the revelry between UArizona and Arizona State University.
Students from ASU have painted the 'A' in their colors for the UArizona vs ASU game. When that occurs, UArizona students get out the white paint and go to work.
And There Is More
And now for the TMI (Too Much Information) part of the story.
A Mountain Tucson or Sentinel Peak rises 2,897 ft above the base. An underground ridge once forced groundwater to the surface. It provided water to the local farmers until the 1930s.
Tucson derives its name from the native Indians work Schook-schon. Spanish missionaries arrived in the late 1600's. Father Eusebio Francisco Kino arrived and founded the San Xavior mission. The mission is a few miles southwest of Tucson.
The Presidio of Tucson began in 1775. In Spanish a "presidio" is a fortified military settlement.
To protect the Presidio from Apache raiders, a sentinel stood on the top of the mountain. Thus the name Sentinal Mountain.
"A" Mountain contains volcanic rock from the nearby Tucson Mountains. But "A" Mountain is not a volcano.
This area is now the City of Tucson. Erosion and faulting are the cause of the mountain's location in Tucson and its conical shape.
It sits on a foundation of bedrock and 20 to thirty million years old volcanic rocks.
The peak is a sunset-watching destination in the Tucson Mountains. Every day, people walk, bike and drive up to see city vistas and sunsets.
And every year, UArizona students and alumni kick off Homecoming festivities with a ceremonial lighting of the "A" on the mountain.
Considering A Home In Tucson, AZ?
Are you thinking of buying a home in the greater Tucson area? Finding the right home can be a challenging process. But we can make the process much less stressful for you.
We have been Tucson Realtors since 2002. We know Tucson and the Tucson Real Estate market. As a top Realtor team, we invest the time to understand your home buying interests and desires.
At our first meeting, we will review the current real estate market with you. Show you the market data and then walk you through the Arizona home buying process.
Why? We want you to know what to expect. And what to plan for.
Interested in new construction? We'll brief you on buying a new construction home. And what's unique about the process.
To us, you are not just another real estate transaction. You are a client and, future friend. We strive to create a relationship that continues long after you move into your home. Review our profiles. Check out our backgrounds, education, and certifications.
We are here to help you "know what you need to know" to buy a home in Tucson, AZ. We provide you information on Tucson events, places to shop and restaurants. Our resources include contractors, electricians, and home services.
Remember, our professional service backgrounds mean we put you first!
Thinking about selling a home in the Tucson area?
Selling a home requires more than listing it in the Tucson MLS system. It's about marketing. Marketing through multiple online channels.
To no one's surprise, 80% of home buyers start their search on the internet. Homes must be visible on multiple internet channels. The more visible a home is, the faster it will sell.
We use multiple online marketing channels to showcase your home. We will build a stand-alone website built to show your home. Our marketing program targets key cities in the U. S. based on the season.
For luxury listings, our drone service provides video of your home and neighborhood. This video along with professional photos helps the online buyer see and feel in your home.
To learn more about how we can help you sell your Tucson home, call us – 520-940-4541 – to arrange a meeting. We will visit your home and prepare a comparative market analysis.
We will come back and review our analysis and marketing program with you. Getting the right price is critical. The right price combined with solid marketing program gets your home sold – FAST!
Conclusion
Thank you for visiting www.premiertucsonhomes.com! It's one of the top real estate websites in Tucson. Our clients say that, not us.
Our website provides information on communities and neighborhoods in the greater Tucson area. Want more? Give us a call – 520-940-4541. We are ready to answer your questions and help you get the information you are looking for.
We are a top Realtor team in Tucson, AZ. Read our client testimonials. Give us a call. We look forward to making your home buying or selling a home an enjoyable experience for YOU!
A Mountain is a part of Tucson's history. Tucson Arizona is a great place to visit and a better place to live. With over 330 days of sunshine outdoor activities are always available. Want to know more about homes in Tucson for sale? As top Tucson Realtors, we can help!
Sign UP to receive daily HOME TRACKER UPDATES - OR - Our Monthly NEWSLETTER. And get regular updates on the Real Estate Market and events in Tucson, AZ.
Questions about the Tucson Real Estate Market or Tucson Homes for Sale? Call Us - 520 940 4541 OR complete the - CONTACT FORM - and we will get right back to you!