Selling a Home: Are Dead Trees Killing Your Sale?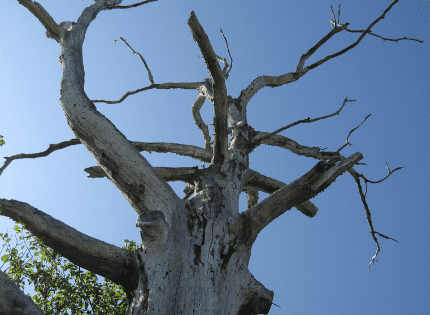 Selling your home is never a stress-free endeavor, and it usually requires some preparation to ensure your house is in the best shape possible to maximize your sale price. Taking care of any tree issues around your home is a good start.
In Tucson, this often includes making sure you take care of any lingering tree problems, which are, unfortunately, widespread in the Southern Arizona area.
Below, tree care and removal experts from Tree Triage will discuss why tree issues can lower your sale price, how to identify problems before you list your home, and how to carry out tree maintenance in Tucson to yield the maximum profit.
Why Tree Problems Can Affect Your Sale Price
It's usually relatively obvious to homeowners that the condition of their actual home will affect the sale price.
Many sellers scramble to repair HVAC, electrical, and plumbing systems and improve the aesthetics of the property without ever considering their trees.
The most common trees we see in Tucson are mesquite, palo verde, and a small variety of pine trees. While the species that can handle the arid desert climate are limited, the problems these trees face are plentiful.
Common Tree Issues in Tucson
One of the most significant issues facing Tucson trees is under-watering and drought conditions. Long stretches of drought can leave your trees without the nutrients they require from the soil, ultimately leaving them to wither and die. Unfortunately, over-watering is also a problem, and it can lead to root rot and total death of the tree as well.
There are a number of tree pests that run rampant in the Tucson area. These include pine engraver beetles, ambrosia beetles, aphids, Cooley spruce gall adelgids, carpenter ants, termites, and many others. These insects can rapidly deteriorate trees to the point where they die, at which point they often move on to other nearby trees.
Finally, Tucson trees are susceptible to several tree diseases. Common bacterial and fungal infections in Southern Arizona include Elytroderma needle cast, trunk decay, Hypoxylon cankers, Comandra blister rust, Armillaria, and more.
Why Buyers Might Pay Less for Homes With Tree Issues

There are several reasons buyers tend to pay less for a home that has dead or dying trees.
Firstly, dead trees are far more likely to topple over or drop branches on the home or other personal property. Buyers may identify dead trees and realize they're in for a headache and a considerable tree removal expense after closing.
Extreme cases might lead buyers to back out of the sale, while less problematic trees might cause them to lower their offer price, sometimes in excess of what the removal would cost.
Not only are tree problems potentially expensive for buyers, but they detract from the beauty of your home. Dead and dying trees will reduce the curb appeal of your house, which plays a significant role in the buyer's impression of your property.
Something as simple as making sure your trees are healthy and beautiful could lead buyers to pay more for your home.
How to Spot Tree Issues Before Selling
A simple way to ensure you're getting the most profit from the sale of your home is to monitor your trees for signs of a problem and address them immediately to maintain the tree's health. There are several things you can do to identify issues early.
A good habit to get into as a homeowner is to inspect the trees on your property every month. You should look for dead limbs, wilting or damaged leaves, cankers on or damage to the trunk or limbs, holes through the bark, and any other abnormalities.
The earlier you identify a problem, the sooner you can implement a solution, giving your tree the best chance of survival. Inspecting monthly will help locate any issues before they become too severe to treat.
Should You Keep Or Remove a Problematic Tree?
Once you've identified a tree problem, you need to decide if it's more cost-effective to treat or remove the tree.
Relying on an arborist for a professional opinion is the best course of action, but you can also make a self-assessment. If a tree is diseased or infested, hiring a pro for removal is likely best. This will minimize the risk of the problem spreading to other nearby trees.
However, arborists can treat some infections and infestations with a high success rate, so paying for trunk injections or pesticide spraying might be more cost-effective and healthy for the environment.
If you have an issue with over-watering or under-watering, you can have an expert install a well-tuned irrigation system and mulch around the base of the tree to help regulate soil moisture appropriately.
How to Maximize Your Sale Price With Tree Care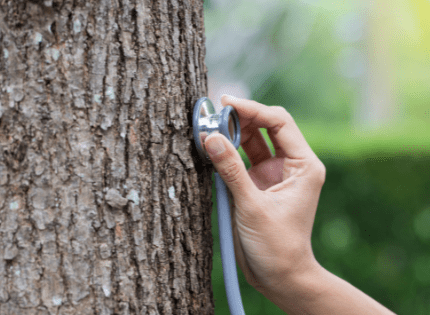 One of the best things you can do to ensure your trees don't negatively affect your sale price is to have an arborist come just before listing.
If there are any problems, they can identify them for you and begin treatment immediately.
An arborist can prune your trees to promote healthy growth and improve the curb appeal of your property, remove dead and dying limbs and trees that buyers might worry about, and provide some peace of mind to your buyers that there are no hidden problems, like root rot or internal pest infestation.
If there are problems, an arborist can implement the most appropriate treatment.
Keep in mind that the remedy might not be completed before you sell, but you can let buyers know that you care enough about their future home to be proactive and have professional service done for their benefit.
This will likely show buyers that you go above and beyond when it comes to your home, and they'll feel more confident that there aren't any issues you have neglected to disclose to them.
The above guest article is by Tina Williams – Regional Marketing Manager – www.treetriage.com
Common Causes For Dead Trees
Need more information on what can cause trees to die? For the inquiring mind…….Go Here!
Thinking About Selling Your Home In The Greater Tucson Area?
Selling a home requires more than listing it in the Tucson MLS system. It's about marketing. Marketing through multiple online channels.
To no one's surprise, 80% of home buyers start their search on the internet. Homes must be visible on multiple internet channels. The more visible a home is, the faster it will sell.
And the photos on the mls make a difference. You can spend lots of money on home staging, but if the photos aren't great it doesn't matter. Staging and stunning photos make it all come together.
We use multiple online marketing channels to showcase your home. We will build a stand-alone website built to show your home. Our marketing program targets key cities in the U. S. based on the season.
For luxury listings, our drone service provides video of your home and neighborhood. This video along with professional photos helps the online buyer see and feel your home. Their "new" home.
To learn more about how we can help you sell your Tucson home, call us – 520-940-4541 – to arrange a meeting. We will visit your home and prepare a comparative market analysis.
Then we will meet with you to review our analysis. We will go over our Comparative Market Analysis for your home in detail. And the review our marketing program to "get your home sold!"
Conclusion
Thank you for visiting www.premiertucsonhomes.com! It's one of the top real estate websites in Tucson. Our clients tell us that.
Our website provides information on communities and neighborhoods in the greater Tucson area. Want more? Give us a call – 520-940-4541. We are ready to answer your questions and help you get the information you are looking for.
We are a top Realtor duo in Tucson, AZ since 2002. Read our client testimonials. Give us a call. We look forward to making your home buying or selling experience enjoyable YOU!
Sign UP to receive daily HOME TRACKER UPDATES - OR - Our Monthly NEWSLETTER. And get regular updates on the Real Estate Market and events in Tucson, AZ.
Questions about the Tucson Real Estate Market or Tucson Homes for Sale? Call Us - 520 940 4541 OR complete the - CONTACT FORM - and we will get right back to you!