Canyon Ranch Resort & Spa – Tucson

A World Class Wellness Resort & Spa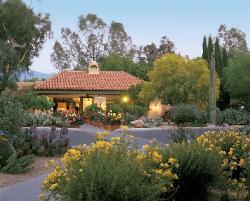 Canyon Ranch is a destination luxury wellness lifestyle resort that sits on 150 acres in the Sonoran Desert in Tucson, Arizona.
What is now Canyon Ranch was once the center of a sizable cattle ranch and later became the Double U Dude Ranch
From the 1930s into the 1970s the ranch was a "guest" – or dude – ranch. During that period, Tucson was home to many dude ranches.
Start you Search For a Tucson Home – Here!
Canyon Ranch takes advantage of Tucson's sun-drenched climate. Clear desert air make the views of the Santa Catalina Mountains unforgettable.
The setting and facilities make Canyon Ranch a classic spa vacation destination. Hiking, biking, outdoor dining and lounging by the pool are available the year-round.
Take a stroll around the stunning grounds or sit a a quite area. Wild life is part of the surroundings. Quail, Roadrunners and other wild life are everywhere.
They add to the historic richness of the Sonoran desert and vast desert skies.
On Arrival
When you arrive to Canyon Ranch, you'll enter the comfortable Clubhouse. The Clubhouse is at the center of the resort. In the clubhouse you can rest beside the original stone fireplace of the old guest ranch.
Read a book or get a healthy drink and delicious snack at the refreshment bar outside the Main Dining area. Enjoy a delicious mock cocktails before an evening meal in the Wicker Lounge.
Take time to read your email, browse the Library or view a movie in the Media facility. Find a book to read or play a board game and watch your other guests go by.
Sit down by the Flagstone Pool with a glass of iced tea at the lovely Double U Café. Whether indoors or outside activities abound a few yards from the Clubhouse.
A Bit Of History
Canyon Ranch was founded by Mel and Enid Zuckerman and Jerry Cohen in 1979 in Tucson, Arizona.
Mel Zuckerman told the background of the name in an interview with the Arizona Daily Star on June 24, 2014.
Zuckerman left New Jersey with his family in 1958, and traveled west to find a new home. After 5 weeks of travel Zuckerman ended up in Tucson, Arizona.
One of the first places he visited was Sabino Canyon.
He decided he wanted to live near the natural beauty in the area.They bought a home and settled down.
In 1978, he and his wife Enid decided to open a health resort. To do that, they purchased the 42-acre Double U Dude Ranch, near Sabino Canyon.
The old ranch buildings were in bad shape. But rather than tearing them down, they decided to rebuild them. They felt rebuilding would not damage the energy of the place and scare away the wildlife.
Mel and Enid named the new resort Canyon Ranch. The name derived from Sabino Canyon and the Double U Dude Ranch.
Find your way to Canyon Ranch in Tucson AZ – MAP
Canyon Ranch Locations
Canyon Ranch in Tucson is one of two resorts in the United States. The second one is in Lenox, Massachusetts.
Canyon Ranch also operates a retreat property in Woodside, California.
In 2017, Canyon Ranch was purchased by Goff Capital.
Considering A Home In Tucson, AZ?
Are you thinking of buying a home in the greater Tucson area? Finding the right home can be a challenging process. But we can make the process much less stressful for you.
We have been Tucson Realtors since 2002. We know Tucson and the Tucson Real Estate market. As a top Realtor duo, we invest the time to understand your home buying interests and desires.
At our first meeting, we will review the current real estate market with you. Show you the market data and then walk you through the Arizona home buying process.
Why? We want you to know what to expect. And what to plan for.
Interested in new construction? We'll brief you on buying a new construction home. And what's unique about the process.
For us, you are not another real estate transaction. You are a client and, future friend. We strive to create a relationship that continues long after you move into your home. Review our profiles. Check out our backgrounds, education, and certifications.
We are here to help you "know what you need to know" to buy a home in Tucson, AZ. We provide you information on Tucson events, places to shop and restaurants. Our resources include contractors, electricians, and home services. Our professional service backgrounds mean we put you first!
Conclusion
Thank you for visiting www.premiertucsonhomes.com! It's one of the top real estate websites in Tucson. Our clients say that, not us.
Our website provides information on communities and neighborhoods in the greater Tucson area. Want more? Give us a call – 520-940-4541. We are ready to answer your questions and help you get the information you are looking for.
We are a top Realtor duo in Tucson, AZ since 2002. Read our client testimonials. Give us a call. We look forward to making your home buying or selling a home an enjoyable experience for YOU!
Interested in moving to Tucson or looking for homes for sale Tucson Arizona? We can help!
Sign UP to receive daily HOME TRACKER UPDATES - OR - Our Monthly NEWSLETTER. And get regular updates on the Real Estate Market and events in Tucson, AZ.
Questions about the Tucson Real Estate Market or Tucson Homes for Sale? Call Us - 520 940 4541 OR complete the - CONTACT FORM - and we will get right back to you!