Debt To Income Ratio Key To Tucson Home Mortgage
A Red Flag For Mortgage Lenders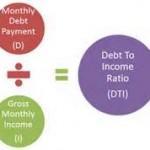 Debt to income ratios are the biggest hurdle in obtaining a mortgage in today's Tucson Real Estate market.
While many factors are considered during the mortgage approval process, some are more important that others. A recent study by credit-score giant Fair Isaac Company offers insight on the credit-risk factors mortgage lenders and underwriters think about.
The Study On Credit Risk Factors
Researchers asked a sample of financial representatives in the United States and Canada what issues they are most concerned about and would cause them to decline the loan application.
Interestingly, what is at the top of the the list isn't ones credit scores. Nor is it the size of your down payment. The item that is of most concern to mortgage lenders is your debt-to-income ratios or DTI. Almost 60 percent of risk managers consider the debt to income ratio for mortgage as their top consideration.
Most home buyers think FICO score and down payments are the key. And most home buyers don't know or understand home lenders view the DTI. Or the debt to income ratio limits to be considered.
Debt To Income Ratio Factors
Here is a brief overview on just what goes into the debt to income ratio and why it is such a big red flag. Debt to income ratios are the most direct indication to a mortgage lender about whether or not a person will be able to repay the mortgage.
Debt to income ratios for home loans have two components.
Gross Income Used To Calculate Debt To Income
First, is your gross income from all sources before taxes compared to monthly housing expenses. In the debt to income ratio calculation, housing expenses including the principal, interest, taxes and insurance to be paid on the home are added up.
Typically, lenders like to see the ratio of housing expense to gross monthly income to be at or below 28%. Needless to say there are expectations to the 28% based on other items in the mortgage application.
The Ratio
The second debt to income ratio component measures your income against all recurring monthly financial obligations a person must pay. This is referred to as the "back end ratio". Payments for housing expenses, credit cards, student loans, personal loan payments and other items are included in this calculation.
Under federal "qualified mortgage" standards under the Dodd-Frank legislation that took effect in January, 2014, the back-end ratio of 43 percent is regarded the maximum. Once again, based on other factors there may be some wiggle room on a case by case basis.
However, the reality is that most lenders making loans eligible for sale to Fannie or Freddie prefer to see this ratio will under the 43 percent maximum. The study indicated the average home purchase applicant that was approved had a back-end ratio of 34 percent.
The FHA, which tends to be less strict, showed the average back-end ratio for buyers was 41 percent.
Any thing over 47% is a killer.
To learn more on debt to income ratios check out Fannie Mae's information and tools to help you.
Mortgage Loan Consideration #2
The Fair Isaac Company survey identified the second biggest concern of mortgage loan officers is "multiple recent (credit) applications."
New credit applications are revealed on a persons credit report. Lenders take new credit applications as signals that a person is potentially adding even more debt. Clearly, additional debt could affect the ability to payback the mortgage being requested..
And In Third Place
Surprisingly, In third place, is your credit scores. Most lenders want to see FICO scores well above 700 — Fannie and Freddie averages were in the 755 range in May, FHA average approved scores were a more generous 684.
Considering A Home In Tucson, AZ?
Are you thinking of buying a home in the greater Tucson area? Wonder if you debt to income ratio is good enough.?
Finding the right home and lender can be a challenging process. But we can make the process much less stressful for you.
We have been Tucson Realtors since 2002. We know Tucson and the Tucson Real Estate market. As a top Realtor duo, we invest the time to understand your home buying interests and desires.
At our first meeting, we will review the current real estate market with you. Show you the market data and then walk you through the Arizona home buying process.
Why? We want you to know what to expect. And what to plan for.
Interested in new construction? We'll brief you on buying a new construction home. And what's unique about the process.
For us, you are not another real estate transaction. You are a client and, future friend. We strive to create a relationship that continues long after you move into your home. Review our profiles. Check out our backgrounds, education, and certifications.
We are here to help you "know what you need to know" to buy a home in Tucson, AZ. We provide you information on Tucson events, places to shop and restaurants. Our resources include contractors, electricians, and home services.
But most important, our professional service backgrounds mean we put you first!
Thinking About Selling Your Home In The Greater Tucson Area?
Selling a home requires more than listing it in the Tucson MLS system. It's about marketing. Marketing through multiple online channels.
To no one's surprise, 80% of home buyers start their search on the internet. Homes must be visible on multiple internet channels. The more visible a home is, the faster it will sell.
And the photos on the mls make a difference. You can spend lots of money on home staging, but if the photos aren't great it doesn't matter. Staging and stunning photos make it all come together.
We use multiple online marketing channels to showcase your home. We will build a stand-alone website built to show your home. Our marketing program targets key cities in the U. S. based on the season.
For luxury listings, our drone service provides video of your home and neighborhood. This video along with professional photos helps the online buyer see and feel your home. Their "new" home.
To learn more about how we can help you sell your Tucson home, call us – 520-940-4541 – to arrange a meeting. We will visit your home and prepare a comparative market analysis.
Then we will meet with you to review our analysis. We will go over our Comparative Market Analysis for your home in detail. And the review our marketing program to "get your home sold!"
Conclusion
Thank you for visiting www.premiertucsonhomes.com! It's one of the top real estate websites in Tucson. Our clients tell us that.
Our website provides information on communities and neighborhoods in the greater Tucson area. Want more? Give us a call – 520-940-4541. We are ready to answer your questions and help you get the information you are looking for.
We are a top Realtor duo in Tucson, AZ since 2002. Read our client testimonials. Give us a call. We look forward to making your home buying or selling experience enjoyable YOU!
Sign UP to receive daily HOME TRACKER UPDATES - OR - Our Monthly NEWSLETTER. And get regular updates on the Real Estate Market and events in Tucson, AZ.
Questions about the Tucson Real Estate Market or Tucson Homes for Sale? Call Us - 520 940 4541 OR complete the - CONTACT FORM - and we will get right back to you!