A Tucson Historic Neighborhood
Find Homes For Sale In This Central Tucson Subdivision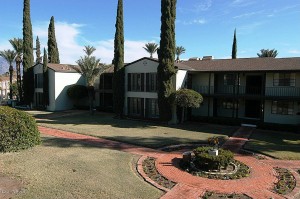 El Encanto Tucson Historic Neighborhood lies between East Fifth Street and Broadway Blvd. Immediately west and north of El Con Shopping center.
El Encanto neighborhood began in the late 1920's by W. E. Guerin. The development broke away from the city's gridiron layout by putting homes on diagonal and circular streets and cul-de-sacs.
When created, El Encanto was on eastern edge of the city. Tucson has grown around it and is now part of the central City.
The El Encanto neighborhood is bordered by East Fifth Street on the north, East Broadway Boulevard on the south, Country Club Road to the west and North Jones Boulevard to the east.
Over the years, few changes to the original land plat. Most residential lots are larger with over 16,000 square feet. Not bad for being in a major city.
Spanish Colonial Revival archecture is prominant in El Encanto. They blend with the Pueblo Revival, Eclectic Revival and Sonoran home styles. Ranch-style homes made their debut around 1941

Well Know Locations
Southwest architecture is found in nearby Colonia Solana and other nearby neighborhoods. However, the elegant and formal landscaping make El Encanto Tucson neighborhood very distinctive.
Most of the original plantings have been replaced with low maintenance greenery. However, the Mexican fan palms planted along the streets in 1929 and orginal saguaros are still there. These majestic trees serve as distinct boundaries for the El Encanto Tucson neighborhood.
El Encanto Tucson remains an noted example of early Twentieth Century community planning. It became the sixth Tucson neighborhood to be designated as a Residential Historic District in 1988. This designation has help to protect the area and maintain much of its original character.
Park Place Mall Tucson is close by and offers shopping, dining and theaters.
Today, homes may sell well above $700,000.
Looking for Tucson properties in a historic El Encanto Tucson neighborhood? We can help!
Conclusion
Thank you for visiting www.premiertucsonhomes.com! It's one of the top real estate websites in Tucson. Our clients tell us that.
Our website provides information on communities and neighborhoods in the greater Tucson area. Want more? Give us a call – 520-940-4541. We are ready to answer your questions and help you get the information you are looking for.
We are a top Realtor team in Tucson, AZ since 2002. Take a minutes to read our profiles and client testimonials.Maybe we are the Tucson Realtors you have been looking for.
We look forward to making your home buying or selling experience enjoyable YOU!
Sign UP to receive daily HOME TRACKER UPDATES - OR - Our Monthly NEWSLETTER. And get regular updates on the Real Estate Market and events in Tucson, AZ.
Questions about the Tucson Real Estate Market or Tucson Homes for Sale? Call Us - 520 940 4541 OR complete the - CONTACT FORM - and we will get right back to you!
By the way, if you don't know what to do with your airplane you should take a look at La Cholla Air Park homes.