A French Restaurant In Tucson That Makes You Think You Are In Paris
Le Rendez-Vous Is A Great French Restaurant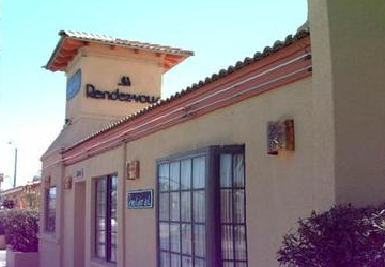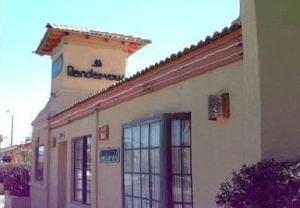 Alright, you want to have a great French restaurant experience. Where do you go? Well, go to Paris of course. Dust off your credit cards. Book a flight, hotel and make your reservation at Bistrot Paul Bert in Paris.
Bistrot Paul Bert is one of the top bistro French restaurants in Paris. Right off Rue Faidherbe on Rue Paul Bret on the east side of Paris. 18 Rue Paul Bret to be exact.
Exquisite food, superb service, and excellent wine. An unparalleled French dining experience. On the negative side, at a cost somewhere north of $4,000 all in. Lots more if you upgrade to first class.
If You Live In Tucson There Is A Better Option – Le Rendez-Vous
Le Rendez-Vous is an award-winning restaurant serving authentic French cooking in Tucson, Arizona. And since opening in 1980, it established itself for exceptional French cuisine.
Tucson isn't Paris, but Le Rendez-Vous will make you think you are there. And they speak English.
Le Rendez-Vous offers a quaint setting that reminds you of a French country home. White walls, black accents, and wood beamed ceiling. Simple, yet elegant.
Two Dining Experiences Available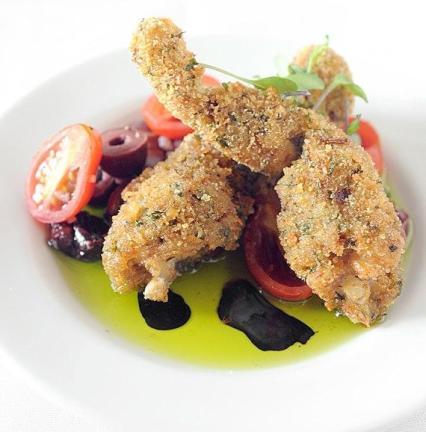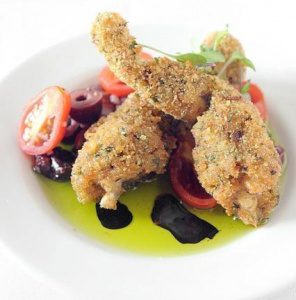 Formal restaurant dining or casual Bistro dining. Both comfortable and intimate.
The formal restaurant is a perfect place to celebrate a special occasion.
One of the first challenges a newcomer to Le Rendez-Vous will have is what to order.
The menu isn't extensive but offers something for everyone. And the description of each item will tantalize the taste buds. And they taste even better!
So many choices, so little time.
From stuffed shrimp to beef Wellington. And for those that share, there is a Chateaubriand Bearnaise Sauce for two. It could be for one with lots of leftovers.
The Bistro dining area offers a casual and cozy experience. Small plates are the standard fare. But these small plates raise the bar. Actually, at the bar.
Where would you find frog legs or mini beef wellington as a small plate? Le Rendez-Vous of course.
Did I Mention Desserts?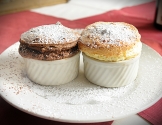 A small selection of desserts is on the menu. Five items. Small but fantastic. Put another way "decadent".
The Grand Marnier Souffle is marvelous. It takes time to prepare, so order early or have another glass of wine while it is being prepared.
And Creme Brulee lovers aren't forgotten. Smooth, with a crisp brown sugar crust. OMG!
Awards As Well
Le Rendez-Vous won big at the Tucson Lifestyle's 2014 Culinary Awards. The popular local magazine asked the public what they felt were the best restaurants in Tucson.
Votes recognized restaurants under different categories: Top Restaurants, Best in Global Cuisine, and Specialty.
Where To Find This Award Winning French restaurant In Tucson, AZ
3844 Fort Lowell
Tucson, AZ
520-323-7373
Lunch
Tues – Fri: 11:30am-2:00pm
Dinner
Tues-Sun: 5pm-close | Mon: closed
Considering A Home In Tucson, AZ?
Are you thinking of buying a home in the greater Tucson area? Finding the right home can be a challenging process. But we can make the process much less stressful for you.
We have been Tucson Realtors since 2002. We know Tucson and the Tucson Real Estate market. As a top Realtor duo, we invest the time to understand your home buying interests and desires.
At our first meeting, we will review the current real estate market with you. Show you the market data and then walk you through the Arizona home buying process.
Why? We want you to know what to expect. And what to plan for.
Interested in new construction? We'll brief you on buying a new construction home. And what's unique about the process.
For us, you are not another real estate transaction. You are a client and, future friend. We strive to create a relationship that continues long after you move into your home. Review our profiles.
Check out our backgrounds, education, and certifications.
We are here to help you "know what you need to know" to buy a home in Tucson, AZ. We provide you information on Tucson events, places to shop and restaurants. Our resources include contractors, electricians, and home services.
We will also help you get deals on tile and paint to make the home you buy yours.
Our professional service backgrounds mean we put you first!
Thinking about selling a home in the Tucson area?
Selling a home requires more than listing it in the Tucson MLS system. It's about marketing. Marketing through multiple online channels.
To no one's surprise, 80% of home buyers start their search on the internet. Homes must be visible on multiple internet channels. The more visible a home is, the faster it will sell.
We use multiple online marketing channels to showcase your home. We will build a stand-alone website built to show your home. Our marketing program targets key cities in the U. S. based on the season.
For luxury listings, our drone service provides video of your home and neighborhood. This video along with professional photos helps the online buyer see and feel in your home.
To learn more about how we can help you sell your Tucson home, call us – 520-940-4541 – to arrange a meeting. We will visit your home and prepare a comparative market analysis. Then we will meet with you to review our analysis and our marketing program to "get your home sold!"
Conclusion
Le Rendez-Vous is a popular French restaurant with locals and knowledgeable visitors. We've put on our "special places to go" list.
The menu has an excellent choice of classic French dishes. Comfortable wines and incredible deserts. What more could someone ask for?
Thank you for visiting www.premiertucsonhomes.com! It's one of the top real estate websites in Tucson. Our clients say that, not us.
Our website provides information on communities and neighborhoods in the greater Tucson area. Want more? Give us a call – 520-940-4541. We are ready to answer your questions and help you get the information you are looking for.
We are a top Realtor duo in Tucson, AZ since 2002. Read our client testimonials. Give us a call. We look forward to making your home buying or selling a home an enjoyable experience for YOU!
Find more great Tucson restaurants – HERE!
Sign UP to receive daily HOME TRACKER UPDATES - OR - Our Monthly NEWSLETTER. And get regular updates on the Real Estate Market and events in Tucson, AZ.
Questions about the Tucson Real Estate Market or Tucson Homes for Sale? Call Us - 520 940 4541 OR complete the - CONTACT FORM - and we will get right back to you!