Maynards Tucson Restaurant In The Spotlight For You – A Best Tucson Restaurants Reveiw

You Can Find Maynards Tucson Restaurant In The Historic Tucson Train Depot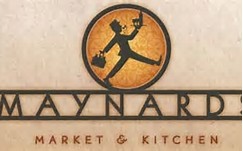 Maynards Tucson is two restaurants under one roof. Maynards Market and Maynards Kitchen. They are both across the street from Hotel Congress on Toole Avenue. The stunning building is the historic Tucson train depot.
The full name of this unique Tucson restaurant is Maynards Market +Kitchen. Maynards is a sister business of the Hotel Congress. After renovating the old train depot, it is now a unique place for dining and events.
Maynards Market and Kitchen may not be the most comfortable spots in Tucson, but it has a special feel. It offers a stylish atmosphere and historic location. And if you like trains, it's even more special.
The dining area will remind you of the old Pullman train cars. Two long and narrow rooms setting side by side. The New York Times called Maynards "dark and handsome".
Bar And Dining
The bar is on the main level and the dining area a few steps down. Maynards also has a lovely patio area. Perfect for a quick cocktail or dinner. The patio is spacious. There is plenty of room between tables. So, you don't overhear the conversations across from you.
While the trains going by are adding ambiance, they make lots of noise.
The food is French-inspired American. Maynards menu is small but presents great choices. And is a bit on the pricey side. But how often do you get to have dinner in a Tucson historic landmark?
Across the breezeway from Maynards Kitchen is the Market. It is a fast-casual cafe concept for breakfast, lunch, and dinner. The baked pastries and the hand-scooped ice cream are delightful.
The large table in Maynards Market is a perfect setting for a big gathering or chef's table dinner. Maynards Market is a great place to relax with a latte, pastry, and your favorite read.
Considering A Home In Tucson, AZ?
Are you thinking of buying a home in the greater Tucson area? Finding the right home can be a challenging process. But we can make the process much less stressful for you.
We have been Tucson Realtors since 2002. We know Tucson and the Tucson Real Estate market. As a top Realtor team, we invest the time to understand your home buying interests and desires. At our first meeting, we will review the current real estate market with you. Show you the market data and then walk you through the Arizona home buying process.
Why? We want you to know what to expect. And what to plan for.
Interested in new construction? We'll brief you on buying a new construction home. And what's unique about the process.
For us, you are not another real estate transaction. You are a client and, future friend. We strive to create a relationship that continues long after you move into your home. Review our profiles. Check out our backgrounds, education, and certifications.
We are here to help you "know what you need to know" to buy a home in Tucson, AZ. We provide you information on Tucson events, places to shop and restaurants. Our resources include contractors, electricians, and home services. We will also help you get deals on tile and paint to make the home you buy yours. Our professional service backgrounds mean we put you first!
Conclusion
Maynards Tucson is in downtown Tucson's Historic East End. The area is both a destination and a hub for those wanting to explore the heart of urban Tucson.
The food and service at Maynards Tucson are similar to a major league home run hitter. They hit a lot of them out of the park, but strike out a lot. When it's good, it is very good. When it's not so good, it isn't.
Thank you for visiting www.premiertucsonhomes.com! It's one of the top real estate websites in Tucson. Our clients say that, not us.
Our website provides information on communities and neighborhoods in the greater Tucson area. Want more? Give us a call – 520-940-4541. We are ready to answer your questions and help you get the information you are looking for.
We are a top Realtor team in Tucson, AZ. Read our client testimonials. Give us a call. We look forward to making your home buying or selling a home an enjoyable experience for YOU!
And you can find more Best Tucson Restaurants Reviews – HERE
Sign UP to receive daily HOME TRACKER UPDATES - OR - Our Monthly NEWSLETTER. And get regular updates on the Real Estate Market and events in Tucson, AZ.
Questions about the Tucson Real Estate Market or Tucson Homes for Sale? Call Us - 520 940 4541 OR complete the - CONTACT FORM - and we will get right back to you!