Natural Disasters In Arizona

Natural Disasters Such As Earthquakes And Tornado's Are Rare

Thinking of moving to Arizona? Concerned about the risk of natural disasters? Well don't be concerned. The risk of natural disasters in Arizona is low. And Southern Arizona is less likely to experience a natural disaster then any where else in the State!
But that doesn't mean it can't happen. No place on Earth is ever 100% safe. However, as shown on the 2014 Natural Disaster Risk Map, Tucson and its surrounding communities rank low. The Blue star is the location of Tucson AZ.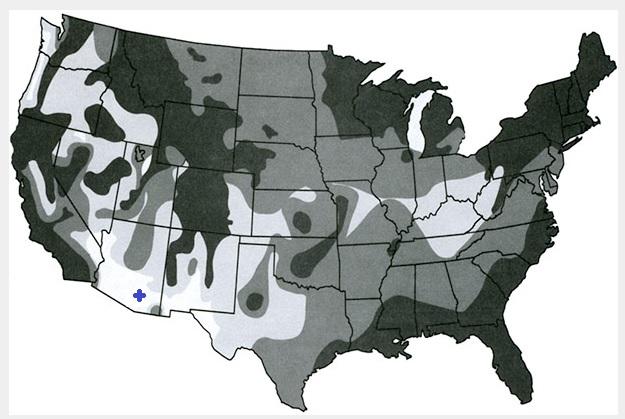 Map

Legend

– For four types of natural disaster: earthquake, hurricane, tornado, and blizzard. Dark Shading = high risk. Medium Shading = moderate risk. Light Shading = lower risk. B

ut still significant over long periods of time.
No Arizona earthquake in recorded history has caused any deaths or injuries. That's not to say there haven't been earthquakes in Arizona.
The most notable Arizona Natural Disaster was an earthquake that occurred in Mexico in 1887. The quake was near Bavispe, Mexico about 200 miles from Tucson.
Extensive destruction was done at the epicenter. The tremor made the ground move in Benson and Tucson AZ. Reports indicated ground movement as far away as Albuquerque NM.
The first significant earthquake known to occur within Arizona's borders happened in 1906. The year of the great San Francisco earthquake. The shock was severe in Flagstaff.
In September 1910, the Grand Canyon area had a series of Arizona earthquakes. 52 earthquakes occurred between September 10 and 23, 1910.
Earthquakes in Arizona occur on the western border. Yuma has felt the effect of earthquakes centered in California. There was little, if any, damage.
The 2014 Seismic Hazard Map – BELOW – Shows a very low probability of a seismic occurrence in Tucson, Arizona.
For a quick overview of earthquakes in Arizona – HERE.
Tornado
There have been 19 Tornado's recorded in Pima county between 1954 and 2006. Of these only 2 have been in the F-2 category. Only 1 death occurred from Tornado in Pima County. That was in 1974.
Weather
The weather in Southern Arizona eliminates a natural disaster due to a blizzard. But the area can experience high winds and heavy rain during the summer monsoons.
Flash floods do occur as the monsoon rain flows down off the mountains. Large Haboobs have been experienced starting at Red Rock/Casa Grande north through Phoenix and as far north as Cave Creek. The Haboob is created from the winds at the front of a monsoon storm. Haboobs create hazardous driving conditions, but are not considered a natural disaster.
A study in June 2018 by Bloomberg News indicated home values in high risk area for natural disasters have declined over the 2007 to 2017 period. Or increased less than low risk areas.
And based on the above information, Arizona is a low risk area for natural disasters. Perhaps its time to start your Arizona home search.
Considering A Home In Tucson, AZ?
Are you thinking of buying a home in the greater Tucson area? Finding the right home can be a challenging process. But we can make the process much less stressful for you.
We have been Tucson Realtors since 2002. We know Tucson and the Tucson Real Estate market. As a top Realtor team, we invest the time to understand your home buying interests and desires. At our first meeting, we will review the current real estate market with you. Show you the market data and then walk you through the Arizona home buying process.
Why? We want you to know what to expect. And what to plan for.
Interested in new construction? We'll brief you on buying a new construction home. And what's unique about the process.
For us, you are not another real estate transaction. You are a client and, future friend. We strive to create a relationship that continues long after you move into your home. Review our profiles. Check out our backgrounds, education, and certifications.
We are here to help you "know what you need to know" to buy a home in Tucson, AZ. We provide you information on Tucson events, places to shop and restaurants. Our resources include contractors, electricians, and home services. We will also help you get deals on tile and paint to make the home you buy yours. Our professional service backgrounds mean we put you first!
Our website provides information on communities and neighborhoods in the greater Tucson area. Want more? Give us a call – 520-940-4541. We are ready to answer your questions and help you get the information you are looking for.
Conclusion
The bottom line is that natural disasters in Arizona are rare. That is not the case for homeowners in Florida, the southeast coastline or Gulf of Mexico.
Tornado's and Typhoons have and, most likely, will continue to cause natural disasters there. And expensive flood insurance is mandatory for coastal properties.
If you're looking for a great place to live without the risk of natural disasters, think Arizona. Southern Arizona and Tucson to be exact!
Want more information on Tucson homes for sale or homes in a specific community? We can help!
Sign UP to receive daily HOME TRACKER UPDATES - OR - Our Monthly NEWSLETTER. And get regular updates on the Real Estate Market and events in Tucson, AZ.
Questions about the Tucson Real Estate Market or Tucson Homes for Sale? Call Us - 520 940 4541 OR complete the - CONTACT FORM - and we will get right back to you!