Outdoor Kitchen Design Ideas Using a Southwest Flair
Arizona Warm Days And Cool Evenings Are Perfect For Outdoor Dining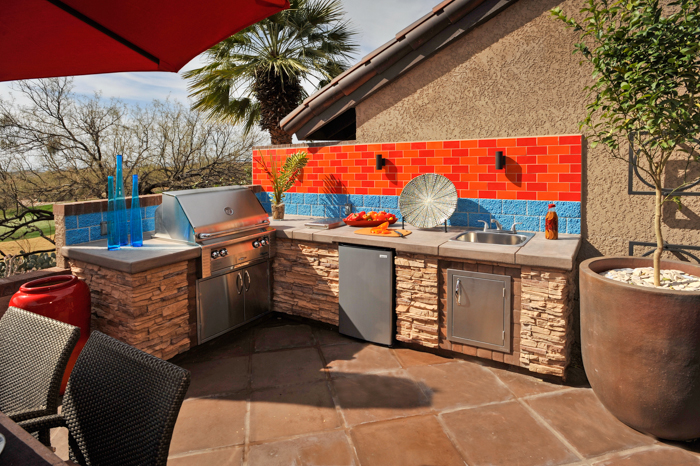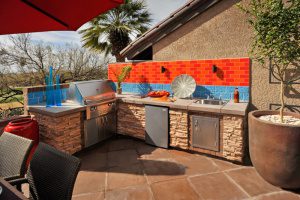 There is a growing tendency to take our cooking outdoors. We're not talking about a backyard barbecue pit, but a full-scale outdoor kitchen.
We who live in Arizona and the surrounding US Southwest have ample opportunity to take advantage of outdoor kitchens.
You'll want access to any number of modern appliances and conveniences. However, since it's going to be outdoors, how might you incorporate a southwestern flair into the design?
Here are three themes that will make your outdoor southwest kitchen design feel like it belongs.
Accent the Aztec Artistry
The southwestern US is on the edge of the ancestral home of the Aztec Indians. While they occupied mostly what is modern-day Mexico, their influence filtered northward into parts of the US Southwest.
Even though most of the Aztec civilization lived in northern Mexico, blending their artistry in southwestern architecture is commonplace. It would be extremely appropriate to include such a theme as part of an outdoor kitchen.
The first concept to include in your blueprint for an Aztec outdoor kitchen is to be certain to incorporate space. Aztec architecture displays an open sense of structure placement. It was probably attributed to the large outdoor gatherings that were part of the culture.
This sense of openness in your outdoor kitchen will serve that purpose for you as well. As you begin to decorate your Aztec-theme, be sure to include a lot of pictorials. The Aztec remains still in existence today display many such symbolic representations.
Include eagles, frogs and other sea creatures, as they seemed to mystify the Aztecs. The Aztecs were big on turquoise in their art as well. You could add a number of sculptures around your outdoor kitchen to give off the Aztec cultural aura.
The conch shell is another readily visible design used in Aztec décor. The culture was enamored with elaborately colored pottery and massive displays of mosaic art. Doing a colorful mosaic floor and countertops will give your outdoor kitchen an aura of Aztec ancestry.
Bring the Pueblo Culture Alive
The Pueblo culture bleeds all across the southwestern US. Blending these native designs into your outdoor kitchen would be a perfect connection. The Pueblo Revival architectural influence spans all across northern Mexico and the southwestern United States.
The walls and backdrops in your outdoor kitchen could be earth-tone stucco. Corners on cabinets and countertops would be rounded to represent the architectural style of the Pueblos.
Timbers and framing were exposed in Pueblo homes and would add accent to your kitchen. There should be a lot of natural wood exposed and rustic. Colors in a Pueblo-themed outdoor kitchen would blend soft cactus-greens, burnt oranges and clay reds.
These Native Americans, like their ancestors the Aztecs, were very much into ornate pottery. Their cultural inclination was to cluster these types of items together in corners to help improve airflow around the home. Niches and figures carved into the walls would allude to a Pueblo aura.
The Pueblos used a lot of adobe in their homes, so adding sections into your outdoor kitchen will give it an authentic Pueblo appearance. Adding an adobe-built, beehive shaped horno in your Pueblo-themed outdoor kitchen would be the perfect complementary appliance.
These were the outdoor ovens used by the Native Americans. Tapestries were also a favorite of the Pueblo culture. They used them as decorative wall hangings, so adding these on the walls of your outdoor kitchen would be perfect.
The Wonderful Wild West
The southwest is home to a variety of tales about cowboys and Indians. Incorporating a Wild West theme into your outdoor kitchen will allow you to relive a wonderful time in history every time you prepare a meal or grab a snack.
The Wild West theme is one that offers a great deal of variety as well. You could include aspects of the rodeo, cowboys or items that portray the journey westward along the Santa Fe Trail.
You can even blend multiple cowboy-based ideas. Turning your outdoor kitchen into a look-a-like for a nostalgic western saloon is another marvelous touch.
You can include hitching posts for your towels, and swinging saloon doors for your cabinets. A long wooden countertop will give the aura of the old-fashioned, western saloon counter. One easy way to accent this type of outdoor kitchen is the types of cookware you add.
Iron Accents
The Wild West was known for cast iron. So adding this type of cookware is the perfect accent. Leather was big in the Wild West, so wherever you can include leather straps or leather-backed chairs is another idea to consider.
Bar stools in a saloon-style outdoor kitchen is the perfect seating arrangement. You can use old pine for the floors and cabinetry. Wood paneling, left with a course, rustic finish, gives your kitchen a truly western visual appearance.
Including the rustic look of ironworks into your southwestern outdoor kitchen is another great way to give off that Wild West appearance. Iron door hinges and handles accent rustic cabinet doors very well.
These are three outdoor kitchen ideas that give off that perfect southwestern flair. There are other designs that would work well, but these will help your kitchen look like it belongs in the southwest.
Article By Jessica Kane – jessicakwrites@gmail.com
Conclusion
Thank you for visiting www.premiertucsonhomes.com! It's one of the top real estate websites in Tucson. Our clients say that, not us.
Our website provides information on communities and neighborhoods in the greater Tucson area. Want more? Give us a call – 520-940-4541. We are ready to answer your questions and help you get the information you are looking for.
We are a top Realtor duo in Tucson, AZ since 2002. Read our client testimonials. Give us a call. We look forward to making your home buying or selling a home an enjoyable experience for YOU!
Sign UP to receive daily HOME TRACKER UPDATES - OR - Our Monthly NEWSLETTER. And get regular updates on the Real Estate Market and events in Tucson, AZ.
Questions about the Tucson Real Estate Market or Tucson Homes for Sale? Call Us - 520 940 4541 OR complete the - CONTACT FORM - and we will get right back to you!