Persian Room Restaurant Review
Strip Mall Location – Persian Cuisine Inside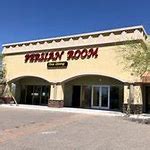 So lets set the stage.
You have finished your round of golf at the Crooked Tree Golf Course. That's at the corner of Thornydale Road and W. Overton Road.
As you turn north, you see a large neon sign in the strip mall to the east – Persian Room Fine Dining!
You say to yourself – Strip Mall and Fine Dining. What's wrong with this picture? The answer is, could be the location, but not the fine dining.
The strip mall location and the exterior hide a dining experience you won't forget. Behind the door is a place you would not expect in Tucson.
What's Inside?
The first thing you see as you enter is a large water fountain. Ok, not that unusual, but the tall glass center piece with a robbed figure is. That along with the massive chandler and red columns and ceiling decor are hints of whats to come.
Enter the dining area a behold the high ceilings, big chandlers and mural ceilings. A big open space that is both elegant and relaxed.
Take a seat at a table or booth and settle in. Open the menu and take in the diverse offerings of true Persian dishes.
The menu is intimidating. Lots of choices, but most unfamiliar to those not familiar with the cuisine.
So, order a drink, and start your expedition through the menu.
So Many Things, So Little Time
Persian cuisine at its finest. Plenty of kabobs – tenderloin, lamb, beef, Mahi, etc. Rice, breads and side dishes also excellent. Stews of various sorts. Seasonings are aromatic and tasty.
The koobideh is the most moist and flavorful I've had! Both the lamb and beef were delicious. Get the special rice substitute, loobia polo!! It's a meal in itself!
Homemade baklava is delicious! Soft pastry and a balance of cinnamon/nuts/honey. If that is not enough, the Persian ice cream is an excellent blend of pistachio and rose water.
Oh, One observation. The meals need a warning sign — HUGE!! There is lots – lots – lots of food. That means – leftovers!!
The service is good and the ambience very pleasant. All in all, an excellent restaurant which we will recommend.
If you are look for a fine Persian dining this is the place! Located in Tucson and Scottsdale, Arizona.
Reservations suggested at this popular, long established spot
Persian Room Fine Dining
9290 N Thornydale Rd
Ste 100
Tucson, AZ 85742
520-744-1414
Check Out the Persian Room Menu
Conclusion
Thank you for visiting www.premiertucsonhomes.com! It's one of the top real estate websites in Tucson. Our clients tell us that.
Our website provides information on communities and neighborhoods in the greater Tucson area. Want more? Give us a call – 520-940-4541. We are ready to answer your questions and help you get the information you are looking for.
We are a top Realtor team in Tucson, AZ since 2002. Read our client testimonials. Give us a call. We look forward to making your home buying or selling experience enjoyable YOU!
Sign UP to receive daily HOME TRACKER UPDATES - OR - Our Monthly NEWSLETTER. And get regular updates on the Real Estate Market and events in Tucson, AZ.
Questions about the Tucson Real Estate Market or Tucson Homes for Sale? Call Us - 520 940 4541 OR complete the - CONTACT FORM - and we will get right back to you!