Putney's Pitstop Sports Bar & Grill – Best Tucson Restaurants Review
A Well Done Make-Over Creates A Great Experience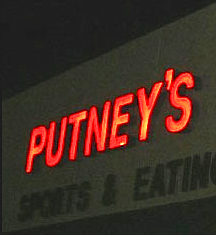 Putney's Pitstop Sports Bar & Grill has a new look at a long-standing location.
What makes a sports bar a great place? Well, as with many questions, it all depends. For most a great sports bar has lots of TVs with large screens. Next is beer and beverages. And then good food. Putney's Pitstop Sports Bar & Grill has it all.
For years Putney's was a bit of a dive when it had off-track betting. A dark dingy place for people who wanted to place a bet. Some might call it a deep dark cave.
No more my friends, no more. After a complete make-over, Putney's Pitstop Sports Bar & Grill reopen in September 2016. The project took 6 months. Putney's sports bar now has a fresh look and comfortable atmosphere.
Tucson, AZ has many sports bars throughout the metro area. Some good, some not so good and some outstanding. Putney's Pitstop Sports Bar & Grill is outstanding.
Why Head For Putney's Pitstop

Sport

Bar & Grill?
Let's Count The Reasons
Over 30 big screen TV's provide a clear view of the action. Football, Baseball, Basketball, Golf, Boxing and more. You want sports, you got sports!
Seating. The 2 bar areas seat 150 people inside. And the patio area can accommodate another 100.
You and your friends should have no problem finding a space to watch your favorite team.
Let's talk beverages. An endless array of beer, liquor, wine and non-alcoholic choices are available. While the wine list is adequate for most, wine snobs may find the choices limited. But the prices are good.
Now the biggie. Food. Putney's Pitstop Sports Bar menu offers great choices. Includes sandwiches, barbecue, Mexican, soup, salads and wraps. Appetizers offer traditional goodies you would expect in a Sports Bar.
Putney's Pitstop Sports Bar also has happy hour! And ask for Zoe, she will take good care of you!
Sports Bar Memoriblia
Putney's Pitstop Sports Bar & Grill displays all manner of sports paraphernalia. NBA, NFL and NHL. Banners and University of Arizona Wildcat posters. Even vintage automobile and gas station signs and a flier from the Tucson Toros.
A notable item is a framed copy of the Sept. 12, 1985, Cincinnati Post. The article chronicles Pete Rose's record-breaking 4,192nd career hit. This historic article bears Pete Rose's signature.
There's a spot devoted to the surfing exploits of Jacobson's ( the owner ) daughter Karen. She is a world-class standup paddle surfer.
Putney's Pitstop Sports Bar & Grill is at 6090 Oracle Road. North of West Rudasill Road. At the north end of the Casa Blanca Plaza where it has been since the late 1970's.
Putney's Pitstop Hours
Casa Blanca Plaza –

MAP



6090 N Oracle Rd,
Tucson, AZ 85704
HOURS
10:00 AM – 12:00 AM Monday, Tuesday, Wednesday
10:00 AM – 2:00 AM Thursday, Friday, Saturday, Sunday
Considering A Home In Tucson, AZ?
Are you thinking of buying a home in the greater Tucson area? Finding the right home can be a challenging process. But we can make the process much less stressful for you.
We have been Tucson Realtors since 2002. We know Tucson and the Tucson Real Estate market. As a top Realtor team, we invest the time to understand your home buying interests and desires. At our first meeting, we will review the current real estate market with you. Show you the market data and then walk you through the Arizona home buying process.
Why? We want you to know what to expect. And what to plan for.
Interested in new construction? We'll brief you on buying a new construction home. And what's unique about the process.
For us, you are not another real estate transaction. You are a client and, future friend. We strive to create a relationship that continues long after you move into your home. Review our profiles. Check out our backgrounds, education, and certifications.
We are here to help you "know what you need to know" to buy a home in Tucson, AZ. We provide you information on Tucson events, places to shop and restaurants. Our resources include contractors, electricians, and home services. We will also help you get deals on tile and paint to make the home you buy yours. Our professional service backgrounds mean we put you first!
Conclusion
Thank you for visiting www.premiertucsonhomes.com! It's one of the top real estate websites in Tucson. Our clients say that, not us.
Our website provides information on communities and neighborhoods in the greater Tucson area. Want more? Give us a call – 520-940-4541. We are ready to answer your questions and help you get the information you are looking for.
We are a top Realtor team in Tucson, AZ. Read our client testimonials. Give us a call. We look forward to making your home buying or selling a home an enjoyable experience for YOU!
Sign UP to receive daily HOME TRACKER UPDATES - OR - Our Monthly NEWSLETTER. And get regular updates on the Real Estate Market and events in Tucson, AZ.
Questions about the Tucson Real Estate Market or Tucson Homes for Sale? Call Us - 520 940 4541 OR complete the - CONTACT FORM - and we will get right back to you!