Reilly Craft Pizza Is Blow Your Mind Good – A Best Tucson Restaurants Review

[quickshare]
Reilly Craft Pizza & Drink Brings Life Back To A Historic Tucson Funeral Home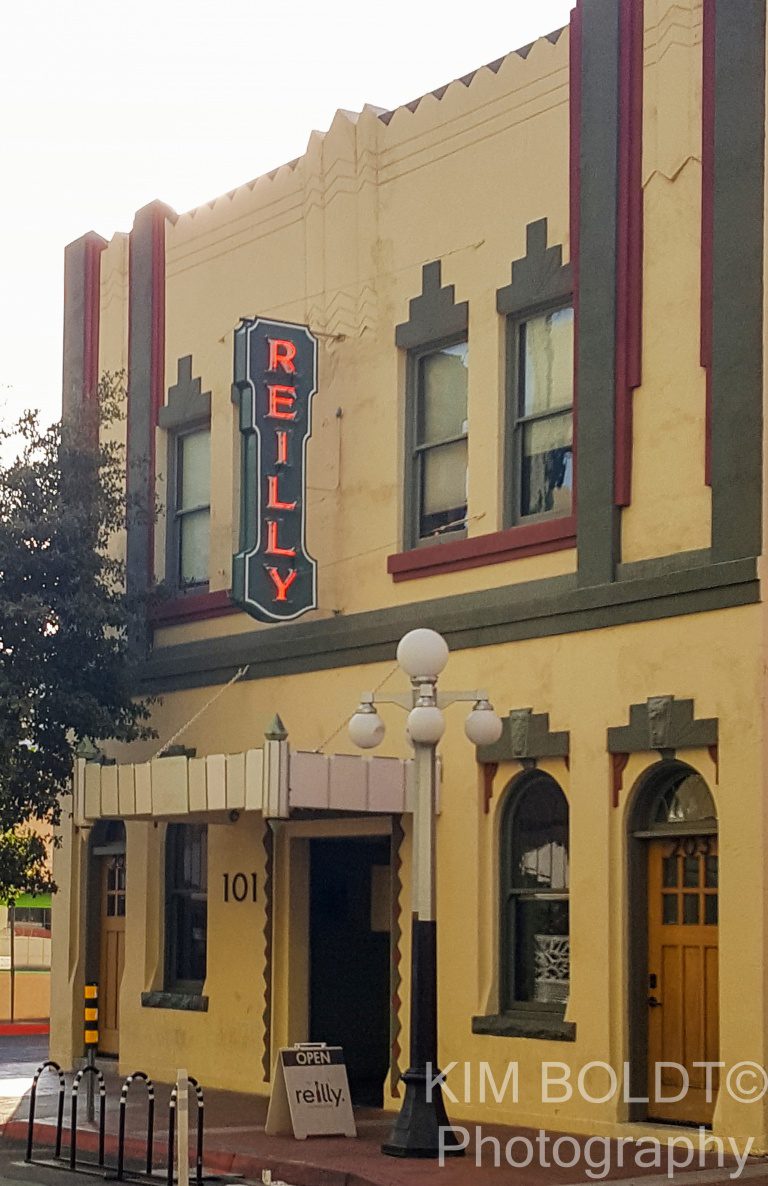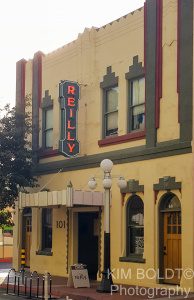 Opened in the summer of 2012, Reilly Craft Pizza And Drink occupies what was once a Tucson funeral home. Reilly Undertaking Company started in 1901. John Reilly purchased the William Murphy mortuary. The first mortuary firm in Tucson.
John Reilly and his family ran the Reilly Undertaking Company until 1990. And the last family member moved out of the upstairs living quarters in the late 1990's.
Opening the Reilly Craft Pizza And Drink brings new life to a historic Tucson landmark. As you enter, you see rustic elegance and old European-style appointments. High vaulted ceilings, exposed brick walls, and fluted columns adorn the interior.
Light from the leaded and stained glass windows embellish the 100-year old wood floors. The operative word in the funeral home to restaurant conversion is "re-purposing".
Ambiance And History In One Place
The result is a one of a kind Tucson pizza restaurant. Blending historic architecture with a modern flare. At Reilly Craft Pizza gears and cogs of an old casket lift re-purposed into table tops and bases. Wood taken from the floor of the new kitchen decorates the bar.
The ambiance and décor are stunning at Reilly Craft Pizza and Drink. Open seating, high ceilings and chandeliers make it a unique Tucson pizza restaurant. The main dining area and bar are on the first floor of the building at 101 E Pennington Street. The beer garden and patio seating are in the what was the old hearse garage.
The architecture and ambiance at Reilly Craft Pizza and Drink are enough to get you there the first time. But the food will bring you back again and again. Unique pizza toppings, one of a kind salads, and great starters adorn the menu. This a great place for lunch, dinner or late evening stop.
OH, did I mention desserts and beverages of choice? Try them, they are great.
Searching for a New Home?
Are you thinking of buying a home in the greater Tucson area? Finding the right home can be a challenging process. But we can make the process much less stressful for you.
With over 15 years of experience in the Tucson real estate market, we know Tucson. As a top Realtor team, we invest the time to understand your home buying interests and desires. At our first meeting, we will review the current real estate market with you. Show you the market data and then walk you through the Arizona home buying process.
Why? We want you to know what to expect. And what to plan for.
Interested in new construction? We'll brief you on buying a new construction home. And what's unique about the process.
For us, you are not another real estate transaction. You are a client and future friend. We strive to create a relationship that continues long after you move into your home. Review our profiles. Check out our backgrounds, education, and certifications.
We are here to help you "know what you need to know" to buy a home in Tucson, AZ. We provide you information on Tucson events, places to shop and restaurants. Our resources include contractors, electricians, and home services. We will also help you get deals on tile and paint to make the home you buy yours. Our professional service backgrounds mean we put you first!
Our website provides information on communities and neighborhoods in the greater Tucson area. Want more? Give us a call – 520-940-4541. We are ready to answer your questions and help you get the information you are looking for.
Thinking about selling a home in the Tucson area?
Getting a home sold is more that getting it listed in the Tucson MLS system. It's about marketing through multiple online channels.
80% of home buyers start their search on the internet. That means if your home is not being "pushed" across the internet your chances of selling it quickly are reduced.
We use multiple online marketing channels. We will build a stand-alone website built to show your home. Our marketing program targets key cities in the U. S. for snowbird buyers and active relocation orgination points. Our drone service provides video of your home and neighborhood. This video along with professional photos helps the online buyer see and feel your home.
To learn more about how we can help you sell your Tucson home, call us – 520-940-4541 – to arrange a meeting. We will visit your home and prepare a comparative market analysis. Then we will meet with you to review our analysis and our marketing program to "get your home sold!"
Thank you for visiting www.premiertucsonhomes.com! It's one of the top real estate websites in Tucson. Our clients say that, not us.
We are a top Realtor team in Tucson, AZ. Read our client testimonials. Give us a call. We look forward to making your home buying or selling a home an enjoyable experience for YOU!
Conclusion
Reilly Craft Pizza and Drink answers the question "where to get great pizza in Tucson, AZ. The nostalgia of historic old Tucson meets a modern and unique Tucson restaurant menu. This isn't your take out pizza place. Come in sit down and enjoy the experience and great casual food. Pizza, salads, pasta and desserts. Outstanding! A simple menu in a great historic place in Tucson, AZ. Give it try.
Planning to buy a home in Tucson AZ or Sell one, give us a call – 520-940-4541 we can help!
And you can find more Best Tucson Restaurants Reviews – HERE
Sign UP to receive daily HOME TRACKER UPDATES - OR - Our Monthly NEWSLETTER. And get regular updates on the Real Estate Market and events in Tucson, AZ.
Questions about the Tucson Real Estate Market or Tucson Homes for Sale? Call Us - 520 940 4541 OR complete the - CONTACT FORM - and we will get right back to you!