Sahuarita Lake For Tucson Fishing In Sahuarita AZ
Find Sahuarita Lake And Sahuarita AZ Homes For Sale – Pictures & Maps 
[quickshare]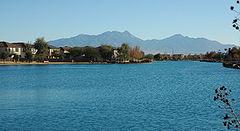 Sahuarita Lake Sahuarita Az is off I-19 just South of Tucson.  Take Exit #75 off I-19 and follow Sahuarita Road East to La Villita Rd.  Go North on La Villita about a mile to Sahuarita Lake.
Sahuarita Lake is relatively small and very shallow.  The Lake covers about 10 acres and is only around 7 feet deep.  There are many rules for this lake – no gas motors, no swimming or wading, no glass containers. Also, pets must be leashed and there are more.  Note the Lake is only open during daylight hours.
Sahuarita lake is an artificial lake completed in 2001 by Rancho Sahuarita. It is a managed lake that requires air compressors to inject air to create water movement.
An interesting fact is that 65 gallons of water must be pumped into the lake every minute to keep it at its current level.
Catfish, Sunfish, Bass, Bluegill and Rainbow Trout can be found here.  This is a lovely community lake for the young and young at heart.
Sahuarita includes the Master Planned Communites of Rancho Sahuarito & Resort.  Quail Creek is an Adult Community and one of the newer communities in Sahuarita.  Newer communities of Madera Highlands, La Joya, Valle Verde del Norte, Los Colonias and Los Arroyos are in Sahuarita.
The Town of Sahuarita operates under the council-manager form of government.  The town council is oversees policy matters and the town manager. There are seven members on the council
Sahuarita Lake
4600 N. Sahuarita Rd. Tucson, AZ 85745 – Map
Tucson Urban Fishing – Frequently Asked Questions
Moving To Tucson OR looking at Condos Tucson AZ? We can help!
Questions about the Tucson Real Estate Market or Tucson Homes for Sale? Call Us 866 316 5575 OR complete the CONTACT FORM and we will get right back to you!