San Xavier Mission Is A Must See In Tucson AZ
Historic Spanish Mission Just South Of Tucson Arizona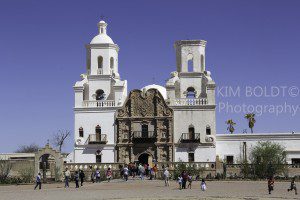 San Xavier Mission is 9 miles south of Tucson in the Santa Cruz Valley. The full name of the mission is San Xavier del bac Mission.
But its called the San Xavier Mission. The mission is on the Tohono O'odham Indian Reservation.
The San Xavier Mission is over 300 years old. Built when Southern Arizona was part of New Spain. Father Eusebio Francisco Kino, laid the first foundations of the mission. As a Jesuit Missionary Father Kino had a great influence on the inhabitants in the area.
The current church dates back to late 1783. When Franciscan missionary Fr. Jaun Bautista Velderrain began construction. The Tohono O'odham Indians were the principle labor force of that day.
San Xavier Mission became part of Mexico following Mexican independence in 1821. The mission became part of the United States with the Gadsden Purchase of 1854. There is a museum at the mission that presents the history of San Xavier and many artifacts.
San Xavier del Bac Mission Website
Google Map to San Xavier del Bac Mission
European Architecture In Arizona
The oldest intact European structure in Arizona, the church's interior is filled with marvelous original statuary and mural paintings. It is a place where visitors can truly step back in time and enter an authentic 18th Century space.
The church retains its original purpose of ministering to the religious needs of its parishioners. San Xavier Mission exhibits the architecture and rich iconography of colonial Mexico missions. And a noted as an example of mission architecture in the United States.
To this day, the San Xavier Mission stands as a symbol of the southwest desert.
The Architecture
Construction used the available materials of the day. Low-fired clay brick, stone and lime mortar. Masonary vaults support the roof that covers the entire structure. This construction method makes it unique among Spanish Colonial buildings in the U.S.
History tells us little about the people who decorated the interior.
Workshops in Queretero, Mexico created the sculptures. Then carried them by donkey to the Mission. Craftsmen created gessoed clothing once the sculpture was in place.
The Baroque architecture style features playful dramatic elements. Theatrical curtain displays, faux doors, and marbling provide a sense of balance.
The Restoration
An earthquake in 1887 knocked down the mortuary wall and damaged parts of the church. Extensive repairs began in 1905, under Bishop Henry Granjon.
More restoration after 1939 when a lightning strike hit the West Tower lantern.
A group of community leaders formed the Patronanto San Xavier in 1978. Their effort was to promote the conservation of Mission San Xavier.
In 1999, a five-year program began. An international team of conservators took on the tasks. They cleaned and repaired the interior painted and sculptured art of Mission.
The Patronato continues exterior preservation work begun in 1999. A team is removing the earlier coating of cement plaster, repairing the brick beneath. and re-finishing the exterior surface with a traditional lime plaster.
But more work remains to guarantee this landmark for future generations.
East Tower Was Never Completed
Because the builders ran out of money. The church did not get finished. You can even see bits of murals penciled – but never painted – on the interior walls.
Why wasn't it finished? It depends on the story you happen to hear. The legends are great stories, told and retold.
But there is no documentary evidence for any of them. But here they are:
Someone fell off the tower, and work stopped.
If a building remained unfinished, its owners didn't have to pay tax on it.
A cyclone blew the dome off the east tower, and it was never replaced.
Visit This Wonderful Structure In Tucson, AZ
Known as the "White Dove of the Desert, the mission is open daily. There is no admission fee. If you are in the Tucson area then a visit to the mission sure is worth your while.
As the oldest intact European structure in Arizona, the church's interior is filled with marvelous original statuary and mural paintings. It is a place where visitors can truly step back in time and enter an authentic 18th Century space.
An extensive restoration is underway at the San Xavier Mission. But visitors are still able to tour the Mission and take in its stunning architecture. But check the schedule for specific hours and mass schedule – Mass Schedule & Events
And if you are ready for a short "roadie" there is another mission not far from Tucson. The Mission San Jose de Tumacacori.
It was established by Father Kino 1691. Although not as grand as San Xavier Mission, it is the oldest mission site in Arizona. Tumacacori, AZ is about 1 hours south of Tucson on I-19 near Tubac. When you go there, Wisdom's Cafe is a must stop!
Other Great Attractions In Tucson, AZ
Other popular Tucson attractions include Kitt Peak, Pima Air & Space Museum, Old Tucson Studios and Arizona Sonora Desert Museum.
For a more complete list of Tucson attractions – HEAD HERE!

Considering A Home In Tucson, AZ?
Are you thinking of buying a home in the greater Tucson area? Finding the right home can be a challenging process. But we can make the process much less stressful for you.
We have been Tucson Realtors since 2002. We know Tucson and the Tucson Real Estate market. As a top Realtor duo, we invest the time to understand your home buying interests and desires. At our first meeting, we will review the current real estate market with you. Show you the market data and then walk you through the Arizona home buying process.
Why? We want you to know what to expect. And what to plan for.
Interested in new construction? We'll brief you on buying a new construction home. And what's unique about the process.
For us, you are not another real estate transaction. You are a client and, future friend. We strive to create a relationship that continues long after you move into your home. Review our profiles. Check out our backgrounds, education, and certifications.
We are here to help you "know what you need to know" to buy a home in Tucson, AZ. We provide you information on Tucson events, places to shop and restaurants. Our resources include contractors, electricians, and home services. We will also help you get deals on tile and paint to make the home you buy yours. Our professional service backgrounds mean we put you first!
Conclusion
Thank you for visiting www.premiertucsonhomes.com! It's one of the top real estate websites in Tucson. Our clients say that, not us.
Our website provides information on communities and neighborhoods in the greater Tucson area. Want more? Give us a call – 520-940-4541. We are ready to answer your questions and help you get the information you are looking for.
Looking for Houses For Sale Tucson Az OR looking for Tucson Arizona Real Estate? We can help!
We are a top Realtor duo in Tucson, AZ since 2002. Read our client testimonials. Give us a call. We look forward to making your home buying or selling a home an enjoyable experience for YOU!
Sign UP to receive daily HOME TRACKER UPDATES - OR - Our Monthly NEWSLETTER. And get regular updates on the Real Estate Market and events in Tucson, AZ.
Questions about the Tucson Real Estate Market or Tucson Homes for Sale? Call Us - 520 940 4541 OR complete the - CONTACT FORM - and we will get right back to you!