Silverbell Golf Course Phone 520 – 791 – 5235
Tips On The Silverbell Golf Course With Map & Player Suggestions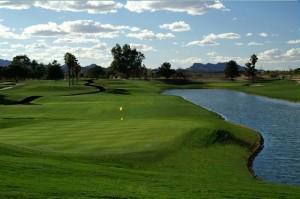 Silverbell Golf Course
is an outstanding Municipal golf course in any part to the world.  However in Tucson the mountain views are also thrown in.
Silverbell has been recently renovated.  It has become a great layout along the Santa Cruz River.  From the back tees the course is 6,900 yards.  The forward tees play at around 5,800 yards.
Silverbell Golf Course is relative flat.   Wide undulating fairways meander among stands of mature pine trees. Bunkers are strategically placed and two large lakes that come in to play on five holes.  Silverbell has a variety of holes to challenge a golfer's skill and finesse.
If you are on the "tips" you had better bring "the big dog" cause its long!   Par is 70 golf and has five par 3's & three par 5's.   Silverbell fairways are generous, but the layout will test golfers of all abilities from beginner to professional.
Silverbell Golf Course Website
Silverbell is one of five Tucson Municipal Golf Courses.  All can be played at reasonable prices.  Randolph North is perhaps the most noted.  Randolph held the Tucson open for a number of years.  Phil Michelson won there early in career.  It has also hosted a number of LPGA events.
Del Urich, Fred Enke and Del Rio are the other three courses.
Golf Tee Times can be made on-line. Find information on each course, including history, hole layout, maps, rates and contact numbers at Tucson City Golf
Looking for Houses For Sale Tucson Arizona OR Real Estate Arizona Tucson? We can help!
Sign UP to receive daily HOME TRACKER UPDATES – OR – Our Monthly NEWSLETTER – OR – Tucson Real Estate INFORMATION. And get regular updates on the Real Estate Market and events in Tucson, AZ.
Questions about the Tucson Real Estate Market or Tucson Homes for Sale? Call Us 866 316 5575 OR complete the CONTACT FORM and we will get right back to you!