CLUE Report – What It Tells Tucson Home Buyers And Sellers
CLUE Report – Its Not A Board Game
[quickshare]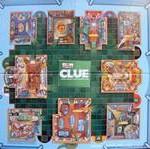 A CLUE Report is the acronym for – Comprehensive Loss Underwriting Exchange Report.  A CLUE report shows a history of insurance claims on the property.  Prior insurance claims shown in the CLUE report may effect the price and availability of insurance for the Buyer.
Tucson home owner hazard insurance is a critical item that must be in place before the close of escrow. Without the insurance coverage being in force at close of escrow, the lender won't fund the loan. Now the trick question: Can an insurance carrier turn you down for homeowners insurance even if you have never filed a claim on the home you are about to purchase? Answer: Yes !!
As an example, a Tucson home with a history of claim(s) in the CLUE report related to water damage may influence the insurance company not to insure the home for mold liability. How do you discover whether or not the home you are considering to purchase has a poor claims history that may affect your ability to insure? Get a CLUE Report!
The clues are in the CLUE report. C.L.U.E. stands for the Comprehensive Loss Underwriting Exchange report. It is the right of the potential Buyer to request a copy of the CLUE report from the Seller when making an offer to purchase a property.
When buying a Tucson Home, ask your real estate consultant to help you obtain a  CLUE report and review it with you.  Also, ask an insurance agent for a Tucson Homes owners insurance policy.  You should do this during the inspection period.
Questions about Tucson Homes or Tucson Real Estate Market ?  Call us at 866 316 5575 Or complete the CONTACT FORM and we will get right back to you.
Interested in more information on CLUE Report?  Read "Fact Sheet 26" on the Privacy Rights Clearinghouse website.
Considering a move to Tucson AZ or planning for that future retirement location? We can help!
Sign UP to receive daily HOME TRACKER UPDATES - OR - Our Monthly NEWSLETTER. And get regular updates on the Real Estate Market and events in Tucson, AZ.
Questions about the Tucson Real Estate Market or Tucson Homes for Sale? Call Us - 520 940 4541 OR complete the - CONTACT FORM - and we will get right back to you!