The Cork: Where Sophistication and Flavor Meet Perfectly
Name Has Changed But NOT The Great Food and Service
Some Background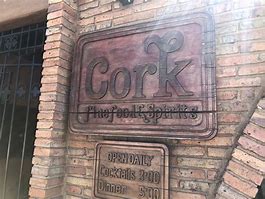 Jonathan's Cork, an exquisite restaurant in the heart of Tucson for 29 years is now – The Cork. This storied restaurant provides a dining experience that blends casual sophistication and flavors.
Steaks, seafood and wild game adorn the menu. The deserts provide a bounty of flavors and choices. The Cork has something to offer anyone looking for a diverse culinary experience.
As you stroll through the big wooden doors you go back in time. The casual and vintage vibe at The Cork is like a stroll down memory lane to the year 1994.
The year Chef and owner Jonathan Landeen, and wife Colette, purchased the restaurant. The "Cork N Cleaver" had been in business since 1966 and a well known eatery of the day.
It was the perfect place to share a meal, gather with friends, and create memories that will last a lifetime.
Jonathan's Cork built on that theme and enhanced it. His kitchen created a delicious array of tempting delights.
In March 2023, Glenn and Sally Murphy purchased the restaurant and renamed it "The Cork". Enjoy your meal in a cozy and chic atmosphere and let the attentive staff take care of the rest of your needs.
Why The Cork Is A Favorite
Kim and I recently had dinner at The Cork and it is now at the top of our list of favorite Tucson restaurants.
With adobe brick walls and cozy rooms, this vintage vibe is sure to keep you coming back. The food, friendly service, and inviting atmosphere makes it a go to place to dine.
The adobe brick building with a big, wooden door fits in with the history of Tucson. Not to mention old towns of southern Spain.
Immediately on entry, the bar area to the right beckons you to stop and indulge. A seating are across from the bar is perfect for a happy hour gathering.
Continuing past the bar, you see the open kitchen with staff ready to prepare your meal. Then proceed to quite cozy rooms with interesting art adorning the walls.
At The Cork you can enjoy your favorite meals in a relaxed setting and timely unhurried service.
The Menu
Beef is the focal point of the dinner menu. filet, prime rib and hardy cuts. But wild-caught fish and wild game birds and meat are also available.
This in not a "steak house" restaurant. The menu offers a diverse array of solid main courses with some "now that sounds good" items. Oh, and save room for desert.
The Cork is a place where there is something for everyone to enjoy. Along with southwestern flavor accents & options to tailor your meal to your liking.
Happy Hour
The Cork offers one of the best happy hours in Tucson. So good that it often hard to get a seat!
Along with drink specials there is a menu with perfect happy our eats. Happy hour from 3pm to 6pm Monday through Friday.
Saturday happy hour runs from 3 PM to close in the bar and patio only!
Where Is The Cork
6320 W Tanque Verde Road
Tucson, AZ 85715
For more information head to the Website Of The Cork
Conclusion
Thank you for visiting www.premiertucsonhomes.com! It's one of the top real estate websites in Tucson. Our clients tell us that.
Our website provides information on communities and neighborhoods in the greater Tucson area. Want more? Give us a call – 520-940-4541. We are ready to answer your questions and help you get the information you are looking for.
We are a top Realtor team in Tucson, AZ since 2002. Take a minutes to read our profiles and client testimonials. Maybe we are the Tucson Realtors you have been looking for.
We look forward to making your home buying or selling experience enjoyable YOU!
Sign UP to receive daily HOME TRACKER UPDATES - OR - Our Monthly NEWSLETTER. And get regular updates on the Real Estate Market and events in Tucson, AZ.
Questions about the Tucson Real Estate Market or Tucson Homes for Sale? Call Us - 520 940 4541 OR complete the - CONTACT FORM - and we will get right back to you!