Roosevelt Lake Is A Unique Surprise In Arizona …..And The World
Close To Tucson And Phoenix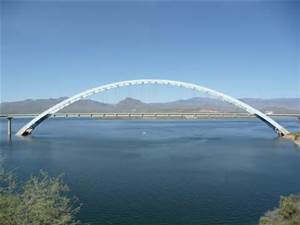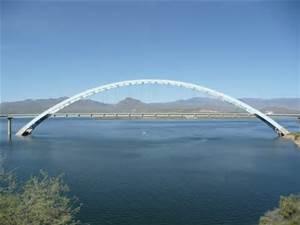 Roosevelt Lake was once the world's largest man made lake. Today, it ranks third behind Lake Powell and Lake Mead.
Although it is now the third largest lake in the world, it is still the largest man made lake within Arizona.
Both Lake Mead and Lake Powell cross the Arizona border and go into Nevada.
Created in 1911 Theodore Roosevelt Lake is one of four lakes created on the Salt River northeast of Phoenix. The completion of the Roosevelt Dam in 1911 created the Roosevelt Lake. The other three lakes are Saguaro Lake, Apache Lake and Canyon Lake.
Roosevelt Dam and Roosevelt Lake achieved a multi purpose goal. First, flood control. The dam allowed people to control the frequent flooding of the Salt River.
Second, the dam generated electricity for the area. And third, the lake became a source of water for irrigation. The Roosevelt Dam and Roosevelt Lake project turned an Arizona desert into fertile land.
Largest Man Made Lake Within Arizona's Borders
Roosevelt Lake is over 20 miles long and reaches a depth of 300 feet when full. It is a favorite stop of anglers looking for a potential trophy size large mouth bass. Anglers will also find small mouth bass, catfish and crappie.
Roosevelt Lake is expansive enough for high powered bass boats and other water craft. With over 120 miles of shoreline, Roosevelt Lake is a popular "water fix" destination.
There is a general store, several marinas and camping sites around the lake. Most camping sites will charge user fees.
Day Trip Or Over Night?
Theodore Roosevelt Lake, AZ is an easy day trip from Tucson AZ depending on where you live. From Oro Valley, the trip will take less than 2 hours – MAP. Bring your own boat or rent one when you get there. Oh, don't forget the sunscreen.
Roosevelt Lake is near the Tonto National Forest and the Superstition Mountains. Visiting these wonderful Arizona landmarks makes a great weekend getaway trip. For hikers, here is a resource to help you pick one of the trails in the Tonto National Forest.
Considering A Home In Tucson, AZ?
Are you thinking of buying a home in the greater Tucson area? Finding the right home can be a challenging process. But we can make the process much less stressful for you.
We have been Tucson Realtors since 2002. We know Tucson and the Tucson Real Estate market. As a top Realtor duo, we invest the time to understand your home buying interests and desires.
At our first meeting, we will review the current real estate market with you. Show you the market data and then walk you through the Arizona home buying process.
Why? We want you to know what to expect. And what to plan for.
Interested in new construction? We'll brief you on buying a new construction home. And what's unique about the process.
For us, you are not another real estate transaction. You are a client and, future friend. We strive to create a relationship that continues long after you move into your home. Review our profiles. Check out our backgrounds, education, and certifications.
We are here to help you "know what you need to know" to buy a home in Tucson, AZ. We provide you information on Tucson events, places to shop and restaurants. Our resources include contractors, electricians, and home services. Our professional service backgrounds mean we put you first!
Conclusion
Roosevelt Lake is a great place for anglers and boaters alike. For Tucson residents, it is a popular summer location to put a boat and fishing line in the water.
Would you believe Arizona has more boats per capita than any other state? Well, it does. And Roosevelt Lake is one of the reasons why.
Thank you for visiting www.premiertucsonhomes.com! It's one of the top real estate websites in Tucson. Our clients say that, not us.
Our website provides information on communities and neighborhoods in the greater Tucson area. Want more? Give us a call – 520-940-4541. We are ready to answer your questions and help you get the information you are looking for.
We are a top Realtor duo in Tucson, AZ since 2002. Read our client testimonials. Give us a call. We look forward to making your home buying or selling a home an enjoyable experience for YOU!
Considering a move to Tucson AZ for a new job, wonderful place to retire or finding that winter retreat? We can help!
Sign UP to receive daily HOME TRACKER UPDATES - OR - Our Monthly NEWSLETTER. And get regular updates on the Real Estate Market and events in Tucson, AZ.
Questions about the Tucson Real Estate Market or Tucson Homes for Sale? Call Us - 520 940 4541 OR complete the - CONTACT FORM - and we will get right back to you!