Tucson Arizona Weather Will Make You Happy Every Day
Higher Elevations And Low Humidity In Tucson, AZ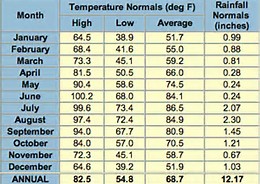 Tucson Arizona Weather provides about 350 of sunshine every year. That makes it the sunniest city in the United States! OK, there may be some broken clouds from time to time.
Even after a monsoon, there is sunshine. And a beautiful sunset. Tucson Arizona weather has warm days and cooler evenings. Tucson weather is legendary in spring, fall & winter.
Summers can be hot, but the lower humidity helps keep the high temperatures very tolerable. And cooler night time temperatures make the evenings pleasant.
Tucson Arizona average summer temperatures rank 20th for cities the southwest. When you include the ties at 7th & 14th. That's based on a recent study by the National Oceanic and Atmospheric Administration. Yes, 20th!
Nine Arizona cities have summer temperatures higher than the summer Tucson temperatures. Key reasons for the lower Tucson temperatures is elevation. Tucson is at 2600 feet above sea level. Second, humidity is very low.
By the way, Peoria, Glendale, and Goodyear Arizona were not identified in the study. These Phoenix suburbs were likely included with Phoenix, AZ. It is worth noting that Tucson will be 8 to 10 degrees cooler than Phoenix in the summer. Check it OUT!
Arizona Weather Average Summer Temperature By City
If add to the list, 12 Arizona cities have higher Arizona summer temperatures than Tucson, AZ.
Southwest cities ranked by average summer temperature, include
Lake Havasu City, 94.6 degrees
Needles, Calif., 94.1
Bullhead City, 94
Willow Beach, 93.5
Phoenix, 93.1
Laughlin, Nev., 92.9
(

tie

) Gila Bend and Blythe, Calif., 92.1
Indio, Calif., 92
Laveen, 91.4
Palm Springs, 90.9
Scottsdale, 90.4
Yuma, 90.3
Mecca, Calif., 90.1
(

tie

) Deer Valley and Las Vegas, 90
Tempe, 88.1
Laredo, Texas, 87.8
McAllen, Texas, 86
Tucson, 85.7
For a "real time" look at our Tucson sky and Tucson weather? TAKE A LOOK!
Fun Facts About Tucson Arizona Weather
If you stand in the shade, it will be slightly cooler than standing in the direct sun.
Fans can make you feel more comfortable, as long as they are on and you are in the breeze.
Frying an egg on the sidewalk is not only impossible, it's stupid.
Sunscreen screens the sun.
Sweating causes the body to lose water, which can be replenished by drinking water.
Searching for a New Home?
Are you thinking of buying a home in the greater Tucson area? Finding the right home can be a challenging process. But we can make the process much less stressful for you.
With over 15 years of experience in the Tucson real estate market, we know Tucson. As a top Realtor team, we invest the time to understand your home buying interests and desires. At our first meeting, we will review the current real estate market with you. Show you the market data and then walk you through the Arizona home buying process.
Why? We want you to know what to expect. And what to plan for.
Interested in new construction? We'll brief you on buying a new construction home. And what's unique about the process.
For us, you are not another real estate transaction. You are a client and future friend. We strive to create a relationship that continues long after you move into your home. Review our profiles. Check out our backgrounds, education, and certifications.
We are here to help you "know what you need to know" to buy a home in Tucson, AZ. We provide you information on Tucson events, places to shop and restaurants. Our resources include contractors, electricians, and home services. We will also help you get deals on tile and paint to make the home you buy yours. Our professional service backgrounds mean we put you first!
We are a top Realtor team in Tucson, AZ. Read our client testimonials.
Conclusion
Are you looking for a home with great weather throughout the year? Then consider Tucson, AZ. Although 200 miles away, the Gulf Of California effects Tucson Arizona weather. Summer moisture from the gulf hits the mountain and creates the summer monsoons.
Our website provides information on communities and neighborhoods in the greater Tucson area. Want more? Give us a call – 520-940-4541.
We can't control our beautiful Tucson Arizona weather, but if you are interested in Homes for Sale in Tucson AZ? We can help!
Thank you for visiting www.premiertucsonhomes.com! It's one of the top real estate websites in Tucson. Our clients say that, not us.
Don't forget – WEATHER IN TUCSON AZ MEANS YOU DON'T HAVE TO SHOVEL SUNSHINE!
Sign UP to receive daily HOME TRACKER UPDATES - OR - Our Monthly NEWSLETTER. And get regular updates on the Real Estate Market and events in Tucson, AZ.
Questions about the Tucson Real Estate Market or Tucson Homes for Sale? Call Us - 520 940 4541 OR complete the - CONTACT FORM - and we will get right back to you!