Tucson Lifestyle Home Design Trends
Tips On Trends Indoor And Outdoor Space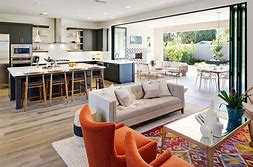 A Tucson lifestyle reflect today's home designs, home buyers wants and renovation projects. With great year around weather there's no surprise outdoor activities are prominent.
And the new home designs reflect that. Big covered patios, large sliding windows and views.
A Tucson lifestyle integrates the indoor living space with the outdoors. Home owners spend more time outside than inside.
They want functional and furnished patios, BBQ's and outside dining areas. Furniture will include cocktail tables to TV's with high tech sound systems.
And for the the cooks, an outdoor kitchen is becoming a must. The outdoor living space with a outdoor kitchen is today's dynamic duo.
From simple grills to elaborate built-in stations are things a happy chef wants. For the high "enders" this means sinks, refrigerators, beer tap, wine cooler and pizza oven. And elaborate counter tops for the buffet style events.
It Gets Cool – Use Heaters
But don't forget the a portable heater. Winter evenings are cool.
Tucson has big temperature swings. From 5-40 degrees during the evening hours. Some type of heater is necessary for a total year around Tucson lifestyle.
Heaters come in many sizes and types. From a Mexican chiminea to a tower heater. A fireplace or fire-pit is a great compliment to your outdoor living space.
Water Features And Gardens
From pools, spa, spool, waterfall, koi pond, to a fountain, it helps set the mood to your outdoor oasis.
Outdoor Gardens have become a part of the Tucson lifestyle. With the ever growing concern of healthy eating, organic gardens are a new must have.
Top garden choices are tomatoes, peppers, herbs, garlic and artichokes. A raised garden bed is a favorite to avoid bending too much.
Smart Homes And GREEN Are In
Newer homes are "Smart Homes". They make managing your energy costs, security, and electronics simple. Your smart phone does it all. You can access all systems through the main control in your home, via a laptop, or even an android phone.
Tucson lifestyle is also GREEN. Living in the desert, we need to be especially conscious of the environment we live in. Conserving energy and water is the right choice.
Popular inside features include low-water toilets, faucet and tankless hot water heaters. And higher seer HVAC units with 2-stage compressors conserve energy.
Adding rainwater capturing systems and solar panels saves money. Planting drought-tolerant plants for the xeriscape design looks great and saves water.
Kitchens And Baths
Kitchen & Bath Design reflect Tucson lifestyles. The balance between traditional and contemporary is the new popular design. Cove ceilings rather than crown molding.
Floor tiles in the great room that are 18-24 inch tiles rather than the small 6-12 inch tiles. Open "live-in" spaces for cooking and socializing.
Master suite designs serve dual functions. Sleeping and relaxation. Large showers with multi head fixtures create a retreat everyday.
Paint & Natural Themes
Paint color trends move in cycles of every 5-10 years. So what you do today will need to change in the future.
Neutrals remain more popular than vibrant hues. Greens with browns, or yellows with grays are a popular duo combination. Purples and oranges are popular accent colors.
Decorating ideas abound. And Pinterest is a new way of finding what works for YOU!
See our Pinterest site. to get started
Learn more about Tucson Lifestyles and Home Design at this helpful Home Design Trends site!
Considering A Home In Tucson, AZ?
Is a Tucson lifestyle something you have been considering? WE CAN HELP!
Are you thinking of buying a home in the greater Tucson area? Finding the right home can be a challenging process. But we can make the process much less stressful for you.
We have been Tucson Realtors since 2002. We know Tucson and the Tucson Real Estate market. As a top Realtor duo, we invest the time to understand your home buying interests and desires. Areas of Tucson for your lifestyle.
At our first meeting, we will review the current real estate market with you. Show you the market data and then walk you through the Arizona home buying process.
Why? We want you to know what to expect. And what to plan for.
Interested in new construction? We'll brief you on buying a new construction home. And what's unique about the process.
For us, you are not another real estate transaction. You are a client and, future friend. We strive to create a relationship that continues long after you move into your home. Review our profiles. Check out our backgrounds, education, and certifications.
We are here to help you "know what you need to know" to buy a home in Tucson, AZ. We provide you information on Tucson events, places to shop and restaurants. Our resources include contractors, electricians, and home services. Our professional service backgrounds mean we put you first!
Thinking About Selling Your Home In The Greater Tucson Area?
Selling a home requires more than listing it in the Tucson MLS system. It's about marketing. Marketing through multiple online channels.
To no one's surprise, 80% of home buyers start their search on the internet. Homes must be visible on multiple internet channels. The more visible a home is, the faster it will sell.
And the photos on the MLS make a difference. You can spend lots of money on home staging, but if the photos aren't great it doesn't matter. Staging and stunning photos make it all come together.
We use multiple online marketing channels to showcase your home. We will build a stand-alone website built to show your home. Our marketing program targets key cities in the U. S. based on the season.
For luxury listings, our drone service provides video of your home and neighborhood. This video along with professional photos helps the online buyer see and feel your home. Their "new" home.
To learn more about how we can help you sell your Tucson home, call us – 520-940-4541 – to arrange a meeting. We will visit your home and prepare a comparative market analysis.
Then we will meet with you to review our analysis. We will go over our Comparative Market Analysis for your home in detail. And the review our marketing program to "get your home sold!"
Conclusion
Thank you for visiting www.premiertucsonhomes.com! It's one of the top real estate websites in Tucson. Our clients say that, not us.
Our website provides information on communities and neighborhoods in the greater Tucson area. Want more? Give us a call – 520-940-4541. We are ready to answer your questions and help you get the information you are looking for.
We are a top Realtor duo in Tucson, AZ since 2002. Read our client testimonials. Give us a call. We look forward to making your home buying or selling a home an enjoyable experience for YOU!
Sign UP to receive daily HOME TRACKER UPDATES - OR - Our Monthly NEWSLETTER. And get regular updates on the Real Estate Market and events in Tucson, AZ.
Questions about the Tucson Real Estate Market or Tucson Homes for Sale? Call Us - 520 940 4541 OR complete the - CONTACT FORM - and we will get right back to you!